As certain dog breeds become popular or "trendy" from media exposure — Chihuahuas, for example — the number of breed-specific rescues tends to rise as a result. Supply and demand means that many of these poor animals begin their lives in puppy mills, and without the intervention of rescue groups, which often specialize in a certain breed, a majority of the dogs would never have the chance a happy life.
But what about the breeds we never see on TV or in movies?
It may be a surprise to some, but even extremely rare breeds of dog end up in shelters, come from puppy mills, or are strays.
Breeds like the Xoloitzcuintli, also known as the Mexican Hairless, and believed to be one of North America's oldest breeds of dog. The Xoloitzcuintli (pronounced sho-lo-itz-qweent-li) is an extremely intelligent, athletic and fascinating breed, thanks in part to their lack of coat (though coated Xolos exist as well). Xolos exist in three sizes: Standard, Miniature, and Toy, and their skin/coat comes in a wide range of solid and spotted colors.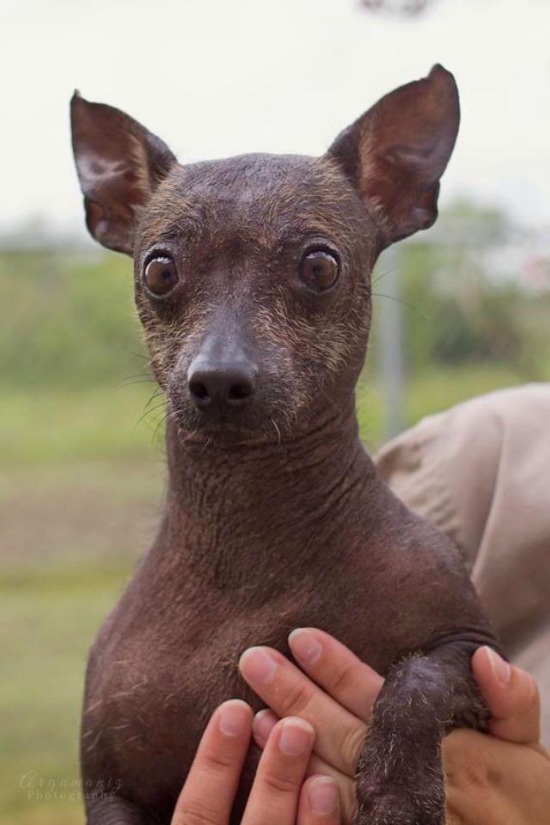 And since June 2014, a small group of dedicated volunteers has been working to rescue Xolos and Xolo mixes in need.
Xoloitzcuintli Primitive Breed Rescue is the only Xoloitzcuintli breed-specific rescue in the United States. Things got started in the fall of 2013 when the previous Xoloitzcuintli rescue organization closed after years of service, and three women — Margaret Culbertson, Margaret Black and Anna Sanchez — who loved the breed, but did not know each other, decided to come together to start a new Xoloitzcuintli rescue.
Margaret Culbertson explains that setting up a rescue is like setting up a business. It requires a lot of time, cooperation and funding, often in additional to members having full-time jobs and families.
But Culbertson and the other co-founders of XPBR, despite not having much experience in animal rescue, forged through the paperwork involved in getting the rescue going, and since June 2014, XPBR has already saved 10 Xoloitzcuintli dogs with help from its network of 15 volunteers.
And the volunteers' rescue efforts were rewarded from the very beginning when they were able to save a group of six young Xolos. XPBR was contacted by a shelter who had taken in the six dogs — four hairless Xolos and two coated — after they were found in an abandoned house. XPBR calls them "The California 6" and believes they had been used for breeding purposes.
Most of the Xolos that XPBR takes in come from shelters, but they have also rescued a young female found in a Craigslist ad in California.
"She was free, and when one of our volunteers picked her up, the family didn't even have a name for her," Culbertson says. "She was about six months old, and had already had a litter of puppies."
Oftentimes, Xolos who end up in shelters are victims of owner surrenders. Culbertson says that Xolos are fantastic pets but not suitable for the first-time dog owner, and that those interested in getting a Xolo must educate themselves about the breed first.
"Being a primitive breed, they need socialization and obedience training from a young age," explains Culbertson. "They are extremely smart and will try to pull something over on you if you aren't watching. They also have a high food drive so positive reinforcement training works well with them."
Despite the fact that many Xolos have a high prey drive, these dogs can make great family pets provided they are introduced as puppies to children and other pets. And many Xolo owners will tell you that the Xolo is a "velcro dog" who loves snuggling and learning new tricks. Their lack of coat is also an advantage for people concerned about pet hair on clothes and furniture, though like any hairless breed, the Xolo's skin needs to be protected from sunburns, dryness and other potential irritants.
And for those with pet-related allergies, Culbertson notes that the breed might be a good choice, bearing in mind different people might react differently to a hairless Xolo. "There are steps we can take to figure out if a hairless will help someone before they jump into owning one," Culbertson says.
Because of the particularities of the breed, XPBR offers what they call "adoption support" in order to place adoptable dogs in the best possible home. They also believe in full disclosure so that the adoptive families are not faced with surprises.
"Xolos are a unique breed, and we are here to help with the transition," explains Culbertson. "We have a certified dog trainer on our team who will help if issues arise with the rescue dog both in foster care and forever home care. We also offer a Foster to Adopt program that places dogs in a home to see if it is a good fit."
In addition to taking in Xolos who are already in shelters, XPBR is also working to educate the public about the breed in order to prevent future Xolos from being abandoned by owners who were not a good match for this ancient breed. Culbertson takes her own Xolo everywhere with her, including the training sessions that she attends and teaches, in order for people to see the dog and learn more about the breed.
But it's not just the public that XPBR is aiming to educate about the Xoloitzcuintli. Culbertson says that they are currently working on a campaign to teach shelter workers about the needs of the rare breed.
"It's amazing to me that so many shelters are unaware/untrained on this breed," she says. "We had one rescue [from a shelter] who was being treated for severe mange! They were pouring all sorts of medication on her skin which was just making her skin worse."
XPBR, like many rescue groups, is always in need of more volunteers. Ideally, Culbertson says they would like to have one to two volunteers in each state to help educate the public about the breed and to pull Xolos from shelters and place them in foster homes.
And the small group of dedicated individuals is also working on attaining its 501(c)(3) status, which will allow donors to write off their donations and also enable XPBR volunteers to rescue more dogs from shelters at low-to-no cost.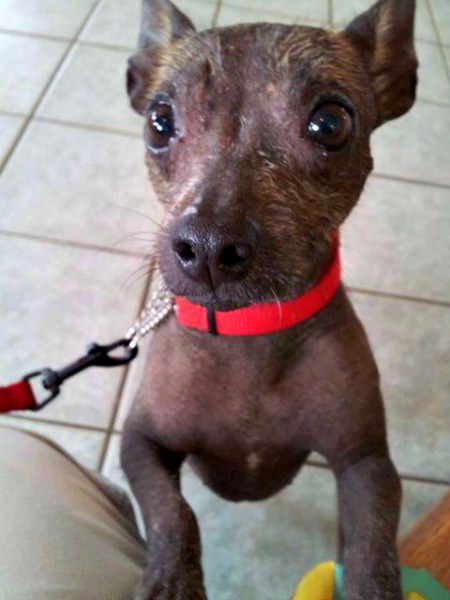 For more information about this unique breed, how to get involved, or to speak to someone about fostering or adopting one of XPBR's dogs, please check out the group's Facebook page or email them at Xolopbr@yahoo.com.
All photos used with permission from Xoloitzcuintil Primitive Breed Rescue's Facebook page unless otherwise noted.
Learn more about dogs with Dogster:
About Crystal Gibson: A child-sized Canadian expat in France who is fluent in French and sarcasm. Owned by a neurotic Doxie mix, a Garfield look-alike, and two needy Sphynx cats. An aspiring writer and pet photographer with a love of coffee and distaste for French administration, she can be found as @PinchMom over on Twitter.