When my NYC apartment building attempted to limit dog ownership, the management released strict rules that included a list of dog breeds over 50 pounds that they said were "aggressive" and suggested that all dogs of those breeds or mixes be muzzled in common areas of the building. These rules influenced my family to move in order to provide a safer life for our dogs — one of whom is a Shepherd mix who would have been implicated in the new building rules. I often think about what we would have done if we weren't able to move. Also, what if it wasn't just our apartment building but the entire city that was coming after my dog? That's exactly what happens when breed-specific legislation (BSL) passes.
What is Breed-Specific Legislation?
BSL bans or restricts the ownership of certain breeds of dogs who are characterized as "aggressive" — despite the fact that there's no scientific basis for labeling certain breeds as more aggressive than other breeds. While in recent years Pit Bulls have become the face and most visible target of BSL, it is a much larger issue. In the US, over 900 cities across 42 states have implemented breed-specific legislation, which restrict or outright ban the ownership of various breeds of dogs from Chows to Mastiffs.
What's Going on in Montreal with Breed-Specific Legislation?
In 2016, Montreal passed a controversial breed ban, which prohibits the ownership of Pit Bulls and Pit Bull-type dogs. This affects thousands of dogs, many of whom are of uncertain breeding but have "Pit Bull" characteristics: blocky heads, stout builds, etc. The SPCA of Montreal has been a fierce advocate against the ban , and fought the legislation in court. Part of the law, which was scheduled to go into effect last fall, would make it illegal to adopt out Pit Bulls. This would mean the euthanasia of physically and mentally healthy shelter dogs who are Pit Bull-type dogs or mixes.
In an appeals ruling in December 2016, a Superior Court's suspension of the bill targeting "Pit Bull-type dogs" was overturned and the city of Montreal was able to move forward with enforcing this new legislation. In order to keep their dogs, families with Pit Bulls had a limited window of time to complete a special licensing process. This process included passing a criminal background check and paying a $100 fee (both required annually), as well as requiring that the dog wear a muzzle in public at all times and only be walked on a four-foot leash.
For Pit Bull and Pit Bull-type dogs who were in shelters, the Montreal SPCA says they were, "Transferred to partner rescue groups or shelters located outside of Montreal; or made available for adoption to citizens residing outside of Montreal, in municipalities without breed-specific legislation." The organization also states, "The Montreal SPCA will continue its efforts to fight the discriminatory and punitive provisions of the City of Montreal's by-law targeting 'Pit Bull-type dogs' and to promote evidence-based solutions that actually reduce the risk and severity of dog bites. This fight is not over."
The Latest on BSL in Montreal
At the end of August, letters were sent to over 500 Montreal Pit Bull owners notifying them that their special permits to keep their dogs were "incomplete" and gave them just 4 weeks to provide documentation that their dogs had been moved out of the city of Montreal, or been surrendered to shelters. Many Pit Bull owners speaking out in the news believed they had appropriately completed the permitting process.
One Montreal Resident's Story
Montreal resident Mylène St Pierre and her dog, Lola, a 6-year-old rescue Boston/Boxer/Terrier mix who is often mistaken for a young Pit Bull, learned firsthand how dangerous it is to even look like a Pit Bull in the area now that this new legislation has taken effect.
"In March, my partner and I were dropping off one of the stepkids at daycare [St. Pierre is the stepparent to 4-year-old triplets, with whom Lola has bonded]. I was waiting around outside with my dog [while] chatting with a friend. A child ran into Lola and she jumped up and barked, spooked. The kid ran away screaming [that] Lola had bit him. My dog did not bite that child, let alone even have time to touch him."
"A complaint was filed with the police, who then transferred the complaint to the canine unit. They came to my home to assess my dog," St Pierre continues. "They informed me that, although she was an anxious dog, she was not aggressive nor a danger to society. I thought the charges were dropped. They were not. We [Lola and I] received a summons, by bailiff, stating that a professional evaluation was required for the alleged bite and that Lola was to wear a muzzle at all times when outside in the community. Muzzling my dog was pretty upsetting to be honest and as a result, many, many people would offer advice, cross the street entirely (with or without a dog) and we were scrutinized every time we dropped off my stepkids at daycare."
"The evaluation was held in May, which was an hour-long interview and observation of Lola. The vet who performed the evaluation was lovely and understanding, as well as helpful. A few weeks later, I received notice that the muzzle requirement was lifted, that Lola was a lovely yet anxious dog and I was a responsible dog owner. Regardless, I was told I would be fined between $300 to $3,000 for the alleged bite that NEVER happened, on top of the evaluation fee, which had been quoted as being $450."
"I received notice that I would NOT be fined after all, but received a bill for the evaluation fee for the amount of $650, which cannot be disputed, under BSL rules. I had to hold an online fundraiser to pay this fee. The entire process was emotionally taxing and I do not wish this process on anyone."
Because Lola was determined not to be a Pit Bull and was cleared of all charges, she can continue to live with relative safety in Montreal. Unfortunately, the fates of many Pit Bulls in Montreal remain uncertain.
Tips for Protecting Your Dog From Breed-Specific Legislation: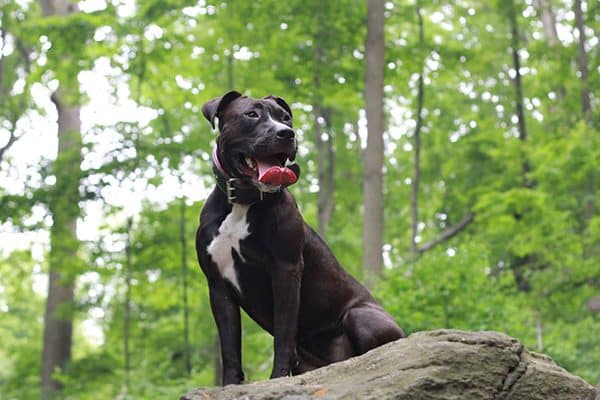 Do you have a Pit Bull, Pit Bull-type mix, Rottweiler, Doberman or a dog that looks like one? Breed-Specific Legislation is something that should be on your radar any time you are thinking of moving to a new city/state, or even if you are planning a road trip with your pup!
Moving? Be sure to check for any breed-specific regulations that might exist in your new community and make sure there aren't any regulations against the kinds of dogs who are part of your family on bslcensus.com.
Planning a road trip? Be sure that both your destination and any cities you plan to pass through will welcome your whole family — including your dog! If you must visit a city that has breed-specific laws, understand the logistics ahead of time. Contact the local Animal Control Department to find out if your dog must be muzzled, or if your dog could be seized if you visit the area.
Have a dog that looks like a targeted breed but isn't? Consider carrying a notarized letter from your veterinarian attesting to the breed or mixed breed of dog that you have. You may also want to look into DNA testing so you will have DNA proof of what breed(s) your dog is regardless of how he might look.
In the military? Many US Military bases ban Pit Bulls, Rottweilers, Chows, Wolf hybrids, Dobermans, Akitas and other breeds of dogs. Contact your US Military Base to find out specifics.
Live in public housing? Many public housing authorities across the country have breed-specific bans. NYC NYCHA's breed ban includes unusual breeds like Boston Terriers.
Tell us: Have you ever encountered breed-specific legislation? What happened? Share your story in the comments.
Thumbnail: Photography by Demure Dragonfly/Thinkstock.
Read more about dogs in the news on Dogster.com:
Sassafras Lowrey is an award-winning author. Her novels have been honored by organizations ranging from the Lambda Literary Foundation to the American Library Association. Sassafras is a Certified Trick Dog Trainer, and assists with dog agility classes. Sassafras lives and writes in Brooklyn with her partner, a senior Chihuahua mix, a rescued Shepherd mix and a Newfoundland puppy, along with two bossy cats and a semi-feral kitten. Learn more at sassafraslowrey.com.