There were Pugs dressed as princesses, pitties dressed as Yoda, and mutts dressed as Mickey Mouse. All in all, 101 dogs joined their owners at the first A Disney Side Dog's Day, recently held at Magic Kingdom Park in Lake Buena Vista, Florida.
A post on the Disney Parks blog invited pup parents to send in photos of their dog wearing their favorite Disney costume. The selected lucky dogs were then invited to the private VIP (Very Important Pup) event. The dogs and their people walked the grass green carpet — appropriately lined with fire hydrants — on Main Street USA.
The tail-wagging morning featured a doggie dance party with Disney dogs Pluto and Bolt, a costume contest, doggie treats, and more, all before the park opened to the general public.
Lily, a Labrador–Catahoula pup born with a perfect Mickey Mouse-shaped spot on her lower back, served as leader of the pack of Disney's first dog walk around part of the Magic Kingdom and through Cinderella's Castle. Judges walked through the crowd looking for dogs who truly celebrated their Disney Side with original costumes and fashion. Lily took first place in the costume contest.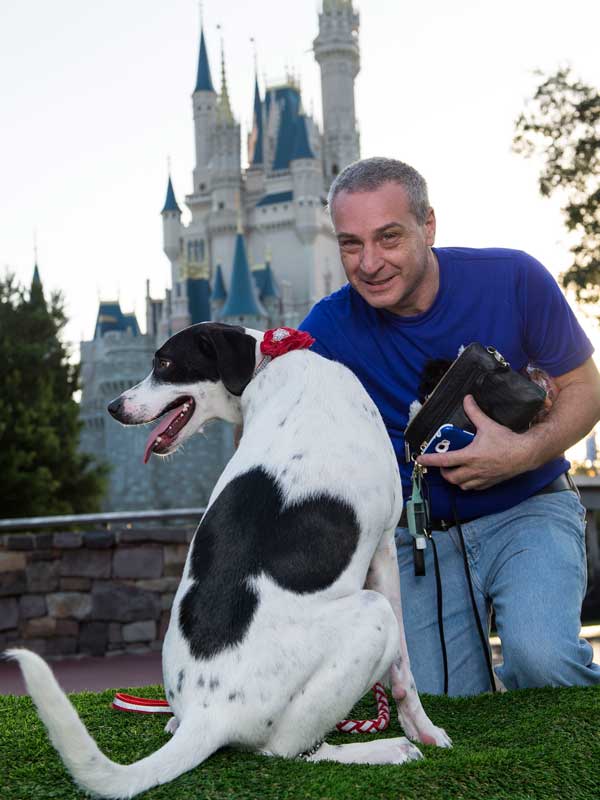 Just when you thought that a day in Disney couldn't get any more magical, you get to bring your dog!" said Montverde resident Yvonne Marchione, mom to Lucy the Dalmatian, who showed her Disney Side dressed as Cruella De Vil. "Lucy's tail never stopped wagging and I haven't stopped smiling since." 
"Everyone has a Disney Side — the special fun, creative side. Well, it turns out that dogs have a Disney Side too," barked Tom Smith, Disney Parks' blog's social media director. "We saw princess dogs, pirate dogs — even a dog dressed like Cruella De Vil, our No. 1 winner of the entire day. Every dog had a Disney Side today."
Portions of the Disney Side Dogs' Day will be included in an Animal Planet Disney Side edition of America's Cutest Pet, which will premiere on October 18. The TV special will be hosted by actor and pet lover John O'Hurley, who also showed up at the event. 
Check out more about the event on the Disney website. 
Learn more about dogs with Dogster: