Do you have a dog first aid kit? Does it include hydrogen peroxide? While none of us like to think about our dogs getting hurt or injured, it's important to prepare accordingly so you can help your dog when/if illnesses or injuries arise. If you don't already have a dog first aid kit, it's a good idea to buy or make one for your home and car. Hydrogen peroxide is a staple in most first aid kits for humans. For those unfamiliar, hydrogen peroxide is a clear liquid available in the pharmacy section of any drugstore or grocery store that's most commonly used for cleaning out wounds. But what about hydrogen peroxide for dogs?
Is hydrogen peroxide safe for dogs on their injuries?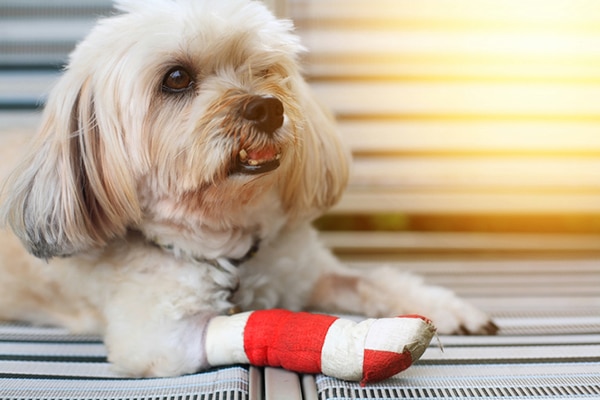 Emmy award-winning veterinarian Dr. Jeff Werber confirms that hydrogen peroxide is safe for cleaning small wounds on your dog. However, he adds that there is no medically known benefit to using hydrogen peroxide for dogs instead of water and soap when cleaning out smaller, less-serious wounds.
Jenna Mahan, Director of Claims with Embrace Pet Insurance, also says to dilute hydrogen peroxide for dogs before use. "Hydrogen peroxide can be damaging to tissues and burn a little, so you may be better off using plain old saline, but if you do not have saline on hand, hydrogen peroxide can clean a wound quite well," she says. Jennifer advises to dilute hydrogen peroxide for dogs with one-part water or one-part saline.
Other uses of hydrogen peroxide for dogs
Beyond cleaning a wound, Jennifer offers two other important uses of hydrogen peroxide for dogs —
Skunk Bath: Hydrogen peroxide for dogs is useful for de-skunking a dog. "Hydrogen peroxide is an essential part of a 'skunk bath' recipe: Mix 1 quart of 3-percent hydrogen peroxide, 1/3 cup of baking soda and 1 teaspoon of dishwashing liquid together," Jennifer says. "Pour the mixture on a dry dog and then rub in. Allow to sit for a few minutes, then rinse. Repeat if necessary and follow up with a normal bath with regular doggy shampoo."
Inducing Vomiting: Hydrogen peroxide for dogs can also help induce vomiting. "If your dog ate something naughty, your vet may recommend a dose for you to induce vomiting," Jennifer advises.
Hydrogen peroxide for dogs — when NOT to use it
"Hydrogen peroxide should not be used or poured into a large, open wound," Dr. Werber explains. If your dog has a large wound, seek immediate attention from your veterinarian, or an emergency veterinary clinic.
As mentioned above, hydrogen peroxide for dogs should never be applied at its full strength to clean a wound. Before using hydrogen peroxide for dogs, dilute it with either water or saline. If you do have to bring out your dog's first aid kit due to an injury or illness, consult with your vet after administering first aid and using hydrogen peroxide to make sure your dog's wounds are healing properly.
Read more about dog health and care on Dogster.com:
___________________________________________________________________________
Sassafras Lowrey is an award-winning author. Her novels have been honored by organizations ranging from the Lambda Literary Foundation to the American Library Association. Sassafras is a Certified Trick Dog Instructor and assists with dog agility classes. Sassafras lives and writes in Brooklyn with her partner, a senior Chihuahua mix, a rescued Shepherd mix and a Newfoundland puppy, along with two bossy cats and a semi-feral kitten. Learn more at sassafraslowrey.com.
Featured Image Credit: Photography by absolutimages/Thinkstock.