As Francis Eggelton's three English Bulldogs got older, he noticed they were having trouble jumping up from the floor to his bed. He enlisted the help of his stepson, Colin Scott, owner of Denver-based Custom Creation Woodcraft and a dog lover himself, to help him create a colorful, two-tiered, portable step that he could place alongside his bed or couch to give his pups a lift.
Even better: Colin and Francis completed the project in one hour for less than $70, with enough extra material to make two more sets of stairs.
"I wanted to make it easily customizable and buildable with or without power tools," Colin says.
Colin's project fits a standard sized bed, which is about 30 inches high, but based on the size of your dog or bed, you can adjust the height of the steps.
Since adding the stairs, the English Bulldogs have been independent and happy. "It's a huge hit," Francis says.
Make it easy: Your local hardware store will cut the wood for you if you aren't comfortable using a saw.
What you'll need
1 sheet of pre-sanded 4 - by 8 - foot, ½ - inch plywood from your local home-improvement store
Hand saw, jigsaw or circular saw
Protective eyewear
Tape measure or ruler
Pencil
1 box of ¼ - inch self - tapping screws (no drill needed)
Screwdriver
Wood glue
Spray paint (customizable color)
Instructions
Along the 4-foot side of your board, cut the plywood into three equal parts, each strip measuring 16 inches wide. Each strip can be used to make a separate set of stairs.
Moving across one strip, measure, mark and cut the plywood again into six 8-inch sheets.
Cut the remaining portion of the board into two 20-inch pieces. You should have 8 inches left over.
Spray paint your boards and let dry completely.
Align two 8-inch boards so they make an L shape, and secure them together with wood glue.
Along the edge, screw in three self-tapping screws, spread evenly. Leave a fair amount of space between the screws and the edge of the board so the screws hold.
Following the same steps, finish the open-sided cube with the other two boards. You should be able to see through the center.
With the remaining boards make an 8- by 20-inch rectangle (your larger step). You should now have one square and one rectangle.
Align the boxes so they come together like steps, and screw the two boxes together with three screws along both sides.
You can now place the box vertically or horizontally, whichever you (or your dog) prefers.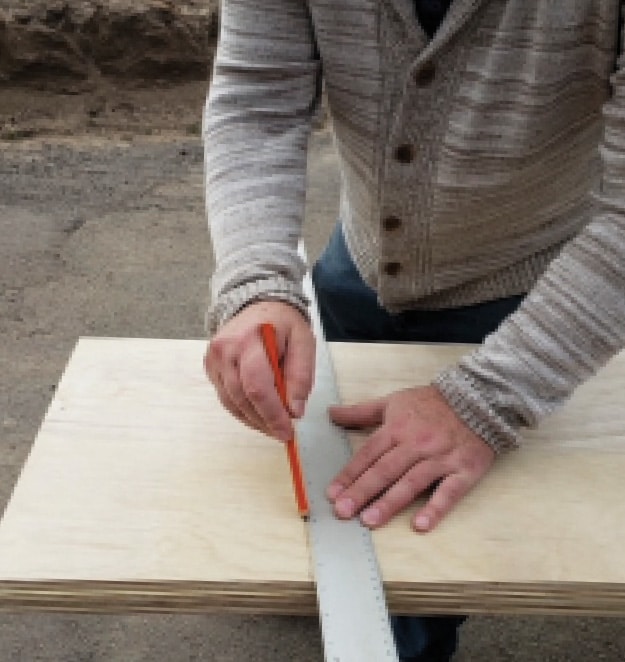 NO Time to DIY
Love the idea but not the doing? Check out the latest in dog staircases and ramps.
CozyUp Sofa Ramp; $119.95. petsafe.com
Good Steps — Zephyr; Starts $299. goodsteps.dog
Animals Matter Companion Stairs; Starts $294.99. animalsmatter.com