If you talk to some parents, they will tell you that you don't know true, instant, and insanely deep love until you have a child. I don't have a child. A human child at least. I have a Riggins, and I disagree with those parents and would counter with, "You don't know unconditional love AND support until you have a dog."
Riggins is my dog. He is currently 10 years old and has been my baby boy since he was a tiny 3-month-old puppy. During our 10 years together, Riggins has been my protector, friend, confidant, and champion. It is his pure and unquestionable love that has helped me get through some tough times in my life.
There are two very specific incidents in my life from which I feel like Riggins saved me. I want to share those with you so that if you don't already understand the love a dog can give, you will get some idea.
When I was 32-ish, my live-in boyfriend, Riggins' dad, told me it was over. Of course, looking back it was all for the best, but at the time I was devastated. Out of nowhere, my life and the path I was on was changed without anyone asking my permission first. This was the man I had planned on marrying.
The day after being told it was over, I called in sick, grabbed Riggins, and drove to Santa Barbara. I walked with my baby all over that city. We went to a park and sat and watched the turtles in the pond. Well, I watched them. Riggins tried to get to them so he could have a little mid-morning snack. We walked past the train station, where I snuck in with him so I could use the restroom. We walked all the way down to the ocean, where we sat on a bench and watched the waves. At lunch, I found a tiny restaurant where we could sit at a little table on the sidewalk to eat. I wasn't hungry and fed my lunch to my baby. He loved it!
I had my phone with me the entire time. It was a test to see who, if anyone, would miss me. Of course, I didn't get a single call. My work thought I was sick and at home. My family and friends thought I was at work. My longterm boyfriend didn't hold that title anymore. No one checked in on me, and other than my really sore feet from walking all day and the horrible sadness washing over my entire being, it was a really fun timeout. The excursion showed me that Riggins and I could do this as long as we had each other. Driving home, the unknown I was facing wasn't as scary as it had been that morning because I had my sweet baby boy next to me. We were a team.
It took a few weeks for everyone involved — Riggins, his dad, and me — to find new accommodations on opposite sides of sprawling Los Angeles. During this time, my ex moved from the bedroom to the sofa and Riggins happily snuggled closer to me, licking tears from my face. He would get excited when he heard his dad's motorcycle pull up outside and would wait for him to come and join us in bed. When that didn't happen, he would come back and snuggle closer to me as if to say, "That's okay, Mom. We don't need him. You have me!"
Thank goodness I had him. Our new house was in a not-so-great neighborhood, and Riggins' deep throaty bark out the front door at strangers would echo down the street. The only reason I could sleep soundly at night was because Riggins was next to me, snuggled close and ready to spring into action should anyone dare to disturb us. I know he made my folks feel more comfortable, as well. When my parents left us for our first night in the new place, my dad patted Riggins head and told him to take care of me.
Riggins unconditional and unquestioning love helped me move on with my life — to a better one!
Years later, after climbing the corporate ladder, I found myself in a job where I wasn't happy. That's actually a bit of an understatement. I had passed unhappy and was in deep-dark-hole-with-no-way-out depression. I worked from home — when I was home, as I traveled for work constantly — and by midday I was so miserable I'd move to the bedroom, where all I could do was lie on my bed and sob. Not normal sobbing, but gut-wrenching, gasping-for-air sobbing. The kind of despair I felt was the kind you can't get yourself out of. I was losing my grip on my life and myself, and it was Riggins who helped me regain it. To be honest, it was Riggins and my family, but Riggins is part of my family so it is one and the same!
When I was at my lowest, Riggins wouldn't leave my side. He would jump up on the bed with me and lick my face, cuddle next to me, and force his head under mine. It was because of him that I would go outside, and it was my weekend hiking trips with him, before Sunday night work calls started up again, that made me happy.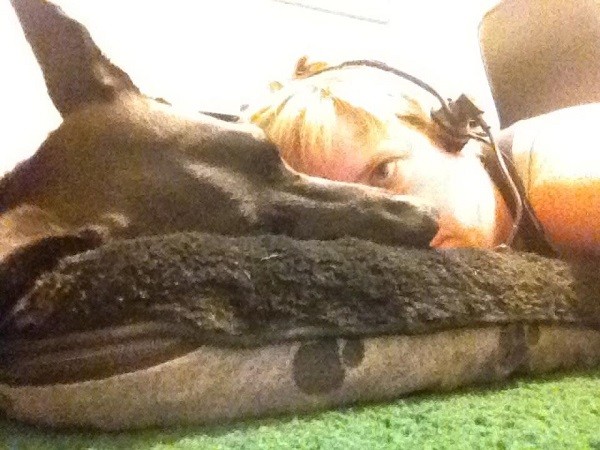 Part of my reason for getting the additional help I needed, quitting my job, and finding things to smile about again was because of Riggins. He was ALWAYS there for me without hesitation. He had my back, and he would never let harm come to me if he had any say in the matter.
It was unfair of me not to be in a mental and physical position to do the same for him. So I had to make the necessary changes in my life to be the person who deserves such a wonderful and loving dog, son, and partner in crime!
I don't want to know what path I would have taken without my darling baby boy's support.
How has your life been changed for the better because of a dog's love? Let us know in the comments below.
Read more by Wendy Newell:
About the author: Wendy Newell is a former VP of Sales turned Grade A Dog Sitter. After years of stress, she decided to leave the world of "always be closing" to one of tail wags and licks. Wendy's new career keeps her busy hiking, being a dog chauffeur, picking up poo, sacrificing her bed, and other fur-filled activities. Wendy and her dog, Riggins, take their always-changing pack of pups on adventures throughout the Los Angeles area, where they live together in a cozy, happy home. You can learn more about Wendy, Riggins, and their adventures on Facebook and Instagram.