We all know the heartbreaking statistics on how many animals are euthanized in shelters across the country on a daily basis. We don't need to give you more depressing stats or continue to preach to the choir of responsible pet parents. We're looking at what it's really going to take to get to No Kill.
The big question is what can we actually do? How can someone help if they are already at capacity for the number of dogs (or cats) that they can adopt?
What does "No Kill" mean?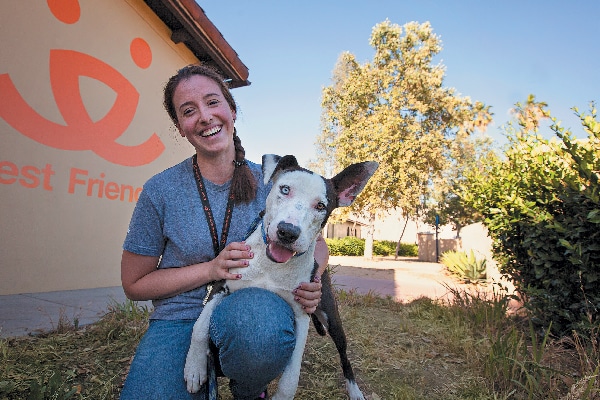 Best Friends Animal Society (BFAS) has been working toward No Kill since 1984, with a goal to get the entire nation to No Kill by 2025. The organization defines a shelter or community as "No Kill" if 90 percent of the animals that come through the shelter make it out alive. "Every healthy or treatable animal should be saved," explains Holly Sizemore, chief national program officer for Best Friends Animal Society. "It really takes politic will, leadership and community support," she continues. "Solutions are out there, and it's been done so you don't need to do anything new."
Part of the problem is that — even those of us with the best intentions — just accept that shelters have to kill animals. We think that's just the way it is. If just one person is willing to stand up and say "This is not acceptable," that's all it takes. "I've seen one person change their entire community," Sizemore says.
How can you help shelters get to No Kill?
If you aren't politically inclined, there are many other things you can do to help, too.
Open your home to a temporary foster. Even if you can't take on any more dogs permanently (or even long term), sometimes rescues need help when foster caretakers go on vacation or just overnight during the transport process.
Volunteer your special skills. Many people think of volunteering at a shelter as cleaning up dog kennels, but rescues can use help in other areas, too. Are you an accountant? Maybe you can help with taxes. Have a knack for the written word? Maybe you can help write animal descriptions or newsletters.
Check local rescue or shelters' wish lists. Whether it's listed on their websites or on Amazon, many organizations list the specific items they need. Gift something off their wish list, and you know that your money and efforts are truly helping. (Note: If you like to shop on Amazon, shop through the AmazonSmile program to support a charitable organization. See smile.amazon.com for details.)
Donate services or goods. Do you have your own business? Donate your services or goods to a rescue for a silent auction or other fundraiser.
Hold politicians accountable. All you need to do is ask "Are we No Kill?" If not, "How are we doing? What are you doing to help us get there?" Sometimes just planting the seed is enough.
Encourage friends and family to choose dogs based on their lifestyle. Many of us have that one dog from our childhood that we felt connected to. But as an adult, maybe a short-nosed Pug isn't the best choice if you want to go hiking in the mountains every weekend. Likewise, that adorable Border Collie that you grew up with on the farm is probably going to drive you crazy in your New York apartment. When people think more about what type of dog fits their lifestyle than what breed they have a sentimental connection to, fewer dogs are going to end up in the shelters in the first place.
Creating safety nets
No Kill is more than an individual effort, though. We all recognize that responsible dog breeders do exist, and they can play a part in this, too. Sizemore says it's important for these dog breeders to "help support breed rescue organizations and help create safety nets." She has heard of breeders that not only take back their own dogs if the family can't take care of them anymore, but "some even take in dogs that just look like their breed." Most (if not all) reputable dog breeders even include it in their contracts that the pet parent must give the dog back to them if they don't want him or can't take care of him anymore.
And lastly, pet stores and big commercial stores have a role in getting to No Kill. These stores have a big influence on their communities and have the opportunity to share the message about adoption. If they offer adoptable pets and create informational programs for the community and provide services that set pet parents up for success (like offering training classes and affordable medical services), we will be that much closer to No Kill.
The bottom line is that there is hope. Thanks to the efforts of groups like BFAS, more than 1,500 communities of all sizes across the country have achieved No Kill status. It has been done, and it can be done in any community — we just all need to pitch in and do our part!
Why do so many dogs end up in shelters?
Why are so many dogs ending up in shelters in the first place? Rescue organizations believe there are three main reasons:
Accidental births from not spaying or neutering. One unspayed or unneutered dog can lead to hundreds (if not thousands) of accidental births. All of these dogs have to go somewhere, and the ASPCA statistics show that approximately 3.3 million dogs enter shelters each year (though that number is declining). At the very least, spaying or neutering your dog reduces their risk of certain cancers, as well as the chance of them roaming to find a mate and getting hit by a car or getting into a fight with another dog. Today, there are many cost-effective or even free spaying and neutering programs available to pet parents —
we just need to get the word out.
People buy from puppy mills pumping out puppies instead of adopting a homeless dog. At puppy mills, dogs live in cramped cages in horrible conditions. They often get sick and are never tested for genetic issues. If you aren't buying a dog directly from a responsible dog breeder, find out where the dog is coming from. If the pet store won't tell you where the puppy is from, he could be from a puppy mill.
People don't realize the commitment (financial, training, etc.) that comes with having a dog, and it becomes too much for them. According to a research study from the ASPCA, approximately 1 million households rehome their dogs each year due to behavior issues or not being able to afford to take care of their animal. These dogs sometimes end up with family members, but 36 percent are taken to shelters (not including the percentage of family members who end up taking the dogs to shelters because they don't want them).
The final word on No Kill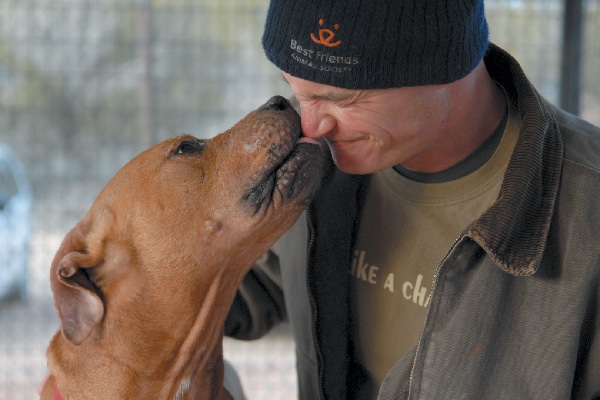 We can all play a role in this by creating ways for pet parents to be successful in our communities by helping to create training classes and affordable medical services. There are organizations out there that already do this (like the Training Wheels program created by Sue Sternberg mentioned in this issue's Be Furractive column). You can support rescues with the Training Wheels program and get the word out to at-risk pet parents that help is available.
Tell us: What are you doing to help us get to No Kill?
Thumbnail: Photography ©Compassionate Eye Foundation/David Leahy | Getty Images.
Abbie is a freelance writer based in Colorado, where she lives with her husband, three dogs and bunny. She has a Diploma of Canine Behavior Science and Technology and experience as a positive reinforcement dog trainer.
Editor's note: This article first appeared in Dogster magazine. Have you seen the new Dogster print magazine in stores? Or in the waiting room of your vet's office? Subscribe now to get Dogster magazine delivered straight to you!
Read more about adoption and rescue on Dogster.com: