George is a self-proclaimed "giant-sized" English Mastiff who, earlier this year, moved with his "hooman" from their home in Texas to begin a new life in Japan. Once he'd settled and unpacked, our thrill-seeking new friend decided to start exploring his new country and documenting his adventures on his Facebook page.
Here are George's cross-cultural highlights so far.
Florence and The Mastiff
First up, for reasons we may never truly understand, let the record show that George has become very protective over a pink plastic flamingo named Florence who perches in his new front yard.
Adventure 1: The Dog Park
For his inaugural Japanese jaunt, George decided to check out the local dog run, named Showa Park. According to this self-confident pooch, he was "an instant hit" among local dogs of all shapes, breeds, and sizes.
George also did his bit to assimilate into the local culture by sticking with his U.S.-honed dog park tactics of simply lying around rather than going crazy. As he pleaded, "In my defense, it was fairly warm this afternoon!"
George's Passport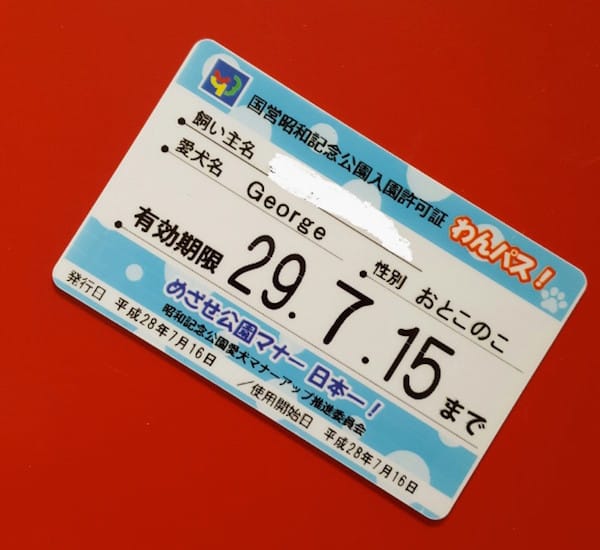 After becoming a hit on the Showa Park scene, George was given his very own ID card (which the locals call dog passports). "I am kind of a big deal, ya know?" declared our humble pal.
Adventure 2 and 3: Tokyo Tour
Okay, so apparently for his second adventure, George attempted to check out a sushi restaurant where individual pieces are served up via a conveyor belt — but he was dismayed to find that it was a case of canine non grata in the emporium.
Undeterred, George skipped merrily ahead to his third adventure — an exploration of Tokyo's shopping district. One of the stops was a pet store that apparently stocks quirky toys and accessories for dogs, cats, and monkeys. Yes, monkeys. Let's perhaps move wisely on.
Adventure 4: Swim Time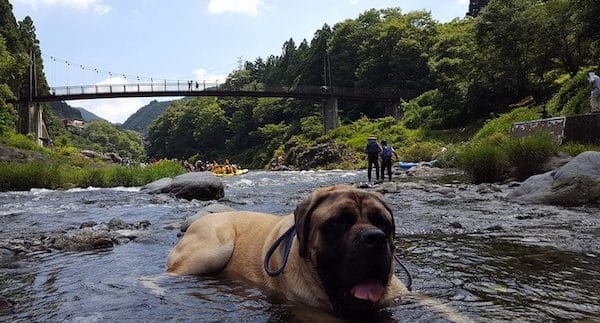 For adventure number four, George and his human took an hour-long drive outside the city to immerse themselves in a bunch of nature.
After ambling gracefully through some "breathtaking" scenery defined by "lush green mountainsides," George decided to take a dip in the Tama River — a detour that involved "a treacherous climb down the footpath."
George being George, our hero then thought it best to "walk out into the cold water and just lie there for an hour!"
Adventure 5: In a Bit of a Jam
For his latest adventure, George and his human went on a pilgrimage to experience a blueberry jam vending machine.
As our gourmand pooch explained, "Something fun we have in the neighborhood is a vending machine that sells local blueberry preserves from the adjacent farm! Yup, just walk right up, tie your dog to a pole, plunk your change into the machine, open the door, and take your jam."
Naturally, George had no issues with the lying around and waiting for the jam to be dispensed part of the transaction.
Love Quest: Romance Is in the Air
It seems that George has wasted no time in shacking up with a new Japanese girlfriend. Her name is Maple, and she's said to be "a young and flirty Goldendoodle" who lives just down the block from George's new abode.
Proving the power of tolerance in a relationship, George gushes that Maple "puts up with my gross habits like drooling."
Keep up to speed with George's oversized adventures in Japan via his Facebook page.