When it was obvious to me that I was starting end-of-life care for my precious 13-year-old German Shorthair Pointer mix I texted a friend, "I wanted to look into adopting a Potcake … You, of course, are my expert in all things Potcake! … Any guidance you can give would be great …" Twenty-one days later I became the mom to an adorable brindle bundle of Potcake joy!
First, what is a Potcake?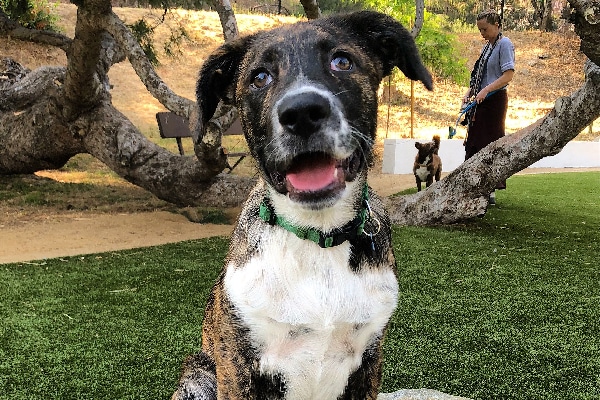 "Hold on a second!" I can hear you saying, "What in the world is a Potcake?" Excellent question and one I have lots of practice answering.
Potcakes are the mixed-breed street dogs of a limited gene pool of the Bahamas and the Turks and Caicos Islands. On these islands, the locals cook a pea and rice stew that leaves a cakey substance on the bottom of the pot. This "pot cake" is fed to the street dogs — hence the name! The Bahama's Kennel Club does consider Potcakes a breed, although we don't at this point in the United States. The exact mix really depends on what dogs had been introduced to the islands in the past. (You now have to fill out paperwork and get permission to bring outside dogs into those islands.)
How do you adopt a Potcake?
I was lucky as my friend's dad and stepmom are active in the rescue community of the Bahamas and loving Potcake parents themselves. They graciously found my pup for me and worked to get him across the US to California, to his new home.
There are a number of individuals and groups that help not only save and arrange adoptions for the Potcakes of the islands but lead efforts to help reduce the number of homeless dogs through spay and neuter programs. One of the most well-known groups, Potcake Place, is based in Providenciales, Turks & Caicos Islands.
There, tourists can help by visiting their adoption center to socialize with the dogs or even borrow one to take out on the beach for an adventure. You can even volunteer to help bring adopted pups back to the states. Potcake Place provides all the necessary items and paperwork for the dogs to fly and will have someone meet you at your destination airport to get the lucky dog to her new home. Of course, you can always adopt a pup to become a member of your own family!
It is the amazing people of these islands who donate time, money, skills and their homes to these dogs. All of us Potcake owners will be forever thankful for them. I was lucky, I had an "in" through my friend. Potcake Saga worked with a local woman in South Andros, donating her time rescuing these sweet dogs, to bring my Potcake to me.
What are Potcake puppies like?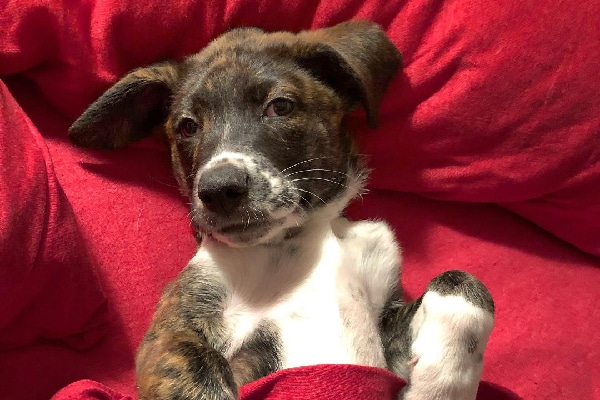 My friend talked me into being ok with a puppy despite my years of saying, "I'll never have a puppy again." She insisted Potcake puppies are usually very easy. I felt like I was being duped, but once I saw his picture there was no going back.
On a particularly sad Sunday dinner when my lovely friends had taken me out to help cheer me up, I got a text with a picture of my new pup. I started to cry right there over my margarita. He was perfect and he was very soon going to be with me.
What is it like living with a Potcake?
As I write this, Miles (named that because he traveled so many to be with me) is 19 weeks old and I have to admit is the easiest puppy I have ever met. I am convinced it is part of his DNA from years of ancestors surviving on their own. He has only been to two of his obedience classes and is a shining star.
From his very first night with me he slept all the way through. He'll go in his crate and be content or nap on the bed with me on his back, chest exposed and ready for any rubs that might come his way. Potty training was simple and fast. He hasn't chewed up everything in sight — yet! He is as close to perfect as a puppy can get.
What do Potcake parents love about this breed?
After becoming a new owner of such an interesting breed, I did a quick Facebook search and found others like me. The group posts pictures of their adorable Potcakes and Notcakes (what we Potcake owners call a non-Potcake dog), sharing their stories and antics.
I asked a question of the members of Potcake Nation. What did they love most about Potcakes? I quickly got over 150 responses and almost that many pictures. I'd love to share every single one with you but that seems a little excessive, especially as they all have a similar theme! Potcakes are smart, loyal, energetic and loving pups. They may not all look alike but they all seem to know that they are lucky to be rescued and in a loving home.
Sometimes Miles will sit a certain way and it will remind me of the dog I lost earlier this year. Thirteen years was a long time together and when he was gone my heart was broken. Miles helped scoop me up and make me smile again. He is my sweet island pup!
Thumbnail: Photography courtesy Wendy Newell.
Wendy Newell is a former VP of Sales turned dog sitter, which keeps her busy being a dog chauffeur, picking up poop and sacrificing her bed. Wendy and her dog, Riggins, take their always-changing pack of pups on adventures throughout the Los Angeles area. Learn more about them on Facebook @The Active Pack and on Instagram @wnewell.
Read more about dog breeds on Dogster.com: