Ah, poop bags — those convenient little plastic bags make it easy to pick up and toss out your dog's poop, but environmentally conscious pet owners might feel guilty about adding even more plastic to our landfills. Luckily, many eco-friendly options are available that are just as convenient but kinder to the environment.
First and foremost, the best way to protect the environment is to always pick up after your dog and dispose of it properly. "We all need to be responsible for the waste that our furry friends produce," says Jennifer Pope, vice president of marketing for BioBag Americas, Inc., based in Dunedin, Florida. "Left alone, dog waste can pollute ground and surface water, attract flies and pests, cause an unpleasant odor and create unsanitary living conditions. Dog waste can also transmit parasites."
Biodegradable Poop Bags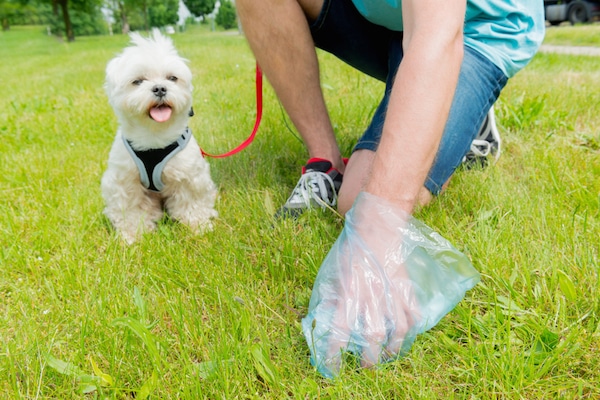 According to Pope, the best way to dispose of pet waste in terms of impact on the environment is composting it. "There are now a number of communities and parks successfully composting their dog waste," she says.
Commercially available biodegradable poop bags are meant to be composted, either at home or at an industrial composting facility. Throwing biodegradable poop bags in the trash defeats the purpose of trying to eliminate the amount of trash in our landfills. Even biodegradable poop bags don't break down well in a sealed landfill — the bags don't get the necessary oxygen to break down.
If you do end up tossing your biodegradable poop bags in the trash, they are still more environmentally friendly than petroleum-based plastic bags. Biodegradable poop bags like BioDOGradable Bags, BioBag Pet Waste Bags and Define Planet's Veggie Based Poobags are made with renewable materials derived from plants. This means manufacturing the bags takes less of a toll on the environment compared to manufacturing plastic bags.
Flushable Poop Bags
If you can't compost (or just don't want to), the next best option is flushing the poop. Flushable poop bags like Flush Puppies Flushable Doodie Bags and Flush Doggy Flushable Poop Bags are made of a water-soluble material called polyvinyl alcohol. These bags allow you to pick up your dog's poop and flush it down the toilet, eliminating the concern of more plastic (and poop) in our landfills.
Flushable bags become soft enough to flush shortly after being placed in water and are safe for sewer systems. Some flushable bags are also safe for most septic systems (check with the manufacturer). Some flushable poop bags are also safe for industrial composting but are not recommended for at-home composting. For easier flushing, don't tie a knot in the bag — leave it open. Or better yet, dump the poop into the toilet then toss the empty bag in.
Recycled Poop Bags
If you're not interested in flushing or composting your dog's poop and its bags, but still want to find ways to reduce your dog's environmental pawprint, consider purchasing poop bags made from recycled materials. In addition to plant-based compostable bags, The Original PoopBags offers a line of bags made from a minimum of 20 percent recycled materials.
No Poop Bags
One of the best ways to reduce additional waste when picking up your dog's poop is skipping poop bags altogether. Get creative. Consider using a shovel or pooper scooper to pick up the poop and either compost it, flush it or toss it into the trash. You can also repurpose old newspaper or paper bags to pick up the poop and dispose of it.
Tell us: How do you pick up your dog's poop? How are you decreasing your dog's eco-footprint this Earth Month? What other suggestions would you add?
Thumbnail: Photography ©MachineHeadz | iStock / Getty Images Plus.
Read more about dog poop on Dogster.com: