Summer is the time for ultimate outdoor fun, but it's also the time to put safety, comfort and convenience first when you're taking your best furry friend on adventures with you. Here's some must-have summer gear to take the season's fun to the next level.
Water dog gear
The Float Coat by Ruffwear makes water activities just about worry-proof, whether you're rafting, kayaking, boating, surfing or enjoying a day at the beach. This doggie life jacket has a strong handle for pulling your dog out of the water and reflective trim for enhanced visibility. It comes in three eye-catching colors.
Kurgo's Surf and Turf Life Vest keeps Fido's water play safe — and its floatation layer can be removed to expose an underlayer that doubles as a raincoat for those pesky summer storms. It also features a tough handle and D-rings for leash attachment.
For playtime, Ruffwear has a new toy called Gnawt-a-Stick, inspired by Oregon coastal driftwood, a favorite for fetching among dogs in that area. This stick-like toy comes in bright colors, floats, bounces and is chew-resistant plus easy to retrieve.
On-the-go dog gear
There's no reason to leave your dog home when you go biking this summer. For small dogs up to 13 pounds, Pet Safe's Solvit has introduced the Tres Cool Wicker Tagalong Pet Bicycle Basket. The rattan construction gives the basket a cute retro feel and includes a sun shade to keep Fifi cool. It's easy to mount and comes off your bicycle in seconds.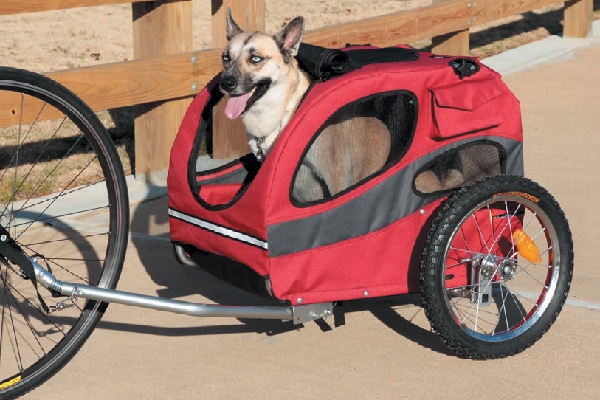 Solvit has also launched its new Houndabout Bicycle Trailer, which can also be used as a stroller or jogger. It's great for dogs with mobility issues or those who simply would rather ride along than walk or hike.
Speaking of walking and hiking, another new product, The Pet Dinette & Leash from Sit Stay Go, is an all-in-one lead that allows you to pack poop bags, keys, cell phone, treats, dog food and water into a convenient modular, hand-held system so you have everything your dog needs for a day out, including food and water bowls.
Designed specifically for water use, the Chuck-It series of floating toys from Petmate come in a variety of sizes and shapes. Bionic's durable toys also float, and the bright-orange color makes them easy to see. Kong's Wet Wubba toy is also a summer fave.
Dog gear to keep your pup cool
Dogs can get sunburned, just like we do. The lightweight stretch jersey on Gold Paw Series' Sun Shield Tee boasts a USP 50 rating that blocks 98 percent of the sun's UV rays. Sun protection is a must, especially for short-coated breeds and those with light-colored noses. It also helps to minimize heat absorption.
Sun protection for canine eyes is critical, too. Doggles makes fashionable and practical goggles and sunglasses that cut the UV rays entering your dog's eyes.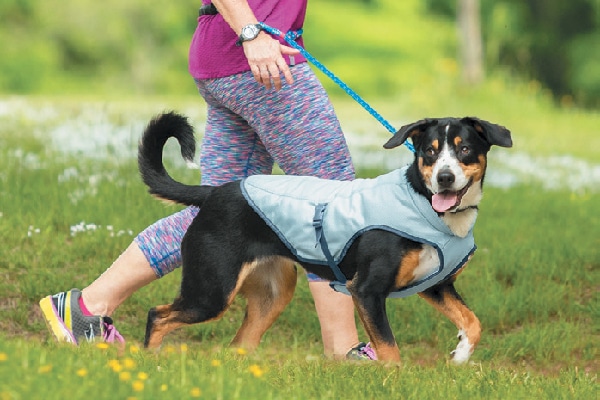 Cooling vests are a must-have for long days hiking, playing fetch or at the beach or lake in the summer sun. The Jet Stream and Swamp Cooler from Ruffwear, the Core Cooling Vest from Kurgo and the Hurtta Cooling Dog Vest all work using evaporation technology. The Dry Cooling Vest from Suitical keeps your dog cool without becoming damp or wet during use and functions simply by filling the vest with water.
Whether you live in the urban jungle, in hiking country or near the hot shores of southern beaches, your dog's paws can become irritated, and even burned, by broiling sidewalks, sand and rocks. Musher's Secret paw pad wax — used in winter to keep salt and ice off — works great to protect against summer heat, too.
Whatever your chosen summer activity, there are many water-friendly and beat-the-heat products to keep it safe and fun for your poolside pooch.
Thumbnail: Photography ©Lisa5201 | Getty Images.
Nikki Moustaki is a dog trainer, dog rescuer and pet expert. She splits her time between New York City and Miami Beach, Florida, and is the author of the memoir The Bird Market of Paris. Visit her on Facebook, on Twitter at @nikkimoustaki and at nikkimoustaki.com.
Editor's note: This article first appeared in Dogster magazine. Have you seen the new Dogster print magazine in stores? Or in the waiting room of your vet's office? Subscribe now to get Dogster magazine delivered straight to you!
Read more about dog gear on Dogster.com: