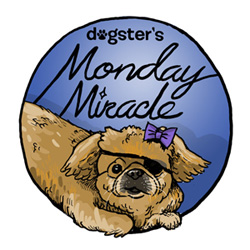 They call him Willing the Wonder Dog, because he has proven he has the will to survive whatever life throws his way.
"He's just a determined little dog," says his human, Stephanie McPeak.
McPeak first laid eyes on Willing nine years ago when he was just a tiny day-old pup. His breeder had brought the baby Pit Bull into the clinic where McPeak worked as a vet tech. The breeder wanted to have the puppy evaluated because one of his hind legs was twisted behind his body.
"Even at 12 or 15 hours old, you could tell his spine was abnormal, his tail was abnormal, and his left leg was abnormal," McPeak remembers.
Early on in her interaction with the breeder, McPeak got the feeling that the man might not have the puppy's best interests at heart.
"The guy stood over him and said, 'I bred you to make money, not spend it,' and I thought, 'Oh, great.'"
According to McPeak, Willing's deformity was such that it was unlikely he would be able to push his siblings out of the way to eat, and that's why the doctor she worked with offered to euthanize the pup for the same price as a gerbil or hamster.
"We didn't want the puppy to starve to death," she says.
The breeder declined the doctor's offer of euthanasia, and stated that he would raise Willing instead.
"He said he was going to make him a wheelchair and that he was going to keep him."
Unsure if the breeder could handle raising a dog with special needs, McPeak made the man an offer.
"I said if he makes it through the first six weeks and you can't keep him, let me know and I'll take him."
Eight weeks later, the man was back at the clinic, this time without the puppy.
"He came in and wanted to know if we would still euthanize him for the price of a hamster or gerbil," McPeak recalls. "I said, first of all, no, because he's no longer the size of a hamster or gerbil, and secondly, I had said that I would take him if he made it through the first six weeks."
McPeak convinced the man to go get the puppy and come back to the clinic. When the pup arrived, McPeak could see he'd defied all expectations over the previous two months. Despite his deformities, and despite having never been bottle fed, the little puppy hadn't starved. McPeak knew this little guy had the will to live and dubbed him Willing.
Soon after finding himself in the loving arms of his forever human, Willing had to undergo an amputation of his deformed hind leg. He was left with use of his two front legs and his remaining hind leg, which is not a regular leg at all.
"It's a little peg leg," explains McPeak. "It's kind of worked its way into the middle of his body, so he looks like a tripod, literally."
When he was nine or 10 months old, McPeak noticed Willing was having issues with his elbows. He seemed to be in pain and wasn't able to walk in a straight line. Concerned about her young pup after seeing his X-rays, McPeak went to an orthopedic surgeon, who confirmed Willing was suffering from elbow dysplasia.
For other dogs, this diagnosis would be followed by an operation, but McPeak and her doctor knew that wouldn't work for Willing.
"He wasn't a candidate for surgery because he had to use his front legs. There would just be no recovery."
Instead of surgery, McPeak helped Willing manage his pain. Not wanting to have to give him pain pills every day, McPeak also got him used to riding in a wagon, which takes the pressure off his joints and means he doesn't need drugs as frequently.
The wagon also came in handy when McPeak decided to get Willing certified as a therapy dog through PAWS for People. When he's in his wagon, Willing is at the same level as humans who use wheelchairs.
"He goes to a nursing home, an elementary school, and a medical-needs day care," McPeak explains.
"The daycare has a little girl who needed to have her foot amputated due to a deformity in her ankle, and they found out about Willing and asked if he would come and start visiting her. She'll take him for a little walk around the room, and sometimes she'll let go of her walker and she'll hop along and he'll hop along with her. It's really cute to watch the two of them."
As a longtime Pit Bull lover, McPeak knew the same attributes that make Willing a great therapy dog would also make him a great breed ambassador. Along with his four-legged Pit Bull siblings, Willing attended the Million Pit Bull March in Washington in an effort to bring awareness to the myths and misconceptions associated with the breed.
According to McPeak, Willing helps put Pit Bulls in a positive light when he interacts with people who don't know other Pit Bulls.
"Everybody sees him and wants to know his story. They don't see him as a scary Pit Bull. He's the perfect dog for it."
Willing may be the perfect therapy dog and brand ambassador, but one thing is also certain — McPeak turned out to be the perfect human for this special needs pup.
Read about more Monday Miracles on Dogster:
About the Author: Heather Marcoux is a freelance writer in Alberta, Canada. Her beloved Ghost Cat was once her only animal, but the addition of a second cat, Specter, and the dog duo of GhostBuster and Marshmallow make her fur family complete. Sixteen paws is definitely enough. Heather is also a wife, a bad cook, and a former TV journalist. Some of her friends have hidden her feed because of an excess of cat pictures. If you don't mind cat pictures, you can follow her on Twitter; she also posts pet GIFs on Google+.