Specially trained to help their individuals with disabilities to live independent lives, a service dogs assists with an array of tasks from guiding blind people across busy intersections to supporting returning combat veterans who live with the effects of PTSD. Service dogs can be self-trained (with the support of a professional dog trainer) or be specially raised and trained through a program. But what kinds of jobs do these dogs do, and what makes a good service dog?
1. Medical alert service dog
This type of service dog is trained to support people with a variety of health conditions, including diabetes, seizures and narcolepsy. Medical alert dogs support their disabled handlers by alerting prior to a medical episode, helping their handler get to a safe location before the attack, bringing medication and/or summoning help, including dialing 911 if needed.
2. Blind or visually impaired service dog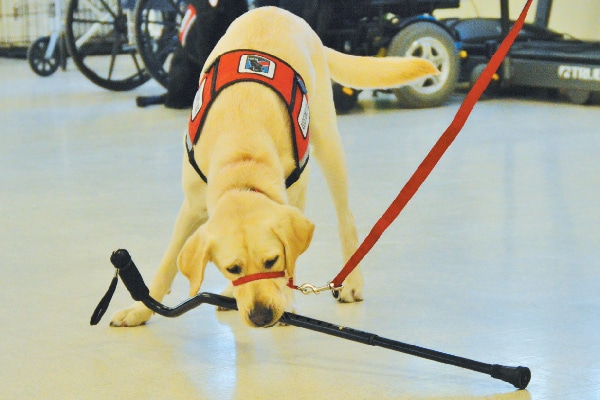 This type of service dog helps people who are blind or visually impaired navigate the world. Guide Dogs for the Blind vice president of training operations Kristin Lucas explains that their program uses Labrador Retrievers, Golden Retrievers and a cross breed of the Labradors and Goldens. These breeds are chosen for their "double coat which makes them appropriate for placement in all climates." They are also the right size for the job, which is appropriate for traveling on public transit and airplanes but not so small that they can't guide their handlers successfully. "If you get a dog that is too small, they can't do their job effectively," Kristin says. (Note: Seeing Eye dog is a trademark of Seeing Eye Inc., which is why the term is not used here.)
Dogs begin their formal training with Guide Dogs for the Blind at 16 months old. Before that, they are with volunteer puppy raisers from the time they are 8 to 10 weeks old, learning basic manners and getting socialized to the world. The formal training program on Guide Dogs for the Blind training campuses in Oregon and California lasts for 12 weeks. This rigorous training program involves close work with trainers and a multi-step assessment to ensure the dog is ready to be matched with a handler. Once matched, the guide dog and handler train together for two weeks. Kristin says, "Our clients come from all walks of life and all different personality types, wants and needs. Getting to match all those together with the right dog and watching the true partnership come out is the magic behind guide dog teams."
3. Hearing service dog
Hearing service dogs assist deaf and hard-of-hearing people, alerting them to important sounds like alarms, telephones, smoke alarms, etc. Audrey Trieschman, manager of communications at NEADS World Class Service Dogs program in Massachusetts, says the program uses "both purebred Labrador Retrievers and shelter puppies for our Hearing Dog program." They are looking "for puppies who respond to sound and who are curious about sound."
In terms of training, Audrey explains that in their unique program "puppies arrive at the NEADS Early Learning Center when they're around 8 weeks old, and they can spend several weeks on campus. During that time, our staff works on socialization, exposing and familiarizing pups to sights, sounds, textures and building confidence. They then move to one of seven correctional facilities in Massachusetts and Rhode Island for task work and obedience training. There, each puppy is assigned to an inmate handler, who works with him or her for the next 12 to 18 months."
4. Mobility assistance service dog
Mobility assistance service dogs help people with physical disabilities by pulling wheelchairs or providing balance bracing for people who need support while standing or walking. Ellen Torop, Program Manager, Northeast Region, Canine Companions for Independence says that dogs trained in their programs "know over 40 advanced commands that are useful to a person with disabilities. These dogs can open and close doors, turn lights on and off, and pick up dropped items." Ellen says that the organization uses Lab/Golden crosses in the program because of their size, strength and eagerness to learn.
5. Psychiatric service dog
Psychiatric service dogs work with handlers who have mental health disabilities. These dogs assist people living with PTSD, such as combat veterans or civilians. Psychiatric service dogs can also be trained to assist people with obsessive compulsive disorder, autism, schizophrenia, bipolar disorder and various panic disorders. Psychiatric service dogs can be any breed or mixed breed, and various-size dogs do this work.
These dogs are not emotional support dogs; they are specifically task trained to mediate their handler's disability including: reminding handlers to take medication; interrupting obsessive, panic or dissociative episodes; or guiding a disoriented handler to a safe location.
Legal protections for a service dog
Service dogs and their public access is protected federally in the United States by the Americans with Disabilities Act passed in 1990. There is no national registry of service dogs or standard test or certification process. Businesses are not allowed to discriminate against people with disabilities or demand any kind of documentation about the service dog in the United States. According to the ADA Network, they may ask if the service dog is required because of a disability if the disability is not obvious and what work or task the dog has been trained to perform. The Americans with Disabilities Act distinguishes service dogs from other dogs by training that is directly related to the owner's disability.
An Emotional Support Dog Is

Not

Considered a Service Dog
Emotional support dogs provide needed comfort to their owners and must be prescribed by a mental health professional. A key difference between emotional support dogs and service dogs is that emotional support dogs are not trained to perform tasks. They are permitted in housing that is not pet friendly but do not have public access rights, so they cannot accompany their owners into public. Airlines do allow emotional support dogs, but definitely review the airline's emotional support animal policy.
Thumbnail: You can tell these Canine Companions for Independence pups in training are already heroes from the capes they wear! Photography ©Canine Companions for Independence.
Sassafras Lowrey is an award-winning author and Certified Trick Dog Instructor. Sassafras lives and writes in Brooklyn with her partner and a senior Chihuahua mix, rescued Shepherd mix, Newfoundland puppy, two bossy cats and a semi-feral kitten. Learn more at sassafraslowrey.com.
Editor's note: This article first appeared in Dogster magazine. Have you seen the new Dogster print magazine in stores? Or in the waiting room of your vet's office? Subscribe now to get Dogster magazine delivered straight to you!
Read more about service dogs on Dogster.com: