My dog, Baby, is a Bluetick Coonhound mix, and while she's nearly 5 years old, she's lost none of her puppy energy. Several times a week we go for a 3-mile hike. I may be worn out by the time we get home, but that's exactly the moment she wants to start wrestling or roughhousing.
When I refuse, she'll either flop around on the ground or do a series of wind sprints around the yard. Dog owners know these abrupt physical responses as "frapping" or getting a case of the "zoomies." I can tell you that "frapping" has nothing to do with blended coffee drinks, and "zoomies" are not drugs from 1960s science fiction. So what are they?
First, what is frapping?
Does your dog seem to go crazy after a walk or a bath — both of which certainly apply to Baby — or run around the house without warning? Congratulations! You're living with a frapper. Canine behavioral experts probably felt a bit silly saying "zoomies," so around the year 2000, the acronym FRAP started popping up. It stands for "Frenetic Random Activity Period."
"Frapping" is not a scientific term, nor is it particularly accurate. If a dog reliably dashes around after bathing or exercise, there's nothing random about it! No matter what you call it, why does it happen? Why do dogs start frapping or get the zoomies? Let's take the most common scenarios and work through them together.
Why do dogs run around the house?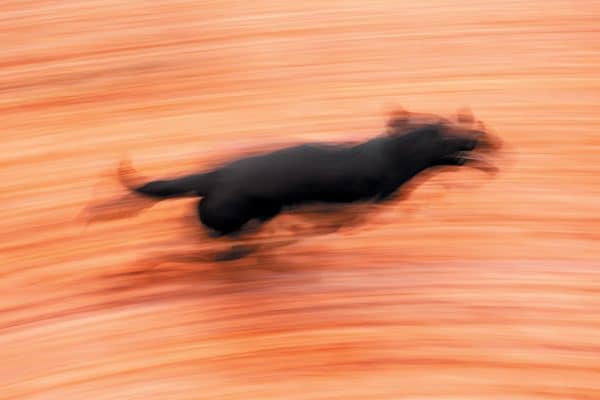 The average dog sleeps 12 to 14 hours a day, which most of us will agree sounds awesome. The rest of the time, dogs are creatures of curiosity and movement. We train them to submit to and abide by every kind of restrictive boundary, ranging in square footage from a crate to the living room, all the way up to a fenced-in yard.
No matter how much room we give them, a dog always wants more. Whether you call it "zoomies" or "frapping," these bursts of energy are, in part, a response to confinement. We get frustrated when our dogs zip about the house and knock a valuable item onto the floor, but imagine how dogs feel being unable to truly stretch out their legs!
Why does frapping happen after a bath?
Bathing needs vary by dog, but conventional wisdom tells us that dogs should get a bath once every four to six weeks. Baby enjoys a bath about as well as being confined: She tolerates it. A dog's natural grooming habits condition their skin and help distribute healthy skin oils.
We've all been caught in a storm without an umbrella and felt weighed down by wet clothes. Bathing is a similar experience for dogs, combined with the unusual scents of soaps and shampoos. Dogs roll on the ground or take to other frapping behaviors after a bath as a reaction to physical discomfort.
Why do dogs get the zoomies after a walk?
I started with Baby wanting to wrestle or run at the end of our normal hike together. No matter how fast we walk our dogs, we can never match their energy or speed. Like living indoors or being bathed, the pace we move at is strange and unnatural for any but the smallest dog.
A dog that gets the zoomies or starts frapping as soon as you get home is expressing frustration. Baby knows our hiking route so well, she now fraps in anticipation. The second she realizes we're headed home, she'll flop over and refuse to move at all!
Random acts of predictability
"Random" might be part of "FRAP," but the conditions that inspire frapping in dogs are entirely predictable. Even the best-trained dogs may have a period of frenetic activity on occasion. If the collection of porcelain figurines you inherited from your grandma loses a member every time your dog has a bath, it's not your dog's fault!
Thumbnail: Photography ©YinYang | Getty Images.
Melvin Peña is a writer, editor, social media manager and SEO specialist who spends most of his time in Durham, North Carolina. His interests include his dog, Baby (of course!), art, hiking, urban farming and karaoke.
Editor's note: This article first appeared in Dogster magazine. Have you seen the new Dogster print magazine in stores? Or in the waiting room of your vet's office? Subscribe now to get Dogster magazine delivered straight to you!
Check out other helpful articles about dog behavior Dogster: