Dara Moss' French Bulldog was born with terminal liver failure. Hildy was always cold, even while living in Texas, and shivered year round. In an effort to keep Hildy warm, Dara bought many coats to help her retain body heat, but soon realized that French Bulldogs aren't a good fit for off-the-rack clothing. If it was an affordable coat, it didn't fit well, and in order to get a good fit on a short and sturdy breed, she had to spend a lot of money. Dara taught herself to sew and began making her own coats for Hildy, ensuring that she was both warm and well-fitted.
Because of Hildy, Dara was always aware of the thin membranes of the stand-up Frenchie ears that are so exposed to the elements. Even though Hildy had passed and Dara now had her brother, Enzo, she was concerned about his ears being cold when they moved to Maine. It was early in the year of 2014, and the polar vortex was descending on the nation. Newscasters were warning citizens that any exposed skin was subject to frostbite. Those Frenchie ears were weighing heavy on her mind as she bundled up to take Enzo outside to do his business. It was this moment that launched her into the next chapter of her life, and she created the very first BatHat to keep Enzo warm and protected.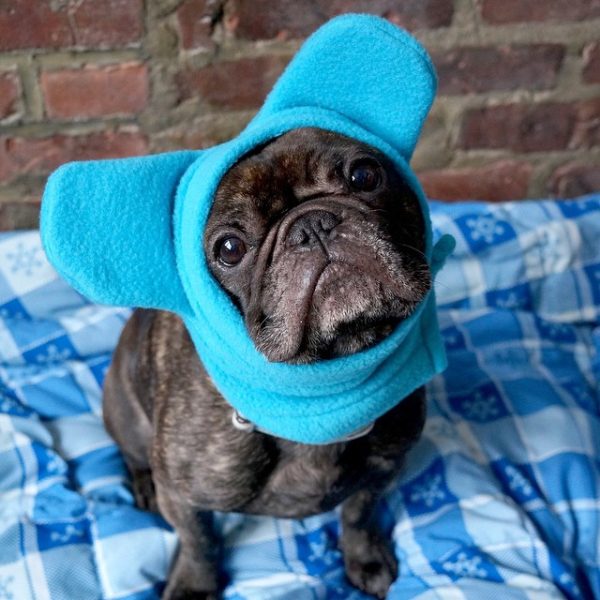 The BatHat was a quick design she created to keep Enzo's ears warm when he went outside. She'd looked at other hats for dogs on the market and realized that they weren't made for dogs like Frenchies, Dobermans, and Corgis with large, stand-up ears. These snoods, which essentially fit like a tight scarf, flattened the dog's ears, making them very uncomfortable. Dara made a hat with pockets for the ears, and the first BatHat was created.
Dara's corporate job was in advertising, but in 2013 she had opened a small shop on Etsy where she sold dog collars as a hobby. Because of her business profession, she was able to effectively share the photo of Enzo in his new hat on her Instagram account, and build excitement from her followers. She listed the BatHat for sale in her Etsy shop and became an overnight sensation. "My sales increased 700 percent that year,"she says. Snorf Industries, named after the noise a Frenchie makes when the dog breathes, was just beginning its journey.
Dara sold so many BatHats in her first year of production, that by the fall of 2014 she was overwhelmed with orders. She also introduced the BatHat Hoodie that year, which was just as popular as the regular hat. Dara stepped out of the corporate world that fall to focus on making dog clothing full time. In 2015, she turned to Kickstarter to launch her from a hobby shop to a manufacturer able to keep up with demand.
"I raised 125 percent of my goal, thanks in part to my loyal customers whom I lovingly called the Snorf Army. They influenced others to contribute to the fund."
The story was profiled by the Boston Globe and was a Kickstarter featured staff pick. Snorf Industries was definitely gaining attention.
Moss went into production with the new funds she now had available, and began mass marketing her BatHats and dog hoodies (also with ear pockets). "Snorf Industries focuses on outerwear that's fun and functional. Or as we say, 'fun'ctional. So much dog clothing is designed to be like human clothes, then retrofitted for dogs. I wanted to try and find a perfect balance of the dog's needs and personality." Everything in the shop is adorable, but also washable, and it can stand up to rough-and-tumble play.
Dara is very conscious about having her products made in the USA. She purchases high-quality Polartec fleece made in Massachusetts, has it laser cut by a family-owned company in New York, and shipped to her Jersey City manufacturing warehouse to create rain coats, hoodies, and hats, which are shipped to customers worldwide. Dara still has her Etsy shop, and says she sells equally from there and her website, SnorfIndustries.com. She attributes a lot of her success to the fact that she donates a portion of her sales to rescues such as French Bulldog Rescue Network, Super Hero Help Fund, and Short Noses Only Rescue Team.
Dara especially loves her customers and considers each one a friend. She tells the story of Boomer, a dog who has necrosis on his ears. When his ears get cold, the skin dies. Boomer's owner struggled to keep him warm, while also keeping the house at a comfortable temperature for the rest of the family.
When Boomer's owner discovered Snorf Industries, she purchased a few hats for her dog. Boomer's ears now stay warm at night and the family can sleep well knowing that he's not in danger of losing more ear tissue.
While not every story is as amazing as this one, Dara's customers are what keep her going. She gains inspiration from their custom orders of color patterns and the stories they tell of how warm and happy their dogs are.
Read more interviews:
About the author: Karen Dibert is a wife, mom, and dog lover living in the Laurel Highlands of Pennsylvania. She has five kids, three French Bulldogs, and a flock of useless chickens. Karen authors a pet column for her local newspaper, advocates for her son with Down syndrome, manages Louie the French Dog's Instagram accounts, compulsively photographs everything, and lives in the sewing room, filling orders for her Etsy shops, The French Dog, The French Dog Home, and Collar The Dog. A snapshot of her life can be seen on Facebook.