So, September is Responsible Dog Owner Month, at least according to the American Kennel Club (AKC). I guess it is nice that an organization making millions by championing dog breeding in a time when there is a huge pet overpopulation problem devotes one month to responsible pet ownership, while the other 11 months are apparently reserved for wholesale breeding. I don't know whether to laugh or cry.
Instead of doing either, walk with me into my fantasyland of what truly makes a responsible dog owner:
1. A responsible dog owner brings a new dog into her life only when she truly has time to devote to force-free training
Dogs do not come to you already trained. This is your No. 1 job. Responsible dog owners who run into a training or behavior problem they can't fix on their own, they call in a professional, certified trainer. Start your search with the Pet Professional Guild.
Further reading: Three Important Things to Teach Your New Puppy and 2-Month-Old Puppy: What to Expect.
2. If a responsible dog owner decides to purchase a dog from a breeder, he learns everything he can about that breeder
If a breeder doesn't proudly introduce you to the dog's on-site parents, walk away. If the breeder doesn't agree to take back the puppy for any reason throughout the dog's life, walk away. Do the same if there is no proof of good health and solid temperament in the breeder's dogs.
Further reading: Responsible Dog Breeders Are Rare, But I Found One and So Can You and A Beginner's Guide to Choosing a Responsible Breeder.
3. A responsible dog owner who is hell-bent on purchasing a purebred dog never ever buys from a pet store
Responsible dog owners know these are abused puppy mill dogs and that the parents of these pet store dogs live in absolute hell. Puppy often mill dogs come with a whole host of heath and temperament problems, so buying a puppy from a pet store not only is cruel, it nearly guarantees you getting a lifelong mess of a dog. Save yourself and the dogs the misery.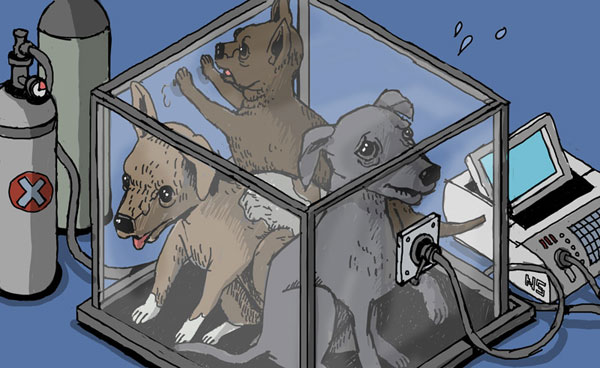 Further Reading: Dogster's many articles about puppy mills.
4. If a responsible dog owner does intend to purchase a purebred dog, she researches the heck out of breeds
She does not bring home a Border Collie if she prefers to watch TV every evening. She doesn't get a Rottweiler when she only has space for a Miniature Poodle. She chooses a breed that matches her training skill set, time, and energy levels.
Nothing makes me more postal than irresponsible owners complaining about dogs (or worse, dumping dogs) who are merely living according to the genetic makeup put into them by humans, such as a herding dog actually trying to herd the children in the home. It doesn't mean that you allow a herding dog to herd and nip at the kids, but it does mean you are prepared to train a different set of behaviors in your herding dog.
Further reading: Why I Love Border Collies and What Dog Breed is Right for Me.
5. A responsible dog owner looks for the dog of his dreams at a reputable shelter or true non-profit rescue
He is aware that every breed has a rescue out there and he seeks and he finds a purebred rescue. Responsible dog owners also love mutts and many could care less about a pedigree because they know that good health and a great temperament means everything. You are truly saving a life when you adopt.
Further Reading: How to Find a Breed-Specific Rescue Group and Working With Shelters Taught Me Everything About Dog Training.
6. A responsible dog owner devotes the first 16 weeks of his new best friend's life toward proper puppy socialization
A responsible owner knows he will forever be behind and he has seriously shortchanged the puppy if proper socialization is not done by the time the pup reaches four months of age. Put a good foundation of force-free training on your puppy and it will serve you and the dog well for a lifetime. Dogs are left behind at shelters for lack of training than for any other reason.
Further reading: Puppy Training and Socialization Tips and Basic Dog Commands and How to Teach Them
7. The responsible dog owner takes her new dog to school and learns how to effectively and fairly communicate with her dog through force-free training
A responsible dog owner never allows anyone –- the trainer, the veterinarian, the nosey neighbor next door who learned dog training from a TV show, etc. -– harm her dog. You must be your dog's advocate and protect her throughout her life from people who may mean well but have no scientific knowledge of how dogs learn. Don't buy into the outdated and completely discredited false belief that your dog is trying to dominate you. It simply is not true.
Further Reading: My Checklist for Those of You in the Market for a Dog Trainer and How Can I Protect Myself Against Bonehead Dog "Professionals"?
8. The responsible dog owner picks up his dog's poop and doesn't wait around from some imaginary Poop Fairy to do this for him
It never ceases to amaze me when people watch their dog poop on someone else's yard or in a public park and they leave it there, just waiting for an innocent person to step right in it. Many cities these days even provide free poop bags that you can use. It's unsanitary for all of us when you are lazy or selfish and you leave your dog's poop behind. Don't be a poop-head — clean it up!
Further reading: 13 Ways to Pick Up Dog Poop and Do You EVER Get Used to Picking Up Your Dog's Poop?
9. The responsible dog owner obeys all leash laws and does not put herself or her dog above the law
Leashes are for everyone's safety. Do you see small children zooming around on bikes or on skateboards? What have the responsible parents of these children put on their children's heads? Helmets — for safety! The same applies to dog ownership — leashes stop potential dog fights, and they keep your dog from being injured by cars, bikes and everything else.
Further reading: 6 Ways to Thwart an Off-Leash Dog Rushing You and Your Dog and 5 Ways to Help Dogs with Lousy Leash Manners.
10. Responsible dog owners take their dog to the veterinarian routinely and they do not breed their dog because there are too damn many dogs already
They never neglect their dog's mental, physical or emotional needs. This kind of owner understands that a dog is not a toy or a human child, but owning one is commitment to a life. Responsible dog owners never dump dogs at shelters for inane reasons such as "dog got too big" or "we had a baby" or "we are moving," because they committed to their dogs and they work through real-life issues as they come up, and they do so with their best friends at their sides.
Further reading: What to Consider Before Becoming a Dog Owner
As you can see, owning a dog is a privilege and a huge responsibility. We owe it to our ever-loving dogs to make their lives worth living. There are many truly responsible dog owners out there. If you aren't doing the things on this list, please leave behind irresponsible ways and live up to your dog's real-life needs — he counting on you!
Are you a responsible dog owner? Tell us about how committed you are to your dog in the comments.
Learn more about dogs with Dogster:
About the author: Annie Phenix, CPDT-KA, is a force free professional dog trainer enjoying her mountain-filled life in Colorado. She is a member of the Pet Professional Guild and the National Association of Canine Scent Work. She takes her highly trained dogs with them everywhere dogs are welcome because of their exceptionally good manners. Phenix generally leaves her six donkeys at home on the ranch . . .but she is thinking about clicker training those little hairy hee-hawers as well.