Over the years she's been called a talented teen and a photography prodigy, but these days pet portrait artist Jessica Trinh is happy just to be known simply as a photographer.
"Once I hit 20, I was no longer attached to the 'teen' label," explains the Orange County artist who just got back from New York City. The sought-after photographer squeezed in a few private photo shoots for clients during her time on the East Coast, but for the most part she spent her time photographing shelter dogs and teaching others how to do the same. It's a natural extension of a project years in the making and of a passion for pet photography that began before Trinh was even in high school.
"I think Dogster started that spark in me," she recalls. "I was 13, and it was on Dogster where I saw a lot of people were taking pictures of their dogs, and I really wanted to get involved in that somehow, so I asked my parents for my first camera."
Trinh's parents obliged, providing her with a point-and-shoot camera she used to take pictures of the family's Golden Retriever, Chuppy.
"From there I started to get more interested in photography, and it kind of just blossomed."
Eventually her stunning photos and creative composites earned the teen an impressive amount of online accolades as images of Chuppy spread across the Internet (at one point he even ended up on Snoop Dogg's Instagram page). Trinh was still in high school when she found herself suddenly Internet-famous for dog photography.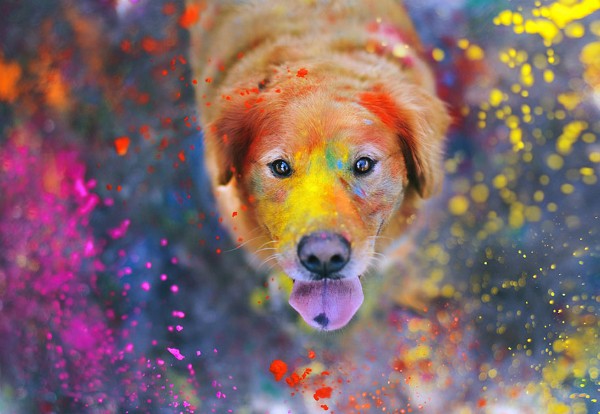 "I remember exactly when it happened. This photography blogger asked to do an interview with me, and they wanted to share some of my images," she remembers. "They put the interview online, and from there I started to shift from amateur to professional because people started to support what I did."
By the time Trinh was 17, she wasn't just creating portraits of Chuppy — she'd added a philanthropic project to her portfolio thanks to a collaboration with the Animal Assistance League of Orange County. Called Project Let It Rain Love, the photo set of adoptable shelter dogs surrounded by raining hearts attracted a lot of attention from dog lovers and fellow photographers.
One of the portraits featured a dog with nonfunctional hind legs, and the image was auctioned off to help fund the dog's surgery. Despite her success creating these inspiring pictures, it was still hard for Trinh to shed the stigma of being the kid behind the camera.
"It was always challenging because sometimes people wouldn't take me seriously because I was young. There would be opportunities that I couldn't do because I was younger than they thought I was."
Now 20, Trinh's age isn't holding her back any longer. In the four years since she developed Project Let It Rain Love, a lot has changed for the young photographer. She left high school for UCLA, where she is studying communications, and in 2014 she said goodbye to her beloved Chuppy, who passed away due to an autoimmune disease.
"I was preparing myself [for Chuppy's death] without even knowing that these images would help me move forward," says Trinh, who has thousands of images of the photogenic Golden Retriever in her archives.
Chuppy may have been the driving force behind much of Trinh's eye-catching portrait work, but it was her family's other dog, Daisy, who provided the inspiration for the ongoing Project Let It Rain Love, which aims to showcase the beauty of mixed breeds and former strays while promoting adoption.
"She just showed up on our doorstep. We took her in and we were looking for her owner, and it was months and months and no one claimed her, so we adopted her permanently."
According to Trinh, Daisy (an Australian Shepherd mix) has become camera shy over the past couple of years without Chuppy there to playfully egg her on, but a new member of the family, 18-month-old Kodi, doesn't mind being in front of the camera. The young Golden Retriever has grown up with Trinh's evolving style and is a favorite photo subject among her 16,000 Instagram followers and 82,000 Facebook fans.
"I've shifted from cutesy to more serious," she explains. "I kind of focus now more on the concept of emotion and bringing that out."
As Trinh's artistic range has expanded, so have her philanthropic efforts with Project Let It Rain Love.
"I'm expanding that project, and going to New York and working with animal shelters there," says Trinh, who also teaches others how to photograph and edit images of dogs in the style she's developed.
"I wanted to plan a community where people can submit their images and I could share it with more people. By myself, it's kind of hard to travel the entire world and visit animal shelters, so this way, the project can go global."
Trinh hopes other budding pet photographers will get on board with Project Let It Rain Love as it continues to grow, and she invites her fellow photographers to submit images for the project through her website. She suggests any budding shutterbugs looking to following in her footsteps take as many pictures as possible to find their own signature style.
"Developing a style is extremely important and is the birthplace of your creativity. Once you've developed your style, you can do anything."
For more information on Project Let It Rain Love, and to and submit your own photos, visit jessicatrinh.com.
Read about more Dogster Heroes:
About the Author: Heather Marcoux is a freelance writer in Alberta, Canada. Her beloved Ghost Cat was once her only animal, but the addition of a second cat, Specter, and the dog duo of GhostBuster and Marshmallow make her fur family complete. Sixteen paws is definitely enough. Heather is also a wife, a bad cook, and a former TV journalist. Some of her friends have hidden her feed because of an excess of cat pictures. If you don't mind cat pictures, you can follow her on Twitter; she also posts pet GIFs on Google+.