Walk into any pet supply store and you'll find an overwhelming amount of dog treats and food options available for purchase! So, how do you pick the best treats to pamper your best friend? Let's take a look at some of the different options, explore what makes them special, and take a closer look at some of the more innovative and unique dog treats on the market.
Treats are a great way to reward your dog for being well behaved, for reinforcing your dog while training, or just to show your best friend how much you love him. My dogs love having variety in different textures and flavors, but I'm always careful to check where the treats are manufactured, sourced and processed. To be safe, stick with dog foods and treats manufactured in North America.
1. Dog-Friendly Cupcakes
Looking for a special dog treat to celebrate your pup's birthday or gotcha day? Doggie cupcakes are adorable and delicious! Don't have a local dog cupcakery? (Yes, really, that's a thing!) You can always order online and have them delivered right to your door! "Celebrating those special days in your dog's life and helping to create moments for you and your pup that will never be forgotten — that is what Canine Cupcakes is all about," say Jacob Becker and Taina Kozell, cofounders of Canine Cupcakes. I ordered Canine Cupcakes for my oldest dog's 15th birthday last summer. They were a hit at his party!
2. Gourmet-Cookie Dog Treats
Looking to spoil your best friend? Some specialty dog-friendly cookies might be in order. Dog cookies from Two Tails Bakery are decorated with dog-safe icing. "Two Tails Dog Bakery treats are baked and decorated by hand with great care to bring delicious flavor to dogs and joy to their owners," explains Sharon Dowell, owner of Two Tails Dog Bakery.
3. Exotic-Meat Dog Treats
Nutria, crocodile, ostrich and kangaroo are some of the more unique and exotic meats you can get (ethically sourced) as dog treats to spice things up for your dog. On a trip to New Orleans, I picked up some locally-produced nutria treats from Marsh Dog. Production of these cookies benefits wetlands restoration (Nutria are an invasive species that destroy wetland areas.) My dogs loved them!
4. Dog Treats With Supplements Included
Treat options that include glucosamine and other joint-health supplements are a great way to treat your dogs and their bodies while hiking and on-the-go this summer. Supplements are great — especially for large, active dogs and breeds prone to joint issues. Note: treats with joint supplements are not a substitute for veterinary care and consult with your veterinarian if you think your dog has joint issues or is in pain.
5. Sustainable Dog Treats
Want to treat your dog, and be good to the environment? Check out Annamaet food and treats. "Our artisanal production allows for small batches and a slow cook," explains Rob Downey, Annamaet President/CEO. "We are proud to be very environmentally conscious here at Annamaet! We have a number of products certified by the Marine Stewardship Council, we utilize a stable and sustainable source of Omega 3 Fatty Acids for healthy skin and coat, and we are now introducing degradable, sustainable packaging."
6. Locally Sourced Dog Treats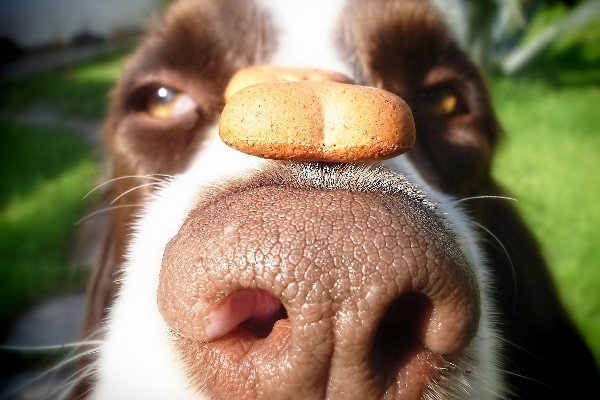 Bringing your dog to the farmer's market is a lot of fun, and oftentimes you'll find locally produced treats and meet the farmers/artisans that made them. My youngest dog loves to accompany me on outings to the farmer's market here in Brooklyn, where there are always vendors selling locally farmed and locally made dog treats with various kinds of meat and sweet potatoes. They usually even let pups sample!
7. Dog Biscuits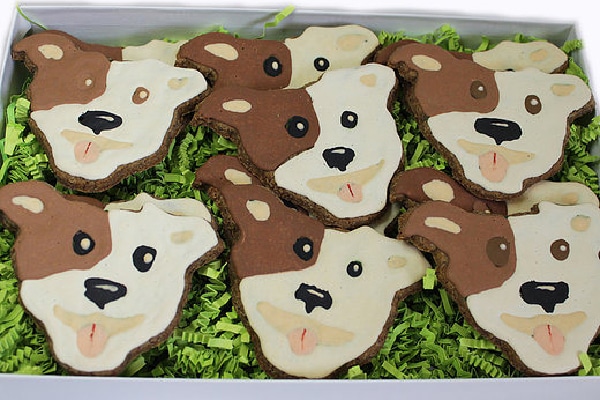 Classic but never boring, dog biscuits have come a long way and you don't have to sacrifice aesthetics to give your dog more of the crunchy deliciousness they crave! Kaly Sophie White of PuppyStyleTreats makes adorably decorated dog biscuits using "natural food coloring made with flowers and vegetables." PuppyStyleTreats makes biscuits in a variety of flavors, including pumpkin, cheese and peanut butter.
8. Training Dog Treats
Heading out on adventures with your dog this summer, or going to training classes? You'll want to stock up on some easy-to-transport dog treats like Cloud Star's training treats. These goodies are "wholesome treats prepared in delicious, unique home-style recipes — just like you would make them in your kitchen," says Joe McIver, Cloud Star Brand Manager. "Our full line of healthy treats focuses on simply prepared, minimally processed ingredients that are both delicious and nutritious for your pet."
9. Freeze-Dried or Grain-Free Dog Treats
While I don't feed my dogs completely grain free, I'm always on the lookout for dog treats and foods without unnecessary filler. It's always a good idea to read the ingredient labels on treats and food you buy, look for "grain free" labels, or check the ingredients to make sure that the top ingredients are things you want to be feeding to your dogs. Freeze-dried cookies are a great option for grain-free treats because the freeze-drying process keeps a lot of nutrients in and it isn't messy.
10. Chew Treats
Looking for a long-lasting treat for your dog? Chew treats can reduce stress, and keep your dog occupied when you aren't able to give him your full attention. They are also good for your dog's dental health. Look for chew treats like Bully Sticks that are fully digestible — stay away from rawhide, which can be dangerous and cause blockages.
11. Limited-Ingredient Treats
Try limited-ingredient treats if your dog has allergies or a sensitive tummy. Limited-ingredient treats remove additives, and are generally made without common protein sources (like chicken and beef), which are most likely to cause allergic responses in dogs. Similarly, limited-ingredient treats avoid including grains, which some dogs have issues digesting. Limited-ingredient treats may also improve your dog's skin and coat.
Thumbnail: Photography ©CrawfordDogs/Thinkstock.
Sassafras Lowrey is an award-winning author whose novels have been honored by the Lambda Literary Foundation and the American Library Association. Sassafras is a Certified Trick Dog Instructor and assists with dog agility classes. She lives and writes in Brooklyn with her partner, a senior Chihuahua mix, a rescued Shepherd mix, a Newfoundland puppy, two bossy cats and a semi-feral kitten. Learn more at sassafraslowrey.com.
June is Treat Your Pup Month here at Dogster! Stay tuned on Dogster.com for fun ways to spoil your canine with different types of treats, accessories and more.
Read more about dog food on Dogster.com: