Who can forget the scene-stealing Rottweiler, Snots, who wreaked havoc in the 1989 classic film National Lampoon's Christmas Vacation? In the span of a few short days, Snots strews garbage throughout the kitchen, interrupts the Griswold family's Christmas dinner by "yackin' on a bone" under the table, and chases a rogue squirrel around the house, leaving a trail of destruction in his path. "I smell some yum-yums!" This holiday season, don't let your dog be a Snots. With a little forethought and preparation, you can keep your home safe for dogs during the holidays:
1. Put a lid on the trash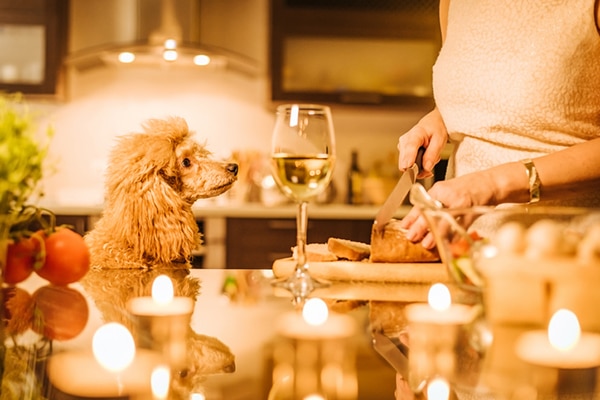 Cooked turkey bones, rich, fatty food scraps, and chocolate are just some of the dangers lurking on counters or in your garbage before and after a holiday meal. If your dog gets into these, you could be spending Christmas Eve at the emergency vet. Not very jolly! "Another mistake people make is allowing too many treats during the holidays," said Floridian Kristen Levine, pet living expert, author, speaker, and founder of the Kristen Levine Pet Living blog. "Discourage your guests from feeding pets from the table." Too many goodies can lead to barfing, holiday diarrhea or worse. Resist those pleading eyes!
2. Make sure your Christmas tree is safe for dogs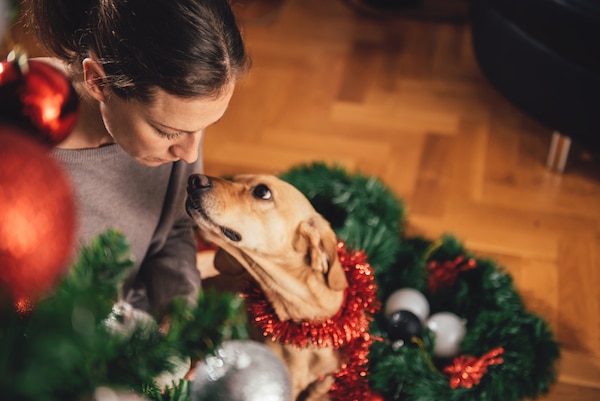 Christmas trees can be too tempting. Erin Mudry of Mission Viejo, California, said her naughty Labrador Retriever, Gracie, made it her mission to chew up all the ornaments on her Christmas tree. "I actually had to move it outdoors to keep her away from it!" Erin said. Not all dogs are as determined as Gracie, though. You can try blocking access to the tree with a baby gate or only decorating the high branches out of your dog's reach. Take special note: Salt dough ornaments — the kind you make with your kids using flour, salt, and water — are deadly to dogs if ingested.
3. Protect your holiday goodies
Never underestimate a hungry dog's determination. "Our first dog, a Dachshund named Liebchen, ate everything in his path," said Ernie Slone of Orange, California. "One Christmas, my wife made two lemon meringue pies to take to a family gathering. She put them on the dining room table to cool. But when we went to leave we realized one of the pies was missing." Sneaky little Liebchen figured out how to push a chair out so he could climb up onto the table. He ate an entire lemon meringue pie! "When we found him he looked like a python that had swallowed a pig," Ernie said. Thankfully, Liebchen made it through that incident without any lasting issues … apparently he had an iron-clad stomach!
4. Know when to skip the Santa photos
"Pets are part of the family and, as such, we want them to take part in the fun with us," said Andrea Arden, founder of Andrea Arden Dog Training in New York City. "But, what is safe, appropriate, and fun for us is not always for our animals." Make sure your dog is happy and comfortable with holiday festivities, whether it's photos with Santa, wearing a holiday costume, traveling to far destinations or hanging out at your New Year's Eve party. If your dog seems nervous or unhappy, consider skipping some things.
5. Schedule potty breaks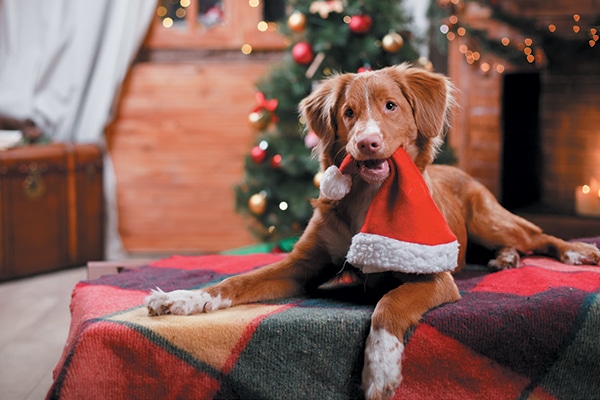 Add this one to the list of "I never knew that could happen!" Kristen's dog, Chilly, once got a urinary-tract infection when they took a long road trip to a family holiday gathering. "The vet told us that he likely got it because he wasn't urinating frequently enough during the trip," she said. "If your holiday celebration includes travel, be sure your pet has frequent opportunities to go potty."
6. Create a holiday safe zone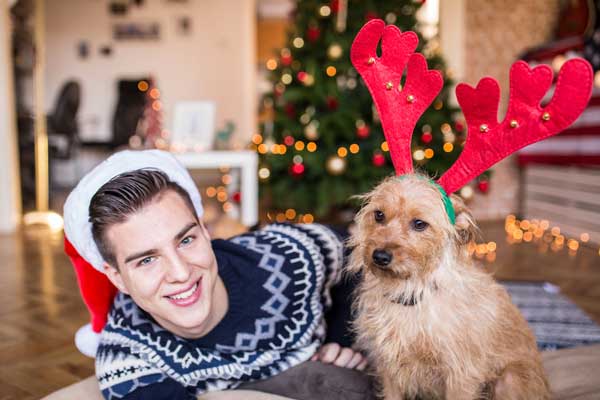 "Dogs and cats are creatures of habit, so when routines change, new people come and go, and festivities 'invade,' pets can become stressed," Kristen said.
Whether you're at home or visiting friends or family, assess the situation and determine what you can do to help set your pets up for success. "This might include controlling access to specific areas of the home or providing pets with a safe, quiet area to rest in while festivities are occurring," Andrea said.
Visitors in the home can be challenging for some pets. "Even the friendliest animals can be underwhelmed and overstimulated by guests who may not always be as respectful of an animal's boundaries as they should be, especially if celebrating with a drink or two," Andrea said. If your dog seems stressed, put him in a safe, quiet place. You're not excluding him, you're protecting him from potential stress.
"Allow him plenty of alone time to relax," Kristen said. "I recommend making a 'chill zone' available so he can get away from the commotion." If your dog is crate trained, give him time to relax in his crate. "Place the crate in a quiet area of the home, and leave the door open, so he can come and go as he pleases," Kristen said.
Cost of the holidays
According to Nationwide Pet Insurance, its members spent more than $27 million on medical conditions commonly associated with the holiday season in 2014. These were the top injuries and average costs per pet for each:
$1,740 — Tinsel or ribbon ingestion (intestinal foreign body)
$649 — Raisin or nut toxicity
$607 — Electrical shock from holiday lights
$527 — Rosemary or mistletoe toxicity
$525 — Alcohol toxicity
$382 — Chocolate toxicity
$329 — Laceration from ornaments
This piece was originally published in 2017.
Thumbnail: Photography by dezy / Shutterstock.
Editor's note: This article appeared in Dogster magazine. Have you seen the new Dogster print magazine in stores? Or in the waiting room of your vet's office? Subscribe now to get Dogster magazine delivered straight to you!
Read more about dogs and holidays on Dogster.com: