Back in 2007, a black-and-white Pit Bull was one of 49 dogs rescued from the Bad Newz Kennels dog-fighting ring owned by football player Michael Vick. With the dog having experienced very little in the way of positive interactions with people or other animals, the outlook for him was bleak.
That is until Cris Cohen and Jennifer Long stepped in, scooped up the pup, and offered him a second chance at life. Now known as Jonny Justice, the eight-year-old is enjoying his new role as a therapy pooch in San Francisco and was crowned as the ASPCA Dog of the Year at the organization's 2014 Humane Awards Luncheon last week.
Recalling the day when Jonny came into his and Long's life, Cohen says, "Jonny was like most dogs that had been kenneled too long: He was tentative, scattered, and excited all at the same time. It was obvious that he needed to decompress." He adds, "Beyond that, he was sure cute!"
While Jonny embraced his new digs, the ongoing nature of the legal case against Vick meant that the dog's early months were trepidatious ones.
"Jonny was still technically USDA property and evidence," Cohen explains. "We had no idea how the case was going to unfold and what the government would do upon conclusion of the trials. Prior to this, dogs like Jonny were consistently euthanized. That was the scary part — but we did the best we could regardless how it would turn out."
Despite Jonny's tumultuous background and the specter of the legal case, things turned out great for him. After being with Cohen and Long for four months, his true nature began to shine through, and his new owners realized that Jonny's "solid personality" would make him ideal for a role as a therapy dog.
To that end, since 2008 Jonny has offered up support to terminally ill children. He even takes part in programs where kids read aloud to him in a bid to increase their literacy skills.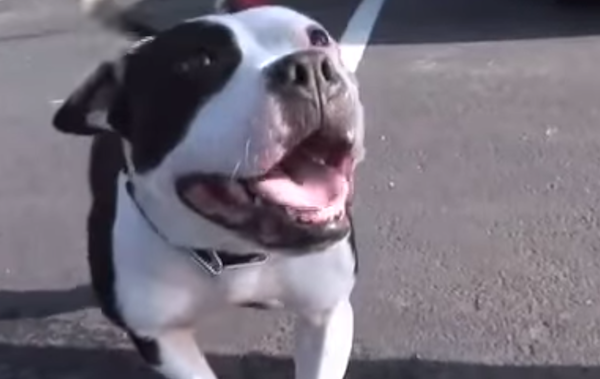 Now comfortably settled into his new role as a therapy-dog star, Cohen says that Jonny "just loves people" and craves to be the center of attention in all circumstances. "Even in the slow parts of the day, all he wants is to be with his people. He is a softie!"
Learn more about Michael Vick's former dogs:
Meet more Monday Miracles on Dogster:
About Phillip Mlynar: The self-appointed world's foremost expert on rappers' cats. When not penning posts on rap music, he can be found building DIY cat towers for his adopted domestic shorthair, Mimosa, and collecting Le Creuset cookware (in red). He has also invented cat sushi, but it's not quite what you think it is.