Even though she chose a kitten theme for her performance at the American Music Awards, Miley Cyrus is a dog lover. She shares her life — and bed — with four dogs: Floyd, a blue-eyed Alaskan Klee Kai; Bean, a Chihuahua mix; Mary Jane, a black and white Pit Bull mix; and Happy, a Rottweiler–Beagle mix. Cyrus spotted Happy abandoned in a Wal-Mart parking lot and adopted the rest from the Spot! Pet Boutique and Dog Rescue in Los Angeles.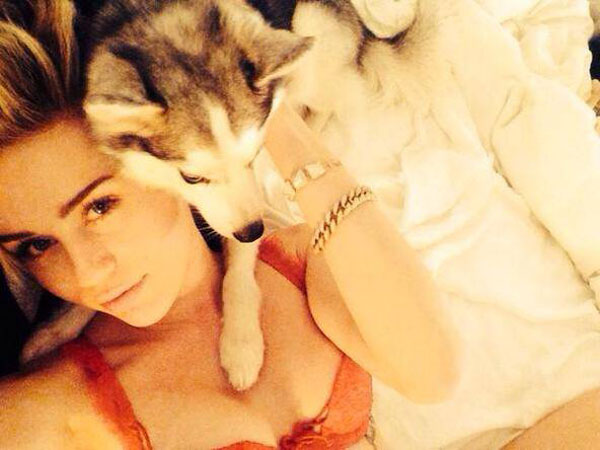 And even though Miley no longer shares her affections with ex-fiance Liam Hemsworth, she has no problem sharing her affection with her canine family. She tweeted selfies to her 15.6 million followers of her cuddling in bed with her foursome the day after her 21st birthday, and again cuddled with one of them for Christmas. She won't have to use that pre-nup she signed with Liam, the most important part of which stated she'd walk away with the dogs (oh, and her $130 million) should they split.
Tragedy struck last year when Miley's Yorkshire Terrier, Lila, was killed by Liam's English Bulldog, Ziggy. It was bad news for Ziggy, too, who was sent to an animal shelter for placement in a dog- and child-free home. Miley shared her grief with her followers, saying that her heart had never been so broken.
Miley's love affair with dogs started early. In her mid-teens her family owned as many as 12 dogs: Toto, Missy, Rory, Baloo, Miro, Eeri, Pudgi, Pip, Sasa, Luey, Sandi and Sophie, a Malti-Poo her parents gave her at age 16. Sophie was followed by another dog, Mate, a white German Shepherd given to Miley by her parents. And she's had other dogs since then: Joey, Loco, Juicy, Fluke, Tex, Shooter and Roady.
Shih Tzu Loco and Yorkie Roady were named Most Eligible Pets in 2008 by Animal Fair magazine, but neither they, nor the rest of these dogs, live with Miley these days. Mate has lived with Miley's mom, Tish, since Miley moved out. Sophie, and possibly Loco, live with Miley's grandmother. It's quite possible that the others preferred the more stable non-twerking lifestyle at her parents' home. Or maybe they chewed up her foam finger and were banished.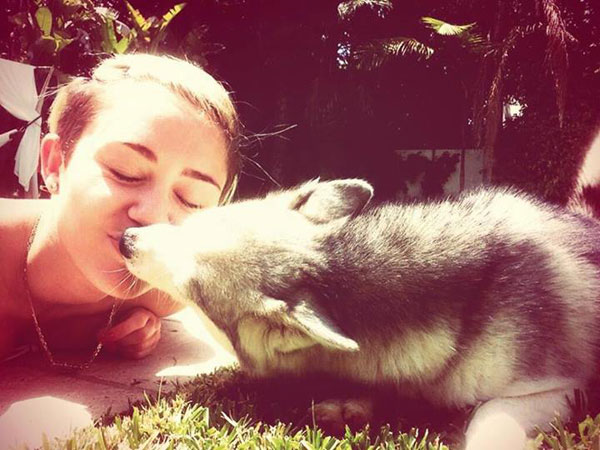 This quote from her is a little weird (big surprise): "I love animals, but I don't really like riding animals. Like, I don't love being on a horse — it's just not my thing. I feel kinda bad. Like, I just want to pet you. I don't really want to put you to work. But cats — cats are f-ing creepy. Oh my God, cats are creepy. Every time I see a cat, I think it's gonna turn on me. It's gonna turn for the worst. I don't ever see loyalty in cats. They're gonna scratch you, and then run away. Same with little dogs. Did you know Yorkies were bred to kill mice in the Queen's palace? I had a Yorkshire Terrier, and if I was a rat, it definitely would have eaten me. And Chihuahuas are the most scary animals on the planet. I'm terrified of Chihuahuas."
Uh oh, Bean!
All photos via Miley's Facebook page.
Check out some cuteness with Dogster:
About the author: Caroline Coile is the author of 34 dog books, including the top-selling Barron's Encyclopedia of Dog Breeds. She has written for various publications and is currently a columnist for AKC Family Dog. She shares her home with three naughty Salukis and one Jack Russell Terrier.