Editor's note: Have you seen the Dogster print magazine in stores? Or in the waiting room of your vet's office? This article appeared in our April-May issue. Subscribe to Dogster and get the bimonthly magazine delivered to your home.
It seems like yesterday I was trying to tone down Chipper's leaping, sprinting and quick-turn maneuvering — especially inside my home. I envied her nonstop energy. Now nearing her 14th birthday, my slow-moving Husky-Golden Retriever mix needs time to rise up from a nap and to steady her legs.
Chipper has arthritis in the spine and, like many of you with dogs dealing with arthritis, I ache emotionally each time I watch my good old dog walk gingerly, wince or let out a short yip from pain. It's tough to find specific statistics on the percentage of dogs who develop arthritis, but arthritis is more apt to strike large breed dogs like German Shepherds, Golden Retrievers and Labrador Retrievers; dogs with long backs like Dachshunds and Pembroke Welsh Corgis as well as any canine who is overweight or, worse, obese.
So, what do you do to relieve pain and mobility limitations in your arthritic dog — and more importantly, what can you do to possibly even prevent this disease from showing up?
Two simple but powerful solutions: exercise and diet. By keeping your dog engaged in some form of daily exercise, you can prevent him from transforming into a canine couch potato. By not dishing up overflowing bowls of kibble and excessively heaping on treats, you can keep him from morphing into a hairy ottoman.
Research conducted in 2015 by the Association for Pet Obesity Prevention found that more than one half of adult dogs in the United States are overweight. Sporting extra pounds not only spurs arthritis, diabetes and heart disease but reduces the dog's life span by two to five years compared to dogs kept at healthy weights and exercised regularly.
"Combining an exercise routine (like taking daily walks on level surfaces, rolling the ball during fetch sessions and swimming in safe bodies of water) with proper diet that keeps your dog at a healthy weight can positively affect the health of your dog," declared Nancy Soares, D.V.M., president of the American Animal Hospital Association and owner of the Macungie Animal Hospital in Macungie, Pennsylvania.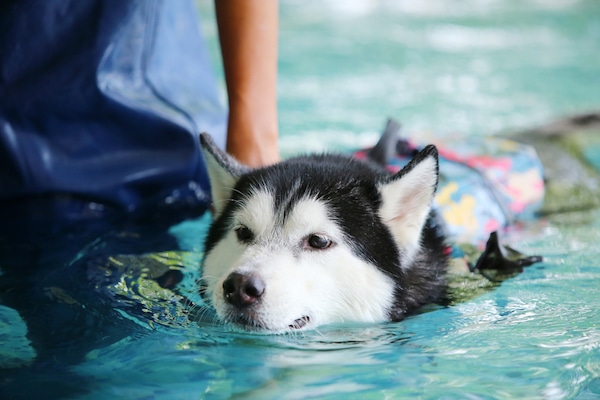 Denis Marcellin-Little, DACVS, DECVS, a certified canine rehabilitation veterinarian and associate professor of orthopedics at North Carolina State in Raleigh, added, "Being overweight can certainly accelerate the progress of osteoarthritis and make mobility much more limited. Mobility is immensely important in dogs for their longevity, comfort and joy."
And here's a surprising fact: Excessive fat tissue not only packs on the pounds and impairs mobility, but these tissues (known as adipose tissues) actually secrete hormones that promote pain.
"Adipose tissue is a major endocrine organ within the body that secretes hormones and other substances, and these substances secreted trigger an inflammation cascade, which brings about pain," Dr. Soares explained.
Even if your dog is diagnosed with arthritis, be it in the form of hip dysplasia, osteoarthritis of the knee or other joint, our experts assessed some tactics to ease the aches and pains:
1. Nutraceuticals do best in supporting roles
Consult your veterinarian about the possible benefits of providing supplements like glucosamine, chondroitin and MSM to your adult dog before or at the early signs of arthritis. "While most products in this category are not studied and cannot make claims regarding their efficacy, anecdotally, anti-inflammatory benefits can be seen," Dr. Soares said.
2. Think outside the (conventional) box
Acupuncture, therapeutic massage, hydrotherapy and laser therapy may be beneficial, but make sure they're administered by certified professionals. "Hydrotherapy is a form of exercise, so it is effective, but realistically, it is easier to take your dog on a walk than finding a place that offers an underwater treadmill," Dr. Marcellin-Little said.
3. Fight the pain safely
Pain management medications prescribed by a veterinarian, such as anti-inflammatories and analgesics, can reduce swelling and pain in the joints, but steer clear of human medications like acetaminophen (Tylenol) or ibuprofen (Advil), as they are both extremely toxic to dogs.
4. Weigh the benefits of surgery
Yes, some dogs do well with joint replacement surgeries, but make sure the operation is performed by a board-certified orthopedic surgeon. "Our pets deserve specialty treatment when advanced care is warranted," Dr. Soares said.
5. The jury is still out on stem cell therapy to treat arthritis in dogs
"There is limited clinical evidence to support the expense and invasiveness of stem cell therapy," Dr. Soares said. "Additional research is underway to determine the best treatment and efficacy for the best outcome."
6. Tap the powers of turmeric
A holistic option being hailed by veterinarians and physicians is turmeric, a powerful spice that new studies show has the ability to help lessen arthritic inflammation. Also consider adding turmeric root to your dog's diet as a preventive aid in the battle against arthritis. A little bit goes a long way (see our suggested recipe that includes turmeric root powder).
The parting message: "The big three weapons in combating osteoarthritis in dogs are managing pain with medications, losing excess weight and exercising regularly to help your dog stay strong and have good joint mobility," Dr. Marcellin-Little said. "Your dog will feel better and move better and, hopefully, enjoy a long, quality life."
Want to try turmeric?
Check out this recipe for Golden Paste by Australian veterinarian Doug English (BVSc) from his website turmericlife.com.au. As always, consult with your veterinarian for best treatments for your pet's specific health issue.
Ingredients:
1 ⁄2 cup turmeric powder
1 cup water, plus 1 cup water in reserve (if needed)
1 ⁄3 cup raw, cold pressed or unrefined coconut, extra virgin olive oil or flaxseed-linseed oil
2 to 3 teaspoons freshly ground black pepper (Omit if dog can't tolerate, although the recipe states it will be less effective.) powder
Directions:
Place turmeric and water 3 in pan. Stir over gentle heat until you have a thick paste. (About 7 to 10 minutes; add additional water if necessary.)
Add pepper and oil. Whisk to incorporate the oil; allow to cool.
Place in jar with lid and refrigerate. Add 1 ⁄4 teaspoon of paste per 10 pounds of body weight to your pet's diet.