Think you can't travel internationally with your big dog? Think again. This summer, we caught up with a well-traveled, 100-pound Rottweiler mix named Otis and his owner, James Cozens, to ask them a few questions about international travel with a large dog. Turns out, Otis spent his puppyhood in the USA on almost-daily road trips and is now spending his adult life in the UK and his winters in sunny Cyprus.
So, how does Otis travel across the ocean, successfully navigate airline requirements, and stay by his best friend's side? I talked to James to find out.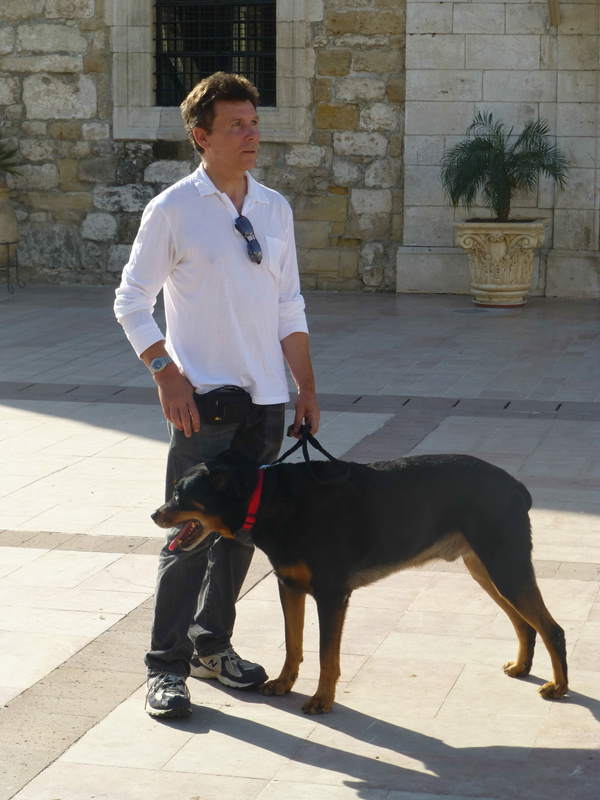 Dogster: When did you first decide to travel with your dog? What was Otis' first trip?
James: I had my own business in the USA, which necessitated daily road travel, so Otis was already very familiar with car travel. As for international air travel, I am British and at the end of August last year, I decided it was time to return to the UK. However, winter was coming on and I did not want to arrive back at the start of winter, so I decided to spend the winter months in Cyprus and head to England in the spring. Which is why in October 2012, Otis and I boarded a flight bound for Cyprus.
How many countries have you and Otis been to? Any favorites in terms of big-dog friendliness?
We have been to the USA, of course, Cyprus, England, and, for a short time, Austria. England is, far and away, the friendliest toward dogs. Cyprus isn't used to big dogs and people tend to be more fearful and timid.
How did you prepare Otis to travel overseas?
Apart from ensuring the vaccinations and veterinary requirements were up-to-date, there was very little preparation to do. I cut down on food from the day before travel. I also got some painkillers from the vet, as Otis tends to get stiff in such a small space, and I gave him one before the flight (not to sedate him, which you shouldn't do, but to alleviate muscle stiffness).
Talk to us about air travel. Does Otis fly as a checked bag or cargo? What's the difference?
I usually fly with Otis as checked baggage, which is much cheaper, even if I have to research alternative routes to my destination. If your pet becomes cargo, the airline requires that you deal with a licensed animal shipper — and there's a huge difference in cost.
If you are taking your animal direct from the USA to the UK, then cargo is the only option due to UK regulations. The way around this is to fly to France or Holland with your your dog as checked baggage and travel to the UK on a ferry. This can save you thousands of dollars.
Speaking of saving money, what does it cost to fly a big dog overseas?
I flew Austrian Airlines from Dulles through Vienna to Cyprus and it cost $400 to fly Otis as checked baggage. The quote from Dulles to England as cargo by a shipping company was almost $5,000.
What tips would you offer people who want to travel overseas with a big dog?
Wow, there are so many. First, I would say research. Take nothing as gospel. Prepare, check, and recheck everything again and again (I phoned the airline every day for a week before travel to ensure all was well and make sure they hadn't changed planes, etc.).
When booking your flight, tell the airline the size of your crate and have them confirm in writing that they can carry that size. Make sure to have them check all legs of your flight. Planes serving regional airports may not be big enough to carry a giant crate (which is why I chose to drive the first leg of my trip — to Dulles from NC — instead of flying).
For paperwork research, I found Pettravel.com helpful. They will send you paperwork and show you what boxes you need to fill.
And, on the topic of paperwork, note that within Europe you need a pet passport for your pet to travel, and that if you choose to travel from USA to UK via Europe you'll need to get that pet passport from a vet before heading to the UK. The process is straightforward, and if you have all your documentation from the USA, they can use the information from that to fill out the passport. If you are going from Europe into the UK, also note that your dog will need a tapeworm treatment within 48 hours of travel; you can get this done at the same time as you get a passport from the vet.
Second, practice. Practice moving the bags and crate. Fit the rope handle so that you can haul it. Put the crate into the car and make sure it fits. Take the crate apart and put it back together a few times, not only to practice this yourself, but also to get your dog acclimated to spending time inside.
Lastly, have a plan B, and accept that sometimes messed-up things happen.
And when you board the plane, ask the flight attendant to check that your dog has been boarded. And if you are changing planes mid-trip, make sure to ask for confirmation that your dog has been transferred to the new flight.
How does Otis do with travel? How does he react when you get to each new place? Do you do anything special to help him acclimate?
Otis travels well, but that's his temperament. When he gets to our destination, he does take a few days to adjust to changed mealtimes and sleep patterns. I also notice that the first few days he feels a little insecure, not knowing the surroundings or what to expect for the day.
When you're packing for Otis, what do you bring?
Very little. He has a dog crate pad, two towels (always handy), two bowls attached to the crate (food and water), a plastic water bottle (to give him drinks before the flight; though keep in mind that you'll have to empty this prior to boarding and I recommend getting one that stores flat and can be refilled at the end of the flight), and a fold-up drinking bowl (which I like to call the "drinking hat").
How do you travel with that big dog carrier?
I knew you were going to ask this! It's difficult. The size of the crate is 122-by-81-by-89 centimeters, and it weighs over 120 pounds with Otis inside. So you either need a big vehicle (pickup, minivan) to carry it to the airport or you can break down the carrier (which splits into two pieces that fit inside each other) and transport it in a big car with the seats down. Make sure to check and see if you can shoehorn the carrier into the car ahead of time.
I carry an extra dog lead with a clip fastened to the handle and I clip this to the door and use it to pull the carrier if I need to.
I also plan ahead. For that first big trip, I was renting a minivan and driving to the airport, but I wasn't sure how I would get from car rental return to the terminal. A call to Hertz at the airport informed me that I could go to car rental and have them drop me at the terminal. Phew. Problem solved.
So, I was dropped at the terminal with Otis on lead, two huge check-in bags, two carry-on bags, and a disassembled crate. (Talk about stress and sweat.) In the end, I put the bags in the crate and pulled it into the airport check-in. Airline staff were very helpful. They prepared labels for the crate and suggested I take Otis outside to the rest area before crating him.
When it comes to crates, some tips: Understand that there are certain stipulations that the IATA and airlines impose. You must buy one that is IATA approved. These crates must allow your dog to stand up and turn around, they have air holes on all four sides, etc.
I bought a giant Petmate Vari Kennel … and then realized that the giant size doesn't have holes on all four sides (even though the smaller, pictured sizes seem to), so I had to drill holes in the fourth side. So check about the holes, make sure the door comes with the crate (surprisingly, some don't), and note that you'll have to buy the bedding and food and water bowls separately in most cases.
It's important to think of everything ahead of time. You don't want to get to the airport and be told you can't fly because there are no air holes in the back of the crate or the door latch isn't approved.
What's your favorite thing about traveling with a big dog?
Everything. He spends his day making me happy and the least I can do is reciprocate the kindness. Wherever I go, he goes too. I took him to the sea (he'd never been near the sea or swam as far as I knew) and to see him swimming in the sea was wonderful.
I also think traveling with a dog gives you a truer sense of perspective. You cannot make a fool of yourself in your dog's eyes.
A huge thank-you to James for sharing his experiences with us.
Have you ever traveled with your big dog? Any tips, tricks, or experiences to share? Let us know in the comments!
About the author: Gigi Griffis is a world-traveling entrepreneur and writer with a special love for inspiring stories, new places, and living in the moment. In May 2012, she sold her stuff and took to the road with a growing business and a pint-sized pooch. You can follow her adventures at gigigriffis.com or friend her on Facebook.
Read more about traveling with your dog: