I was sitting in the veterinarian's lobby with a fidgety Boston Terrier on my lap. While waiting, we observed at least eight dogs, and one very cranky cat, being ushered into the office. As they checked in at the front desk, I focused my attention on the pet. I observed the first pup and realized that it looked a bit "pudgy." The second looked even more overweight. The third was weighed by its owner, who said, "Wow, I didn't expect you to have gained that much!"
The non-scientific study I performed is supported by data. According to the Association for Pet Obesity Prevention, in 2018, an estimated 56% of dogs in the United States were overweight or obese.
To help fight the weight gain epidemic for dogs, an increasing number of locations across the country have established exercise clubs for dogs. Some settings provide offerings where dogs and their owners can work out together, while others allow dogs to be dropped off for their own activities. A third option includes dogs and owners, as they work toward a goal like agility training. Let's jump into some of these clubs.
Fitdog Sports Club
Sometimes pet parents have their own fitness routine where their dog isn't a part of the equation or they simply don't have the time needed to exercise their high-energy dogs. If that's the case, Fitdog can help. Described as "gym classes for dogs," Fitdog provides classes and day excursions for small groups of dogs to a variety of settings, including beach walks and canyon hikes. Just book your class, and drop off and pick up your dog; the instructors will do the rest.
"It doesn't matter what kind of dog you have," says Andrea Servadio, the co-founder and CEO of Fitdog, "they can all join in, and there's value for them at any skill level."
Andrea is enthusiastic about the value and importance of mental stimulation along with physical fitness in dogs. "Your dog doesn't need behavior modification training for separation anxiety, your dog needs to be engaged mentally and physically during the day. If they're properly engaged and their mind is working, they're going to be so much happier." It's in this light that the services Fitdog offers help to address the mental and physical needs of dogs.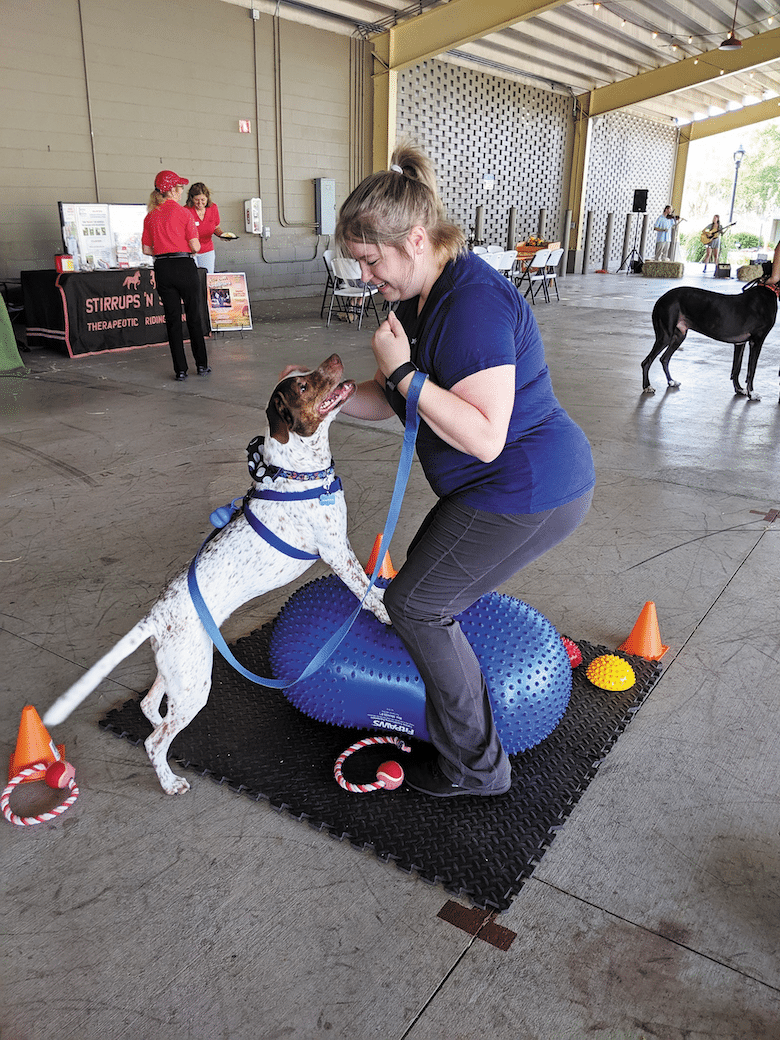 K9 Fit Club
One day, K9 Fit Club founder Tricia Montgomery was at the veterinarian's office with her dog. The blunt vet said that not only was her dog overweight and on the verge of diabetes, but that Tricia was "not getting any thinner, either." His statement changed the rest of Tricia's life. "When it impacted my dog, it made a difference to me and my behavior," Tricia says. Following thatvisit, Tricia lost more than 130 pounds and got a job at the same veterinary office. In the veterinary field, she and colleagues noticed the "mirror-image" trend, where a pet resembles their owner and vice versa. The idea for K9 Fit Club born.
K9 Fit Club has 25 programs that allow pet parents to work out with their dogs. Names like "Bow Wow Boot Camp" and "NamaSitStay" illustrate the various types of activities dogs and their owners can do together. Classes are small, and the variety of classes help to serve folks on all ends of the fitness spectrum.
Zoom Room
If you've watched dog agility on TV, images of ramps and tunnels may come to mind. Pet owners are with their dogs, helping to guide them across the course. While some pet owners want to be competitive in dog agility, others do not.
Zoom Room allows pet owners to perform agility training with their dogs, minus the competitive nature of the sport. Recognizing the value in providing non-competitive sporting options for dogs, Zoom Room offers a variety of activities, such as urban herding, where dogs learn how to herd using yoga balls instead of livestock. Zoom Room also has scent training and therapy dog training, which work on mental stimulation while also enhancing the bond between dog and owner.
Liz Claflin, director of operations for Zoom Room says, "People are starting to realize all the fun things you can do with your dog, and the bond that you can form when you work together can be intensely deep."
These three different business models help to illustrate the variety of ways exercise clubs for dogs can be arranged. There's no reason why a person has to choose one type of setting. A person could go work out with their dog on a Monday, drop him off for a beach excursion on a Thursday while doing some scent training together a couple times a month. Do your research to determine which setting is best for your dog. Ask about the training staff members have received, if they are connected with local veterinarians in the event of an accident and how the location is insured.
So what do you think? Is an exercise club in the future for you and your dog? Go ahead and give it a try.
Top photograph Mariana Mikhailova | Getty Images