The holidays are here, allowing you to step away from the rush of work and everyday commitments to not only "make merry," but also to honor cherished family members and friends who are no longer physically with you. And this includes your beloved dogs. Because even though they have crossed the Rainbow Bridge, the pups who were such an important part of your past live on in your heart and affect the "you" celebrating today. I know this holds true for me, with my dogs who have passed: Harris, Fargo, Dakota, and Vanilla.
So how can you pay tribute to and include pets of yesteryear in this season? Well, you can dedicate moments during the holiday break to them in one (or more) of these ways.
1. Capture and share pet memories
One way to grasp important moments with dogs who have passed is to sit down, breathe deeply, and then choose a "start" moment in your relationships. Perhaps it's adoption or "gotcha" days, or birthdays, but wherever you choose to begin, allow your mind to "flow" from that time forward and explore your lives together. It's likely that many wonderful images and events will surface, each leading to the next. You can also look through photos of your pets, letting this process prompt your memory.
Then, with stories freshly in mind, consider fun ways to share them this season. Writing a holiday letter or card to your former best friends, and then opening it to read on the day of celebration is a creative option. Or you may speak about favorite pet memories at your holiday party and ask family members to add theirs, establishing a tradition for years to come. Any way you share happy recollections lets your beloved dogs from the past join you now.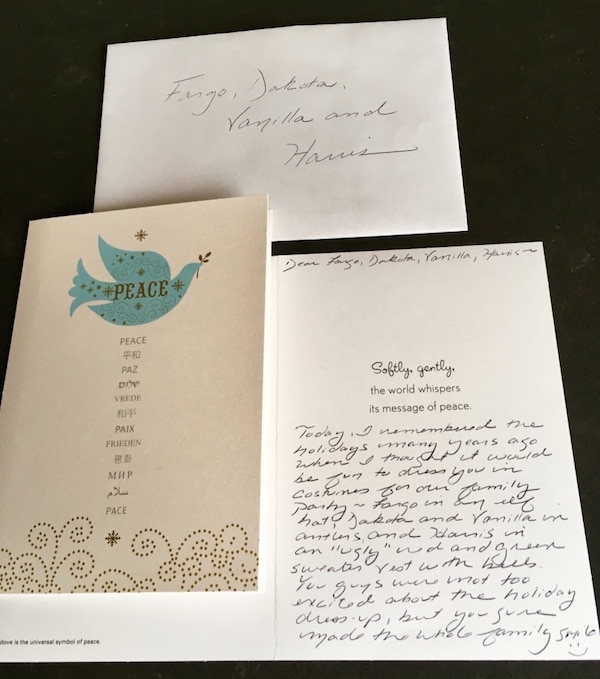 2. Create memorial items
You can take some time to explore the seemingly countless memorial possibilities. Perhaps jewelry engraved with your dog's names would be meaningful for you and worn to seasonal celebrations. Special holiday ornaments, crafted or ordered with pictures and/or nicknames, can become part of your festive décor. Bags customized with images of your past pets might carry gifts. A celebration memory box, specifically for the season, also can star in your annual holiday decorations. Or you could even devote yourself to creating paintings of your pooches (online resources make this simple) and framing them, holiday-style.
There are so many more memorial piece choices! Sites such as Perfect Memorials, Willow Tree, Uncommon Goods, Baby Faces Charms, Personalization Mall, and PAINT a PIC just start the list of places to visit online as you consider creating memorials.
3. Commemorate in the community
Including this action in your holiday schedule may be the most meaningful tribute of all. If you make a special donation to an animal shelter or a favorite rescue group in memory of your pets, you will provide needed resources and allow your loved dogs from an earlier time to assist others now. If you devote a few hours to volunteering for these organizations in their honor, you are also making a positive impact and truly spreading the souls of your beloved canines through your actions.
You also can fully embrace them by thinking of their two best qualities, perhaps "patience" and "friendliness," and then commit yourself to living and expressing these traits throughout the holidays—making them brighter for everyone you encounter and also for you.
"Happy Holidays" to you and those you love! And know that there are many ways you can remember and pay tribute to your treasured pets of yesterday during the holidays of today. Just let these ideas start you on your way!
About the author: Chris Corrigan Mendez, M.Ed., LPC, NCC is a licensed professional counselor in private practice and the proud guardian of three rescue pooches. Chris leads a monthly pet illness and loss support group and provides individual counseling to pet guardians. Visit www.ccmcounseling.vpweb.com and www.facebook.com/ccmcounselingstl to learn more.