I didn't start out as the crazy dog lady selling her homemade dog treats at the flea market. I started out as a military brat, and we could never have a dog. We moved too much, we didn't have enough space. Oh, how I wanted one! I was desperate for a German Shepherd. He would be my best friend and we would take walks and I would teach him tricks and how to heel and how to sit. I had asked and been told no so many times that I learned to not ask for a dog anymore.
As a teenager, if there was a sick, injured, or stray animal, I would do my best to restore the dog back to health and either find his owner or adopt him out to a suitable family. I also began a love for cooking during these years and could be counted on to make a family meal. I didn't realize it at the time, but these two interests would combine into a really unique, fun way to make a living.
It wasn't until after I finished college and married that I was finally in control of the decision to have a dog of my own. Right after the honeymoon, in fact, I went straight to our local humane society and found the cutest Husky mix. My husband had no objections, so we adopted the little ball of energy and named her Honey after the color of her beautiful coat.
I had been very careful to feed Honey healthy dog food and treats, but at that time, almost everything was just Milk-Bones and more Milk-Bones. I thought I could adapt a recipe to make it more delicious and wholesome than a mostly flour-and-broth recipe. I started adding things like real chicken and was pleased with the results. I liked the idea that there were no preservatives and that they were all-natural.
In a few years, our family grew to include my two children, and I got an idea that it might be possible to sell my homemade treats. Having a home-based business would be just right for me as a young mother. It would give my creativity an outlet, help animals, and provide the flexible hours I needed to care for my children.
As luck would have it, one of our country's largest flea markets was within 30 minutes of my home. Renting a booth was cheap, and I gave it a try. I was there at just the right time, during the Christmas holidays. To my delight and surprise, my treats were a HUGE success! I couldn't believe I was making real money that didn't come through as a check from some corporate accounting office.
I was in direct contact with the public and my new customers delighted in telling me about their dogs and suggested new treats. One of my customers even asked, "Do you have anything in garbage flavor? Because that's what my dog likes."
After Christmas, sales were harder to make, which meant that I had to work harder. As I watched potential customers repeatedly walking past without even glancing my way, I started to ask each, "Do you have a dog?" Being this direct actually worked and I learned what persistence means in business. It means not giving up. It means trying something new. It means innovation and perseverance! With these tools on hand, I started selling at festivals and other large venues within a five-state radius.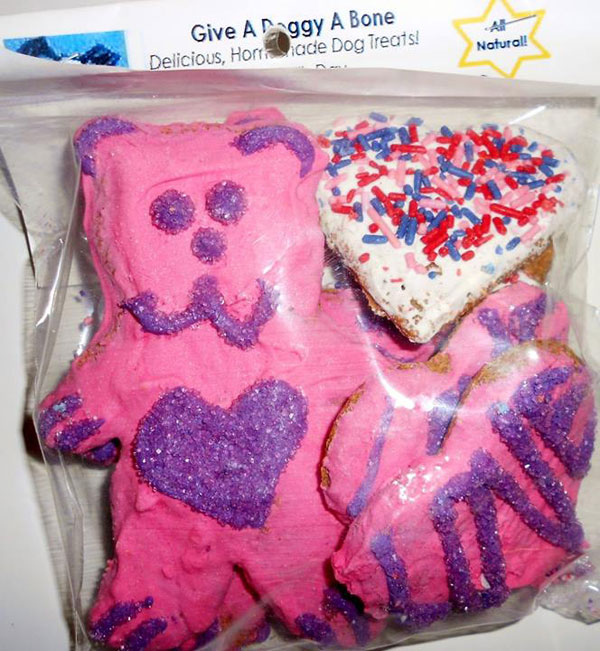 Soon, I had to invest in commercial equipment. Being on a budget, I had to purchase it used. Among the successes were also failures, some of them humorous. The first time I hired outside help, I had just filled my 20-quart mixer with the wet ingredients, a sloshy, brothy, eggy mix. Apparently, one of the hooks that held my mixer bowl in place broke, and sent the entire contents across the kitchen, some of it landing on my new employee. She never came back and I don't blame her! Through it all, I struggled a lot and learned a lot.
As the recession hit, people weren't spending the way they had before. I had to adapt. I closed down my festival circuit and started selling wholesale to grocery stores, book stores, coffee shops, gift stores, really just about any place that I could.
I will be celebrating my 10-year anniversary in business this November, and I couldn't be happier. I am in Jungle Jim's, Whole Foods, and coast-to-coast in gift stores. I donate regularly to my local animal shelters and rescues.
I have a wonderful new website and can finally take credit card orders! I hope you will visit me there to see all my wonderful treats.
None of this could have happened without my love for dogs, those beautiful, soulful creatures who love us unconditionally.
Here's my famous peanut butter cookie recipe!
My peanut butter cookie recipe is so simple. It has just four ingredients, and you can make them at home:
Mix two cups of whole wheat flour with one tablespoon of baking powder. Set aside. Mix one cup of natural peanut butter with one cup of milk. Add in the dry ingredients. Roll the dough out on a lightly floured surface and cut with your favorite cookie cutter. Place on greased baking sheet. Bake at 375 degrees for 20 minutes. Your dog will love these, and they are so healthy!
Learn more about dogs with Dogster:
About the author: Melissa Gruenhagen is a former teacher and librarian in the Cincinnati area who long dreamed of owning her own business. Her interest in animal rescue and her love of cooking are combined in Give A Doggy A Bone. Visit her at her website as well as Facebook, Twitter, and Pinterest.