Cesar Milan is off the legal hook. The Department of Animal Care and Control in Los Angeles County has announced that no animal cruelty charges will be filed against the controversial dog trainer over the Feb. 26 episode of his Nat Geo WILD TV series Cesar 911. In the episode, Millan tries to "train" a French Bulldog–Boston Terrier mix out of his pet-pig-killing ways — by bringing him into a pen with pigs.
It ended badly, with the dog, Simon, chasing and attacking a pig, nipping his ear. After the show, dog- and animal-lovers were outraged, saying, among other things, that the trainer used the pig as "bait." More than 13,000 people signed a change.org petition, and many outraged people called the American Humane Society, who labeled the incident "abuse" in a statement, according to Reuters.
Millan disagreed with the animal baiting claim, stating that the dog and the pig later "became best friends," while pointing to a follow-up segment in which he describes Simon interacting peacefully with the pig he attacked.
Jane Robison, a spokeswoman for the Department of Animal Care and Control, said the investigation was dropped due to "insufficient evidence."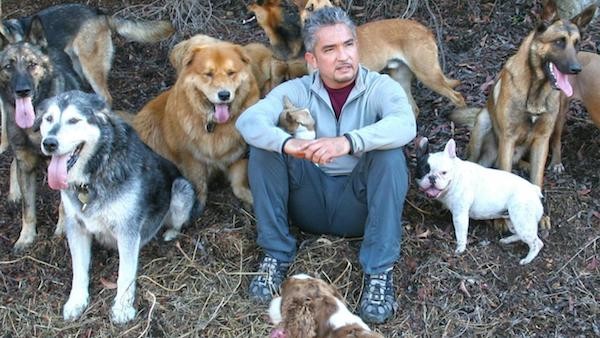 We at Dogster, longtime critics of Millan's training methods, were similarly outraged. Resident dog trainer Annie Phenix detailed in a previous post all the ways Millan failed the pig and the dog:
The dog, named Simon, was brought to Millan by his owner. Millan put this dog in a slip-lead leash – his first dangerous decision as brachycephalic (short-nosed) dogs can have a hard time breathing and a slip lead puts pressure on the dog's neck and airways. Simon should have been in a harness to keep pressure off his neck.

Millan takes Simon into an enclosed area where several of his own pigs roam loose. The dog is on leash and ignoring the pigs at first — and that was a terrific opportunity to reinforce the behavior his owner DID want, but Millan ignored it. Millan announces that he will "use a new environment for Simon to my advantage . . . He already has killed two pigs in the past, but if I can give him a new positive memory with them, it will be a great foundation that can translate to a better behavior with all animals."

Millan failed to give this dog that "positive memory."

Millan failed in protecting the pigs when he took Simon off leash and a pig squealed off camera. Simon took off running and launched onto the pigs, leaving one with a bloody ear missing a piece. (Some who have watched this video feel it was a setup by a producer who was holding one of the pigs by a back leg.) Can you imagine the real-life fear this pig felt? He didn't know that Simon had two successful kills already, but you can be sure that pig understood Simon meant him harm, and that caused the pig completely unnecessary stress.

Millan failed the owner who had to watch her dog attack yet one more animal.

Millan failed Simon repeatedly.
Annie then suggested ways you can stop television that hurt dogs and other animals from occurring: "You can email the CEO of National Geographic and ask her to ensure that no animals be harmed for the sake of a TV show: Courteney.Monroe@NatGeoChannel.com. You can also call the American Humane Association and demand they protect ALL animals appearing on TV shows: 202-677-4227."