A sporting spaniel at heart, the Cavalier King Charles Spaniel sports, well, a cavalier attitude when it comes to actually going out in the wilds to hunt. But give him a butterfly to flush or a sparrow to stalk and he's in his element — almost as much as when he's lounging in the lap of luxury. This is a breed that appreciates the finer things in life.
The Cavalier (Cav to his friends) has rocketed in popularity over the past couple of decades. It's no wonder; besides stylish good looks and fairly easy care, the Cavalier truly deserves the coronation "King of Hearts."
The Cavalier descends from spaniels who flushed birds into nets or to waiting falcons. Smaller spaniels were probably crossed with toy dogs to create a lapdog that became known as the "comforter spaniel." They earned their keep as lapdogs, entertaining the ladies, playing with the children and acting as living heating pads. They even performed the vital function of attracting fleas from the human laps on which they lounged!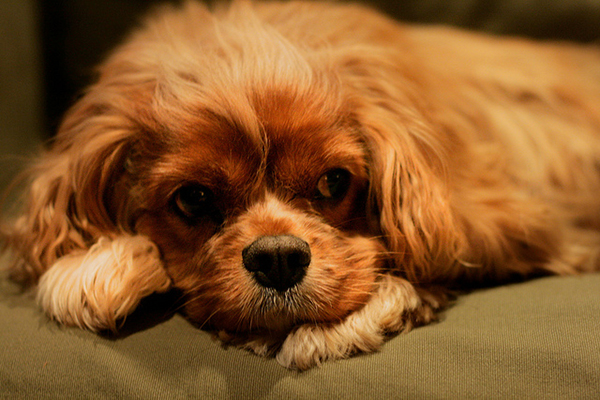 Mary Queen of Scots is credited with introducing the toy spaniels to Britain after encountering them in France as a youth. When she was beheaded her faithful spaniel would not leave her side and later had to be removed from beneath her skirts.
When King Charles I was executed, his companion spaniel, Rogue, was publicly exhibited as a trophy.
In the late 1600s, King Charles II was so obsessed with his comforter spaniels he was accused of ignoring matters of state. A dozen of them comforted him on his deathbed. The dogs became so identified with him they were dubbed King Charles Spaniels.
The Duke of Marlboro became the breed's main advocate after King Charles' death; he had come to know them through King James, who had taken the throne following King Charles II. The duke favored red and white dogs, and even today that color combination is called Blenheim (pronounced "blennim") after his estate. The Blenheim spot refers to a red spot on the forehead of some of these dogs. Legend has it that while the duke was away fighting, his worried wife repeatedly pressed her thumb on a whelping female's forehead, and when the pups were born they all had a red thumb mark!
Queen Victoria, a great dog lover of many breeds, favored her King Charles Spaniel named Dash. His epitaph read: "His attachment was without selfishness, his playfulness without malice, his fidelity without deceit."
By the early 1900s the breed no longer looked like it used to. It was smaller and had flatter face. In 1926, a wealthy American offered a large cash prize to the best "old type pointy-nosed dogs," leading breeders to revive the old type. The snub-nosed King Charles Spaniels are what we now know as English Toy Spaniels. The longer-nosed ones became Cavalier King Charles Spaniels.
Only a few Cavaliers remained after World War I. Six dogs became the foundation of the modern breed.
The breed remained modestly popular in Britain until 1973, when a Cavalier named Alansmere Aquarius won Best in Show at England's Crufts dog show, the largest dog show in the world.
It was not until 1996 that the AKC recognized the Cavalier. A decade later it was the 27th most popular AKC breed, and it currently ranks 20th in popularity.
The Cavalier is in the AKC Toy group.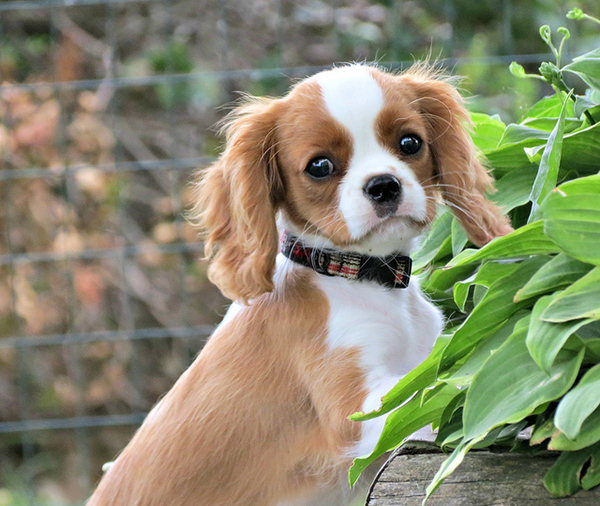 Cavaliers come in four color patterns: red, black and tan, red and white, and black, tan and white.
Besides the aforementioned royalty, owners include Princess Margaret, Ronald Reagan, Frank Sinatra, Courtney Cox, Jennifer Love Hewitt, Diane Sawyer, Sylvester Stallone and the Osbournes.
The breed does have some health problems buyers should inquire about, most notably cardiac (mitral valve insufficiency) and neurological (syringomelia).
Do you own a Cavalier King Charles Spaniel? Have you spent time with one? Let's hear what you think about this fascinating breed in the comments! And if you have a favorite breed you'd like us to write about, let us know that, too!
Read more breed profiles:
About the author: Caroline Coile is the author of 34 dog books, including the top-selling Barron's Encyclopedia of Dog Breeds. She has written for various publications and is currently a columnist for AKC Family Dog. She shares her home with three naughty Salukis and one Jack Russell Terrier.