Editor's note: Have you seen the new Dogster print magazine in stores? Or in the waiting room of your vet's office? This article appeared in our June-July issue. Subscribe to Dogster and get the bimonthly magazine delivered to your home.
Mix soulful eyes, a beautiful feathered coat, and a sweet yet pleasingly active personality. Stir in some royal drama and a cup of comfort. Develop gradually over a few centuries, and there you have him: The Cavalier King Charles Spaniel takes a regal bow.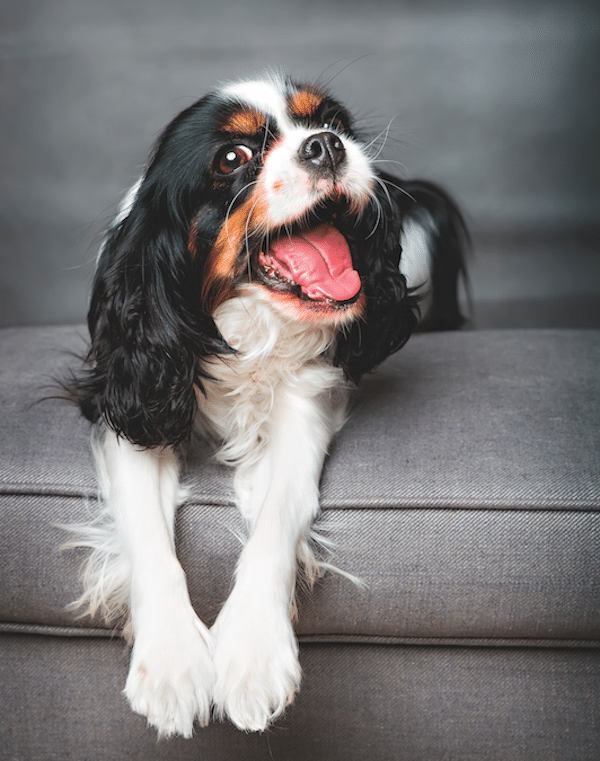 Crowning history
Predecessors of the Cavalier King Charles Spaniel were developed for centuries to sit on royal laps. These small spaniels served as comforters, companions, bed warmers, and flea-catchers. Legend has it that Mary Queen of Scots was executed with her beloved Cavalier forerunner under her skirts. (After reading the rather graphic historical account of her execution, I was relieved that the little dog's head didn't also fall on the scaffold that fateful day).
King Charles I's spaniel also apparently accompanied him to his execution. And Charles II (the breed's namesake), passionately included early Cavaliers in his royal life. The Merrie Monarch took his dogs just about everywhere, including into his council rooms, church, and court. Charles also especially liked to be painted with his royal spaniels by his side.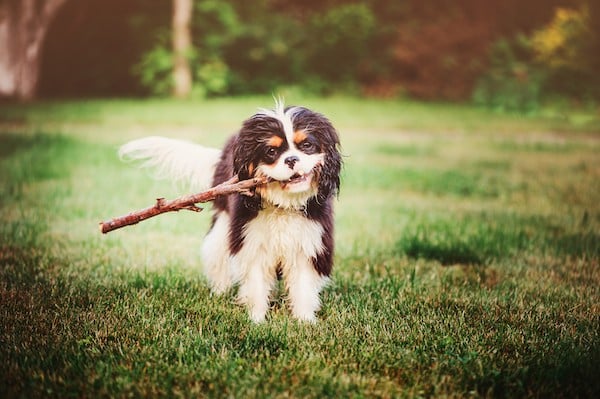 So that's where the "King Charles" in the breed's name originated, but what about "Cavalier"? The dictionary defines a cavalier as a courtly gentleman, a dancing partner, or a supporter of Charles I of England. Odds are the Cavalier in the breed's name references loyalty to the king. But let's not rule out gentlemanly behavior or dancing skills. This is, after all, a rather multi-faceted breed.
A story circulates that Cavaliers, allowed to accompany the king everywhere, are even today protected by law to run around anywhere in Westminster Palace. Well, the breed may be deserving of royal treatment, but there's actually no Act of Parliament allowing Cavaliers in the palace.
The modern Cavalier is a sturdy, small dog, recreated in more recent centuries from early toy spaniels. Although spaniels are historically gun dogs, the Cavalier was bred primarily as a companion, not a sporting dog.
A Cavalier lifestyle
While today's Cavalier is active and playful, he won't be signing up for triathlons. He has a dash of sporting history (and a solid squirrel-chasing instinct), but he doesn't have the constitution for extra strenuous or nonstop physical activities. A mild-tempered companion, Cavaliers match up well with families, older adults, and active singles. The adaptable Cavalier can live fittingly in small spaces, but he'll need daily walks to burn off energy.
Cavaliers get along nicely with other animals, rarely pick fights in dog parks, and generally enjoy their family and newcomers. Sensitive and sweet, they make lovely therapy dogs. And speaking of their generous, friendly nature, they usually make insignificant guard dogs and only so-so watchdogs.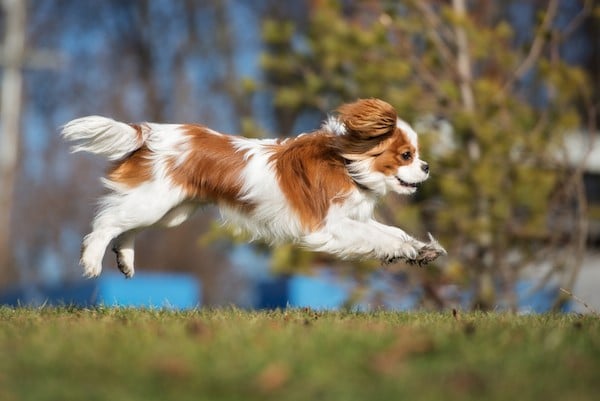 Will your Cavalier win top honors in obedience? He's smart and quite capable of obedience, but he'll more likely put his heart into rally or perhaps canine freestyle. With his small size and speed (plus his beautiful coat that flows with movement), he's an agility natural. He's also an inborn comforter, companion, and consoler (all those years accompanying royalty to their executions paid off), working effortlessly in therapy settings.
To keep the Cavalier's long locks lovely, brush the dog frequently, usually a couple of times per week. Ears should be checked regularly for irritation as well.
Children, costumes, and cavaliers
Living with a Cavalier generally includes fun, squeezed right in between cuddles. I asked Kim Weidmann for her family's insider view of the Cavalier breed, based on their 11-year friendship with Randy Roo: When we first brought Randy home, he was so small he fit into a slipper pouch, so we nicknamed him Baby Roo. Fortunately, Roo was comfortable with his machismo, because for years my children dressed him up as Cindy Lou Roo (with the name nodding to Dr. Seuss and How the Grinch Stole Christmas).
Cavaliers are classified as a toy breed; an 8-week-old puppy only weighs about 3.5 pounds.
And speaking of costumes, our girls dressed Roo in a plethora of crazy outfits, most of which he seemed to delight in and all of which he tolerated. Any and all scraps of fabric were considered for Roo costuming; sketches were boundless, as was Roo's delight in his starring roles.
The soft-tempered Cavalier usually gets along nicely with children.
Roo even won a costume contest once as "The Kissing Booth Man." Our daughter decided to use his best trick: puppy kisses.
The Cavalier's performance accomplishments include rally, agility, canine freestyle, and, apparently, theater and stand-up comedy.
Our Never-Miss-A-Party boy got to the birthday cake ahead of us once. We walked into the dining room to serve cake to our guests, only to find Randy Roo, about as tall as the cake stand on the table, poised to take the first bite. Roasted chicken was his favorite, but any party food would do in a pinch. He had a disdain for dog treats and all things rough and hard. Perhaps his royal heritage was to blame.
Cavaliers are astonishingly agile and remarkably motivated. Plus, given their sweet natures and big, adorable eyes, they know people can't stay annoyed with them for long.
We're all sure that on more than one occasion Roo said, "I think I am finished with this walk. Please carry me up the hill." What we never heard him say was, "I am alpha, hear me roar!"
Most Cavaliers don't try to boss anyone (human or canine) around. And while they enjoy activity, they're more likely to relish a long walk than a run.
Even as a senior, Roo continued to dash out opened doors to meet his adoring public. His favorite escape destination was the house down the street because they had two Cavaliers as well. No dog ever played, loved, and napped with as much gusto as Roo.
An ultimate companion breed, Cavaliers relish life with their families, friends, and (as Roo demonstrates) neighbors. Don't expect a Cavalier to play alone in the yard all day; this breed needs his people. And apparently his cake and chicken, too!
The fine points
Coat: A moderate shedder, the Cavalier has a long, beautiful coat requiring weekly brushing and combing.
Colors: Ruby, black and tan, tricolor (black and white with tan), and Blenheim (chestnut and white). Some Blenheims have a distinctive spot on their heads.
What's with that Blenheim spot? Worried about her husband fighting in the battle of Blenheim, the Duchess of Marlborough apparently relieved her anxiety by rubbing her expectant spaniel's head with her thumb. Thus — if you ignore everything you learned in biology — you'll believe this is why her pups had spots on their heads.
Weight: The Cavalier weighs between 13 and 18 pounds.
Lifespan: About 10 years. The Cavalier's average lifespan is impacted by a form of degenerative heart valve disease called mitral valve disease, which is common in the breed. Unfortunately, it's the leading cause of death of Cavaliers. Families with Cavaliers are wise to have their veterinarians screen for the condition regularly.
Breed Motto (could be): "Jumping for joy is good exercise." Or "Don't worry, be happy!"
Cavaliers and celebs
Cavalier fans include:
President Ronald Reagan
Frank Sinatra
Courtney Cox
Diane Sawyer
Jennifer Love Hewitt
Brad Paisley
Liv Tyler
Teri Hatcher
Amanda Bynes
Sylvester Stallone (I didn't see that one coming!)