Ah, Thanksgiving. Food, family… and frayed nerves from cooking a massive meal or traveling to a relative's house. With all the chaos of preparing for Thanksgiving, be it getting your house ready to host extended family or packing for a trip, we might not think about what stress a dog could be under when his home is filled with people, or what dangers might come from so much food lying around. So, how do you ensure you have a safe Thanksgiving with dogs in the picture? Here are a few common mishaps — and how to avoid each of them.
1. Don't let your dog eat turkey (or any Thanksgiving foods, really)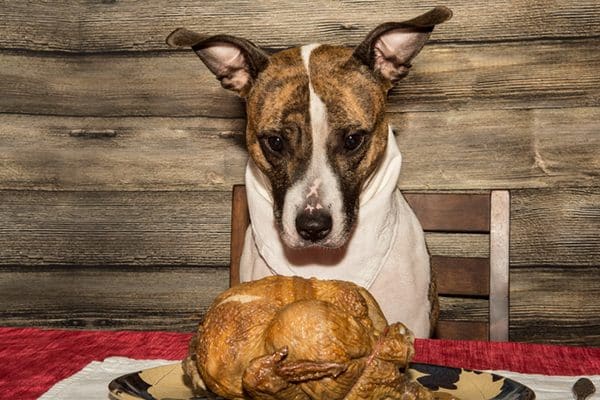 It's tempting to give your dog some Thanksgiving turkey and mashed potatoes, but this is a surefire way to create a Thanksgiving catastrophe. At the very least, it'll lead to an upset tummy.
"It's not uncommon during the Thanksgiving holiday that we see pet insurance claims for intoxication, pancreatitis and gastroenteritis," says Dawn Pyne, marketing manager for Embrace Pet Insurance, which is based in Cleveland, Ohio. "Most people food is heavily seasoned, which can lead to the gastro irritations. And there is food that is downright poisonous to dogs, like xylitol, chocolate and grapes."
The following is what Pyne sees most often in insurance claims post-Thanksgiving:
Gastroenteritis from eating unfamiliar and seasoned people foods
Acute pancreatitis from eating large amounts of fatty foods, like dark turkey meat, turkey skin, ham or cheeses
Intoxication from xylitol from eating food with this sugar substitute (sugar-free); from chocolate, since dogs are not able to metabolize theobromine and caffeine; and from raisins, currant or grapes, which can be toxic to dogs.
Be safe, rather than sorry: Don't feed your dog table scraps from the Thanksgiving feast. Keep an eye on your guests, too, who might like to sneak pieces of food to your dog when you're not looking. For my German Shepherd Dog's first Thanksgiving with the family, I had to yell at my brother-in-law and niece not to feed my dog ham. "It's too salty!" was basically my catchphrase for the night.
So, how do you know if your dog might have eaten something he shouldn't? Look for signs of vomiting, diarrhea, lethargy and dehydration, Pyne says. If your dog exhibits those symptoms, get your dog to a veterinarian ASAP.
2. Don't feed your dog turkey bones either, or give him access to any Thanksgiving scraps
It's equally tempting to toss your dog a few bones from the turkey. After all, what is more iconic than a dog with a bone?
Naturally (as with most things), Hollywood has lied to us. Foreign body ingestion is yet another common case that Pyne sees reported after Thanksgiving — for example, dogs going to the vet with bones that have splintered and punctured their digestion tract.
Unfortunately, rogue turkey bones can be hard to keep track of when guests with food are everywhere. In the article Thanksgiving Safety Tips for Dog Owners, the Dogster editors recommend the following tips to keep dogs safe: "Don't leave plates with bones lying around. Ditto for the turkey carcass. Hungry dogs have been known to run off with the remains of a carved turkey. It can happen in the blink of an eye. You notice the turkey is gone. You notice the dog is gone. With luck, you find their hiding place before anything happens. Put plates in an unreachable area if you can't dispose of everything properly right away."
Watch your garbage cans, too. "We've seen cases where dogs got into the garbage and stole bones," Pyne says.
3. Reduce stress for your dog (and you!)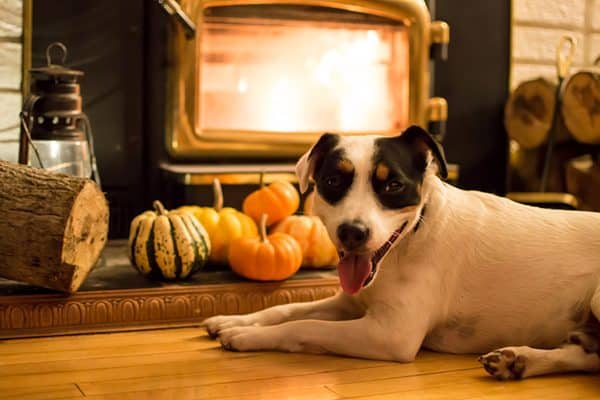 The holidays are stressful for everyone, your dog included. In fact, the stress can be so bad, some dogs develop colitis — also known as constipation. After Thanksgiving, Pyne often sees cases of constipated dogs.
So, how do you try to keep your dog's stress levels down during the holidays? One common cause of stress is traveling, so if you don't have to bring your dog with you, leave him at home.
Another cause of stress is hosting friends or relatives, who might force your dog to interact with them. It's basically the dog equivalent of your aunt swooping in to smooch your kid's cheek — nobody likes that.
If your dog isn't a fan of strangers, check out some of the tips in the Dogster articles 8 Tips to Help You and Your Dog De-Stress During the Holidays and Do You Have a Stranger-Danger Dog? 4 Tips to Teach Him to Deal. One thing author Abbie Mood, Dip. CBST, recommends in the "8 Tips" article is setting up a crate for your dog in a quiet room so he doesn't have to be part of part of the family activities.
Another thing to watch out for: Your own stress levels, which can affect your dog's stress levels. "To deal with your guest-related stress, stop and take a few deep breaths, or take a few minutes to just sit by yourself," Mood recommends in her article. "The more relaxed you are, the more relaxed your dog will be. Our dogs are masters of body language and tone, so if you are rushing around the house with a short temper, they are going to wonder what is about to happen."
4. Keep your dog and other pets secure
It's not a bad idea to crate your dog throughout the entire Thanksgiving meal. With guests entering and exiting your home, there's always a chance a dog might bolt out the door and into the street. Pyne sees a lot of cases during Thanksgiving where dogs get hit by cars after they escape from the house.
You should also insist that any pet that comes over be secured as well (or not come over at all). In high-stress situations, it's easy for tempers to flare, even between dogs or other pets who might normally get along. That can lead to animal bites, which are another common reason dogs end up in the emergency clinic, Pyne reports. For more information on handling a multi-dog Thanksgiving, check out this article from Heather Marcoux.
5. A way to help with Thanksgiving catastrophes? Consider pet insurance
With all the incidents mentioned above, you're looking at some expensive vet bills.
"Treatments for any of these conditions can easily costs over a thousand dollars, when you factor in holiday and weekend emergency visits to the vet, tests and supportive care," Pyne says. "Pet insurance is great way to protect your dog if any unexpected accidents or illnesses occur during the holidays."
Keep your dog safe, and put yourself in a position where you won't have to refuse treatment due to lack of funds. By keeping an eye out for these common Thanksgiving catastrophes, you and your dog will breeze through this crazy holiday. Not to mention you'll be prepared for other winter holidays like Christmas, Hanukkah and New Year's Eve!
Happy Thanksgiving!
This piece was originally published in 2017.
Thumbnail: Photography ©mdmilliman | Thinkstock.
Tell us: How to ensure a safe Thanksgiving for dogs? What are your tips and tricks? How are you and your dog spending Thanksgiving?
Read more about dogs and holidays on Dogster.com: