Summer is here, and for pet owners, that means road trips, Frisbee in the park and hikes in the woods. But, unfortunately, the dog days of summer can come also come with dehydration in dogs. "If it's a hot day, dogs will frequently take breaks to rest on their own. The trouble happens when you're out hiking or running with your dog, because if you're going, they will go with you — even to their detriment," explains Gary Richter, DVM, of Holistic Veterinary Care in California. So, what causes dehydration in dogs? What are the signs of dehydration in dogs, how should you treat it and how do you prevent dehydration in dogs before it starts? Let's take a look.
What Causes Dehydration in Dogs?
If you're thinking of taking Rover for a long walk or hike this summer, it's crucial that you bring enough water and provide drinks at frequent intervals. "Just like with people, the idea is that if you're feeling thirsty, then you're already behind," Dr. Richter notes. "There's no such thing as over-hydrating your dog by putting a bowl of water in front of her — she will drink if she need it, and she should always have access."
According to Bradley Harris, DVM, of BluePearl Veterinary Partners, while some dogs dehydrate due to metabolic conditions like diabetes — or a more temporary medical issue such as excessive vomiting or diarrhea — excessive exercise or simply not drinking enough water often causes dehydration in dogs. In some cases, your pet's breed may also put her at risk; Harris notes that dogs with short noses (brachycephalic dogs like Pugs and Bulldogs) are especially susceptible to heat-related conditions. Other dogs that may also be in heightened danger of dehydration include puppies and senior dogs.
Recognizing the Signs of Dehydration in Dogs
Symptoms that spell out dehydration in dogs include lethargy, not wanting to move or panting excessively, Dr. Harris notes. "It's also smart to think back on what your dog has just been doing. Was he running outside for an hour or sitting in the back of a car for a long ride with no water?" he adds. "Just like humans, dogs get dehydrated if they don't drink enough water or if they exert themselves, especially on hot days."
According to Shawn Messonier, DVM, of Paws and Claws Animal Hospital and Holistic Pet Center in Texas, other symptoms of dehydration in dogs include sunken eyes and skin that tents rather than returns to normal. Try gently pulling up on the skin at the back of your dog's neck, and if it doesn't spring back to its normal position within a second or two, your dog may be dehydrated. "You also want to take a look at your dog's teeth and gums; if the tissues inside the mouth are getting tacky or dry, that's also an indication that she might be dehydrated," Dr. Richter explains.
How to Treat Dehydration in Dogs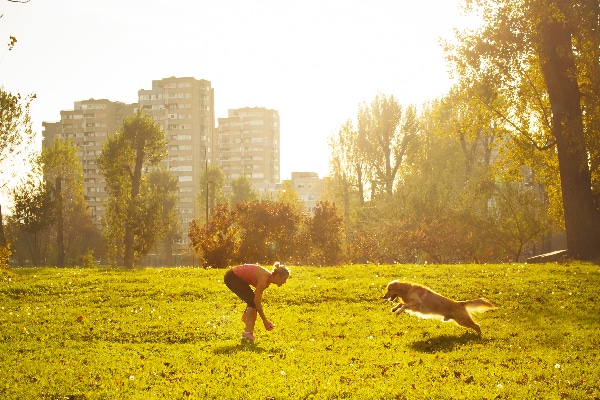 If your pet is showing any symptoms of dehydration, act fast. "You want to immediately get her into the shade, indoors or anywhere it's cooler … and if you're outside, you can quickly cool off an animal by wetting her feet and legs right out of the hose," Richter advises.
Thinking about giving your best pal a giant bowl of ice water? "It seems counterproductive, but ice actually isn't recommended — cool water straight from the tap is going to be more effective," Richter adds. "Also, make sure you're offering clean, fresh water; if a dog is thirsty and she doesn't have clean water to drink, she's going to go looking to drink something that could potentially make her sick."
If your pet's condition doesn't improve with a change in temperature and drinking water, immediately head to your veterinarian's office. "The treatment for dehydration is an IV or subcutaneous fluids; as a holistic vet, we can also do herbal detoxification to improve organ function," Messonier explains. "It's also important to have regular check-ups and lab testing done to determine underlying causes such as kidney disease, which might predispose your pet to organ failure if dehydration occurs."
Tell us: What do you do to prevent dehydration in dogs?
Plus, are YOU dehydrated? Learn about the signs of a dehydration headache and how to fight it >>
Thumbnail: Photography ©martin-dm | iStock / Getty Images Plus.
July is the CHILL ZONE on Dogster.com! Learn how to keep your dog cool, calm and collected this summer with articles on preventing summer mishaps, staving off stress and more.
Read more about keeping dogs cool, safe and comfortable this summer on Dogster.com: