Clean, dainty and graceful yet capable of impressive speed, the Italian Greyhound is one of dogdom's aristocrats. The breed has captured the heart of artists, sculptors and royalty throughout history, yet will happily curl up and nap in more modest surroundings. Here are eight fascinating facts about the exquisite Italian Greyhound.
The 8 Italian Greyhound Facts
1. Greyhound in miniature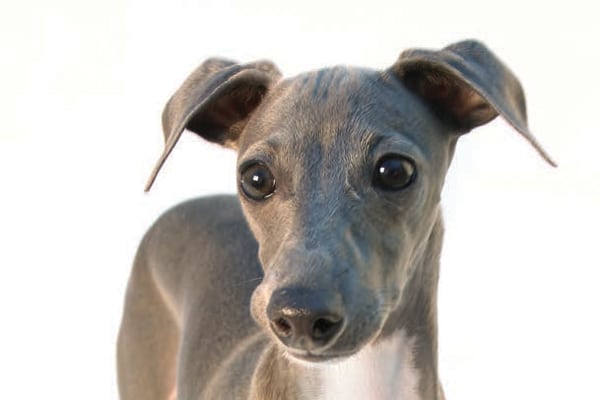 With his deep chest, slender legs and long neck, the Italian Greyhound is the smallest of the sighthound breeds, standing 13 to 15 inches at the shoulder and typically weighing from 8 to 15 pounds. The American Kennel Club lists the breed in the Toy Group but international registries include the IG (or "Iggy") in the Sighthound Group, along with taller relatives like the Afghan Hound, Irish Wolfhound and Whippet. While the IG has the distinctive, high-stepping movement of a show pony, they've been clocked at a top speed of up to 25 miles per hour and participate in the exciting sport of lure coursing. Many are also top performers on the agility course. They have pronounced prey drive and will chase — and catch — birds, lizards, rabbits and squirrels.
2. Italian Greyhound History
It is believed the breed originated some 2,000 years ago in the region known today as Greece and Turkey. In time, the breed became known throughout Southern Europe and by the 16th century became the darling of the Italian nobility. Mary, Queen of Scots, Queen Victoria, Catherine the Great and Maud, Queen of Norway, are among the international royals who succumbed to the charms of the Italian Greyhound.
3. IG Temperament
Italian Greyhounds love to be with you and will insist on being noticed. They are creatures of comfort and will snuggle with you at every opportunity. Privacy will be a thing of the past with an Italian Greyhound! Because of their short hair, they appreciate basking in the sun, sleeping under the covers in your bed and wearing a coat in cold weather. This is most definitely not an outdoor dog.
4. How Long Does an Italian Greyhound Live?
Italian Greyhounds are a long-lived breed. Average is 12 to 14 years, but it is not unusual for an Italian Greyhound to live to 18 and sometimes even longer. They possess a zest for life and retain their playful ways well beyond puppyhood.
5. IG Colors
Italian Greyhounds come in a range of shades, from white, cream and golden to darker bronze, chocolate and slate gray. The American Kennel Club breed standard allows for parti-colored dogs (white with evenly distributed patches of color), but international registries insist on a solid-colored IG, with white permitted only on the chest and feet.
6. A Few Health Concerns with the Italian Greyhound
As a fast, agile and slender breed, Italian Greyhounds can be prone to broken legs. Iggies don't necessarily need coddling, but you might want to discourage acrobatics and jumping on and off furniture. Some IGs think they can fly! Periodontal disease, gum recession, early tooth loss and bad tooth enamel is also prevalent in the breed. Good dental care is best established early, and daily brushing is recommended.
7. Housetraining an Italian Greyhound
One of the most challenging aspects of living with an Italian Greyhound is housetraining. It can be a slow process, but the crate is your friend; confine your IG during the potty training process when you can't keep your eye on him. Because Italian Greyhounds don't like getting their feet wet, pee pads have worked well for many owners.
8. Celebrity IG owners
The Italian Greyhound's elegant lines along with his portability have won him a host of jet-setting celebrity admirers. Among those who share their lives with one or more IGs are Matt Damon, Seth Meyers, Kylie Jenner, Ariana Grande, Sigourney Weaver and Miley Cyrus.
Learn more about dog breeds on Dogster.com:
Editor's note: This article first appeared in Dogster magazine. Have you seen the new Dogster print magazine in stores? Or in the waiting room of your vet's office? Subscribe now to get Dogster magazine delivered straight to you!
Dog breed profiles help everyone, whether you have a mixed breed or purebred dog, to better understand and improve the quality of your dog's life. If you have a mixed breed dog, read up on all of the breed profiles that make up your dog. Not sure what breed your dog is? There are a number of easy DNA tests out there to help your find out.
---
Featured Image Credit: MarkHatfield | Getty Images