Quick Facts
Weight: 99 – 110 pounds | male
88 – 99 pounds | female
Height: 25 – 27 inches | male
23.5 – 26 inches | female
The Look of a Cane Corso
The Cane Corso has a large, mucular, big-boned frame covered in a short, dense coat that usually comes in darker shades: black, fawn, red and gray. Some coats may have brindling or white patches on the neck and throat. It has a large, square head with a wide forehead, broad muzzle, almond shaped eyes and ears that have a somewhat bat-like point. Its thick neck leads down to a deep chest and a level back. Its tail is either carried low or cropped. Overall, the Cane Corse has a dignified and powerful look.
Traits
Loyal
Protective
Quiet
Gentle
Strong
Ideal Human Companion
Active singles
Families
Outdoorsy types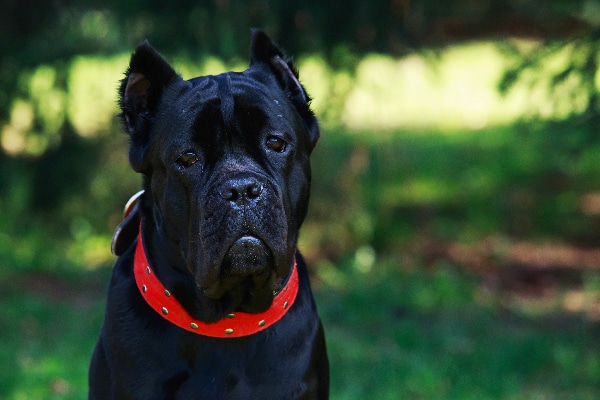 What They Are Like to Live With
Named after the Latin word for "protector," the Cane Corso is exactly that—a watchful (but not threatening) presence around the home. It has a stable and dependable personality. In the yard or around the house, it will stay close to its master. In fact, they love company and thrive on attention form every member of the family.
The Cane Corso is friendly and open with everyone, but it has a strong sense of territory. A superb watchdog, it rarely strays from the home base and has an excellent sense of restraint. Not the type to bark randomly or excessively, he is quiet and calm, only making noise when necessary.
Things You Should Know
The Cane Corso can live as long as 10 years. Common health issues include hip dysplasia and eyelid problems like "cherry eye." The Cane Corso is also prone to bloat. Feeding them smaller meals throughout the day will help control this. The Cane Corso is very easy to groom, needing only the occasional light brushing.
History
The Cane Corso descends from the "Canis Pugnax," the ancient warrior dog of Rome. Bred over the centuries to be smaller and gentler than its mighty ancestor, it has long been a popular Italian farm dog, ceaselessly watching over cattle and other property. Over many generations, the Cane Corso has been valued for its strength, loyalty and gentleness.