---
Maybe your dog doesn't have a graying muzzle but seems a bit creaky after a walk, or snores like a walrus in the winter. And even if your dog isn't getting on in years yet, sometimes she'll look at you and you'll see a little thought bubble above her head that reads, "Do you have to walk so FAST?" or "What's with all these skyscrapers? In my day, it was all fields around here," or "What's this astronaut kibble you're dishing up? Gimme an old-school bone, pronto."
Emmy-winning TV producer Tom Cohen noticed a lot of doddering dogs with droll expressions, so he compiled a bunch of photos into his new book, Dogs with Old Man Faces: Portraits of Crotchety Canines. Because November is Adopt a Senior Pet Month, we've been thinking a lot about grizzled old senior dogs, and Tom's book really tickled our funny bones. 
Check out some of the photos from the book, with Tom's captions, and then find out how to win a copy of Dogs with Old Man Faces.
1. Gus got Grecian Formula in his eye
2. Barney wishes he hadn't retired
3. Homer was once Mao's tailor
4. Otis has 87 godpuppies
5. Roscoe was one of the original Hells Angels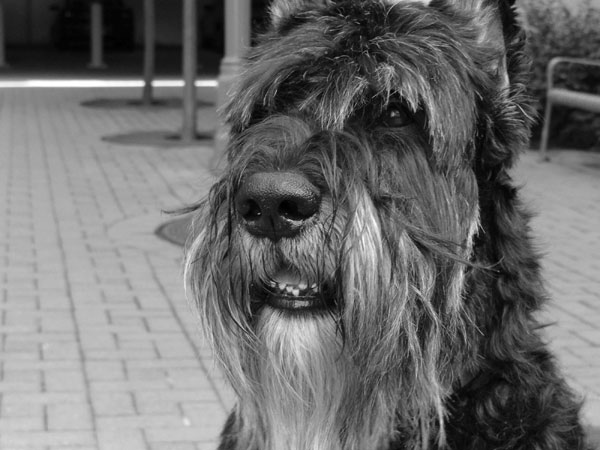 Enter to win a copy of Dogs with Old Man Faces
We've got two copies of the book to give away to Dogster readers. To enter the contest, simply tell us in the comments below what your salty old dog would say if you snapped a candid pic of him or her. If you can upload a goofy photo as well, even better — we'll select our favorites for a photo post! 
Create a Disqus account, if you haven't already, and include a valid email. It takes just a minute and allows you to better participate in Dogster's community of people who are passionate about dogs. If you already have a Disqus account, check it to ensure the account includes a valid email.
Comment below using your Disqus account, following the directions above. Our favorite comment wins! 
Check your email for a "You've Won!" message from us after noon PST on Monday, Dec. 2. We'll give the winner two days to respond before moving on to our next favorite comment.
Good luck!