The first thing you'll notice about Hamlet, a 9-month-old French Bulldog, is his distinctive black and tan color scheme. It's a visual calling card that's set Hamlet on his way to becoming a social media star, as fans flock to his Instagram and Facebook accounts to check out his moves.
Here's what you need to know to get on board the Hamlet train.
Hamlet's look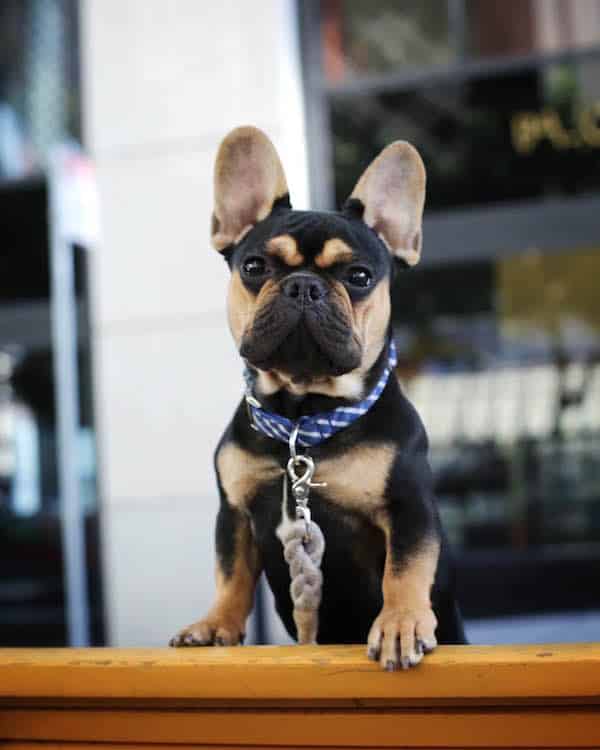 When it comes to Hamlet's standout black and tan markings, it turns out that it's a color scheme that naturally occurs in French Bulldogs on rare occasions. To that end, Hamlet's often accused of being a Rottweiler puppy, a German Shepherd mix, or — shock! horror! — a Pug.
What's in a name?
Curious about Hamlet's moniker? Well, it's inspired in equal parts by the Shakespeare play and the fact that it sounds somewhat like the name Piglet, which in turn leads to nicknames like Hammy, Ham Sandwich, and Ham Chop.
Hamlet's rise
This French Bulldog is a relative newcomer to the social media scene, having only launched his Instagram account back in April of this year. But he's started out of the blocks incredibly quickly, already clocking up nearly 25,000 followers and being asked to model for certain canine couture brands.
West coast living
Hamlet dwells with his human mom in San Francisco, a city that's alleged to contain more dogs than kids. He's also developed a thirst for travel, and has flown 10 times already. His next port of call is said to be a long haul flight to Italy.
Training is key
Despite not being a full year old yet, Hamlet has already mastered the following tricks and commands: sit, lie down, roll over, high five, high 10, touch, kisses, wait, stay, spin, selecting his favorite toy from the stash box, and the classic balancing-a-treat-on-your-nose ruse. Quite the portfolio, indeed.
A canine comedian
Adding on to his list of tricks, Hamlet's human says that he's also developed a series of pranks that include responding to perfectly reasonable questions by snorting like a pig, somersaulting onto the ground after going for walks, and surprising unsuspecting humans with his patented lick attacks.
From snorting to snoring
Finally, let the record show that Hamlet has also become an avid snorer. Yep, when he naps, this French Bulldog emits what his human calls "a constant purr like a diesel engine" to the point that she refers to him as "my little white noise machine at night."
Follow along with Hamlet's antics over at his Instagram and Facebook pages.