Until recently, even getting entered into the Westminster Kennel Club dog show was a challenge. With the entries capped at 2,500 dogs, many more dogs were submitted than could be accepted. Early on, the club limited entries to AKC Champions only, but even the No. 1 dogs in their breed often had their submissions declined (it happened to me in the '90s). So they decided to invite the top five dogs based on breed points as of October of the previous year, so that the top dogs wouldn't be turned away. My Saluki, Pepe, received an invitation for last year's show, but the money part of the equation had us regretfully staying home.
Pepe finished 2014 in the Top 5, but he wasn't there at the October deadline, so I sent in his entry and crossed my fingers he would be chosen in the random draw. This happens more easily these days, as all dog show entries have declined, even to the point that Westminster now allows non-Champions to be entered once again. But you never know. So I held my breath until a golden envelope arrived in the mail in mid-December — his entry acceptance!
The hard part: Getting there
I live in rural north Florida, and New York City is about as familiar as Mars. Salukis are big dogs, so if Pepe flew he'd have to go as excess baggage in the cargo hold. I know dogs fly like this all the time, but the worry is not worth the win for me. And yes, I know all I would have to do would be to slip a fake service dog vest on him, but I bristle at this. I know lots of show dogs travel this way, even some of my competition. We've run an honest show campaign, and I don't intend to sully it. So, we drive!
Fortunately, my friend Torie was game to go with us, along with her Tibetan Spaniel, Gibbs, who also received a golden ticket. Gibbs and Pepe have traveled together before and get along well.
Just about everybody stays at the Hotel Pennsylvania across from Madison Square Garden — and it's where the Dog Writers' Association dinner is held, where I'm accepting an award. At $250 a night — and I realize it's not even not five-star accommodations for the city — it has me gulping and looking for alternatives.
But on to more important matters: What to wear?
Show clothes for Westminster are tricky. If you win Best of Breed and make it to groups, you're expected to wear something somewhat formal or glitzy. I've seen more than a few handlers in group who I just have to assume didn't expect to win so they didn't bring a change of clothes.
Breed judging is earlier in the day and less fancy. If you show up wearing sequins and formal attire, you either look very confident or very overdressed. Men can wear a nice suit and be okay either way. For women, it's trickier. Sure, I could wear the woman handler's "uniform" of a black skirt, or a skirt-suit, with a jacket, but after watching the admittedly I-should-not-be-laughing-at-this video below, I am not overly excited about being in this group.
(And in the name of equal opportunity, here's the Westminster White Working Men in Suits Group):
I search the consignment shops and find a jacket subdued enough for breed judging, but fancy enough just in case — and it's not a knee-length suit! I'll be wearing pants, something that's just not done at Westminster, but it's a very nice outfit, so I buck tradition. Total cost: $17. And a Google search discloses it sells new for more than $800!
Oh, and then there's the little matter of the DOG! Are his teeth clean? Could he lose a pound or two? (Me too, but …) What about nails? Final grooming will wait until right before we leave.
The judging program arrives in mid-January. There are 18 Salukis entered, all champions. Pepe is assigned catalog No. 11. Numbers start at 7, with males assigned odd numbers and females even, so Pepe is probably going to be third in line, just where I like to be. Too far up front, and it's hard to get settled for your individual exam; too far back, and it's like being at the end of a traffic jam, slower and slower when trying to move around the ring as a group. He will be shown at 10:30 Monday morning, which will give us plenty of time to get settled and ready. The packet also contains an exhibitor admittance ticket, contact information that must go on his crate, a link to go to the media center and upload information about my dog, his benching assignment, and a staggering number of rules and instructions. I can even hire a security guard to watch my dog in six-hour blocks.
What to pack?
I'll need a crate for the car. Another for the bench at the show. What about the hotel room? That's a lot of crates! Warm soft bedding. Pepe is a good sport, but other than traveling and at shows, he never spends time in a crate. So I need to make sure he's comfy.
It's almost a thousand miles there, and then there's the benching. All entered dogs must be on their bench (which translates to being in their crate or next to it) from 11:30 a.m. to 5 p.m., with only short breaks for showing and going to the bathroom. Since we show even earlier, we'll end up being there about 8 a.m.
A coat for Pepe — maybe a sweater, too? He's never seen snow. More stuff: food, bowls, bottled water, snood, dog-show bag, leash, collar, laser light toy, and cooler; plus human snacks and drinks, warm clothing, warmer clothing, gloves, hat, muffler, leggings, boots — did I mention I don't do cold weather?
The week before the show
It's time to make a decision about the hotel, when to leave and what to take, when to get Pepe groomed. The more expensive Hotel Penn wins out because it's just too difficult and nerve-wracking to leave the dogs across the river in Secaucus while we do the banquet in NYC Sunday night and watch the groups at Madison Square Garden Monday night. Note: This assumes we both lose. Were one of us to actually win, staying across the river would be a huge problem, as one dog would need to go to Madison Square Garden, but the other wouldn't be allowed in. Of course, if BOTH of us were to win our breeds … OK, back to reality, we'd better stay in the city.
I end up with a suitcase for my stuff and an only slightly smaller one for Pepe's. One extra crate. A dolly. Hanging clothes. A cooler. Check the tire pressure. Make a little sign with Pepe's name for his crate top so people will realize they are in the presence of a celebrity. Last-minute shopping; among my purchases, some small artificial plants. The "celebrity" only poops around greenery, and maybe I can fool him with these. Pepe has jumped in the car every chance he's had. He likes to travel, but if he knew how far we were going, he wouldn't be so eager.
Friday, Feb. 13: We leave when Torie gets off work. Monkey wrench time: Another of my dogs, Lucky, came in season the day before, meaning my mom's dogsitting job has now gotten a lot harder. But fortunately the worst part won't happen until I return. Had she come in a week earlier — disaster! And Luna has an infected toe. Where did that come from?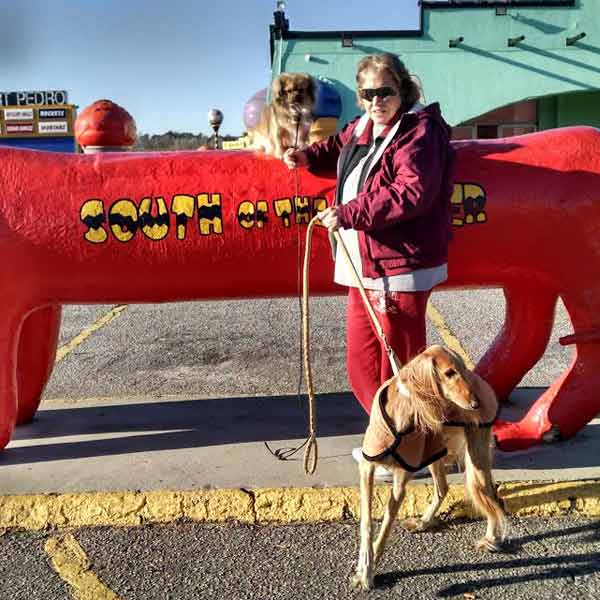 Last-minute medications and bandaging, more instructions for mom. We hear from a friend who is already there that the hotel is charging $20 (on top of the $100 pet fee) to use the doggy bathroom facilities in the basement, which are a major lure for showgoers. I hope that's per stay and not per poop!
Finally it's time to wash Pepe (he seems miffed about how thorough the bath is), do the last-minute stuff, and hit the road.
On the road to Westminster
On Friday afternoon, we make it to Torie's house in Jacksonville, 90 miles away, but spend an hour in traffic getting there and more delays getting away. But we still make about 300 miles before stopping in South Carolina for the night. On Saturday, we have an early start but make it to northern New Jersey uneventfully and check into a motel. The plan is to go into the city early, check into our hotel there, unload our stuff, and then I can write something profound for an acceptance speech I have to give. Only … it's starting to snow. A lot.
Will we be snowed in 30 miles from our destination? A snow-savvy friend tells me to brush the snow off the car before it freezes hard and that it's illegal to drive with snow on your car. I am pretty sure she's making this up just so she can laugh at me when I come back in, but she swears it is the truth. So I do. I still have my suspicions.
Sunday: Pepe sees snow for the first time
Pepe doesn't like snow. By the time we get back to the room, he is limping from it. Oh great, a lame dog for Westminster! But he recovers, and we jump in the car and go.
Turns out, A) our GPS is on crack, and B) there is a secret to cleaning salt off your windshield so you can see through it. We don't know the secret. The wiper fluid holes are frozen shut, and I end up touring NYC peering through a peephole as I drive. We finally find the Hotel Penn, get our stuff inside, stand in line, and get checked in. Dogs are everywhere!
While in line, I'm approached by somebody from The New York Times, who asks us to do a photo shoot upstairs. So we head there, and are then intercepted by a team from Vogue who also wants us for a shoot! I always knew I was destined to be a Vogue model … oh, they just want Pepe. Sigh.
The shoots drag on, and we still have to take our crates to the Piers, where day judging is. So we take the dogs to the indoor potty area in the basement. Pepe is appalled but finally consents to peeing on a fake fire hydrant. I explain they just need to put a nice sofa in there, and then all the dogs would have no problem peeing on it.
By the time we leave, the check-in line in the lobby snakes all the way to the door, at least a hundred or more in it, most with dogs. I'm glad we got there early.
Waiting around
We take a shuttle to the Piers, unload our stuff, wait for the shuttle to take us back … and wait and wait. Turns out it's stuck at Madison Square Garden because they've blocked off streets for the president, who might be attending some big NBA event. Doesn't he know there's a dog show in town? It's 4:45 p.m. and my dinner starts at 5. We hike a few blocks and find a cab, get a great race car driver, and arrive back at the hotel around 5:30. Now I just have to get dressed up, walk Pepe again, write my acceptance speech, and find the ballroom before the actual dinner starts at 6.
I show up in time for my award: I'm inducted into the Dog Writers Association of America Hall of Fame! My speech consists of telling them I have no speech, but that it was going to be a cool one if I had finished it, then some other stuff that turned out better than anything I would have written. I squirm through the awards fretting about Pepe in the room, rush back as soon as it's over. He's fine. Do some last-minute grooming, get ready for the big day …
Monday: The big day
Up at 6 a.m., feed Pepe a light breakfast. I wash and blow dry the feathering on his ears, tail, legs, and feet, which takes about a half hour. Then the big test: Down to the potty area with our fake plant arrangement. It works! A huge worry of him not showing well because he has to poop is lifted from me.
I get dressed, grab our grooming bag, and grab a place on the shuttle. Pepe has never been on a bus, but he climbs right in, grabs a seat, puts his feet on my lap, and decides to snooze. We sit by a popular dog show judge, who provides interesting conversation.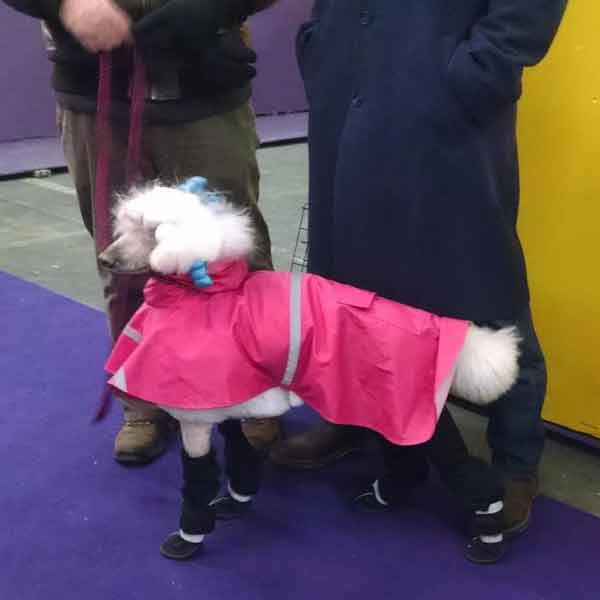 At the Piers, Pepe's ID papers are checked, and I take him to his crate. Then I have to go to another Pier to get an ID bracelet that allows me into exhibitor-only aisles. These are areas ringside so the dogs have breathing room without being overwhelmed by spectators.
We greet Saluki friends we seldom get to see, Pepe flirts with some Saluki girls, and I do some last-minute touchups on his grooming. BIG mistake. The more I comb his ears, the more they get static and the worse they look. A friend gives me dryer sheets to cut the static, but they don't help. Another suggests I try a bit of oil on them. Now they are both greasy and fly-away. He looks like I never even washed him.
I'm upset — all this way, and he is essentially ungroomed. My hopes are dashed. In Florida, static isn't a problem, so I don't know how to deal with it.
There are 20 minutes left before ring time. I find Anna Stromberg, a Long Island native who's been showing top Afghan Hounds for decades, and ask her advice. She sends me to her bench and tells me to use all her grooming equipment. Dog people rock! I quickly wash Pepe's ears with her rinse-free shampoo, rinse them anyway, borrow a small blow dryer, and 10 minutes later he has decent ears.
We rush ringside and pick up our armband. But the judge is running late. Very late. So I put Pepe back in his crate and wait. And wait.
Finally, it's time!
We end up fourth in line because the judge leaves them in catalog order, dogs and bitches intermingled. Pepe is in a great mood and wants to move out, so I need to leave a lot of room between us and the dog in front so I don't have to pull him up.
After all the dogs circle the ring, each is examined individually by the judge. Pepe does great, as usual. Then each dog gets one last go-round. As Pepe does his, the judge is distracted and neglects to watch him, so I turn around and go back and ask if she'd like to see him this time, and we do it again. The judge pulls out her favorite, the big winning dog with big money behind him, then her favorite of the opposite sex to the first one, so that will be her Best of Breed and Best of Opposite Sex.
Then Pepe is chosen for Select Dog, which is second-choice male, and his friend Lulu for Select Bitch. Finally two more entrants are given Awards of Merit.
We wait for photos — dog show win photos are customary. A friend helps get Pepe's attention for the picture. Then we rush back to his crate — we've been away for two hours now. Officials check on dogs to make sure they are in their crates except for brief potty periods and while being shown.
I rush to the other building to watch Torie show Gibbs and arrive just in time to see them in the ring. Then it's back to our bench where I have an appointment to be interviewed by Megan Blake for her Super Smiley Adventure radio program. But first a visit to the potty pen. Interview over, grab lunch, do a quick circuit of the vendors, return to sit with Pepe, perched on the four inches that his crate doesn't take up on his bench. No chairs are allowed.
Pepe prefers hanging out and having his picture taken, so we chat with spectators and the other Saluki folk. I feed Pepe his dinner that I've brought, plus the rest of his treats and snacks.
Finally 5 p.m. approaches, and we fold down the crate, try to consolidate all our stuff, and I realize I can't possibly get it all on the shuttle by myself. The line to leave stretches the length of the building, so we wait for it to die down. About an hour later, we get in line and reach the door, where we must present Pepe's paperwork to take him out.
Outside, it's a madhouse as people try to squeeze on shuttles with towers of crates and dogs. There's no way I can get Pepe, two heavy bags of stuff, and a crate with a dolly on by myself. I am saved by Pat Raymond, a spectator from New Jersey, who volunteers to help. We crowd on the shuttle, sharing our back section with a German Shepherd, Bluetick Coonhound, Chinese Crested, Toy Manchester, Otterhound, and a couple of others. Pepe sits in my lap, rests his head on Pat's arm, and falls dead asleep.
Pat helps us off and into our hotel, we say goodbye, Pepe flings himself to the lobby carpet and rolls around gratefully, and I look around and gradually figure out we're in the wrong hotel. Story of my life.
Finally find our hotel, our room, and it's almost time for groups across the street at Madison Square Garden. I use my press pass to gain access to the press area upstairs, write my Dogster results article, grab some fast food dinner, and fall into bed at almost 2 a.m.
Tuesday: Awake to news of ice storms potentially blocking our way home
Since Pepe's group was judged yesterday, he can't go back to the show today. Only dogs being shown today can be there. So we lounge around, take a walk around the city, and when we come back we're tagged for yet another New York Times photo shoot! Pepe has apparently missed his calling.
While we're at it, we arrange for a photo shoot with Wild Coyote Studio, which has a temporary studio set up off the hotel lobby. Pepe once again proves he is a born model; we order some gorgeous shots for ourselves and are told he will be appearing on its website. Then it's off to watch the groups, write my results articles, and get ready to head home tomorrow!
Read more about the 2015 Westminster Kennel Club dog show: