"Miss P, you've just won Best in Show at Westminster! How are you going to celebrate?"
"Arwhoowooowoooo!" (Translation: "I'm going for a carriage ride through Central Park!")
Westminster's big winner traditionally has a whirlwind publicity tour that starts early the following morning, but this is the first year it has included a horse-drawn carriage ride. Miss P, a 15-inch Beagle, joins the other Westminster dogs who showed their support for the threatened carriage horses by touring the park behind one.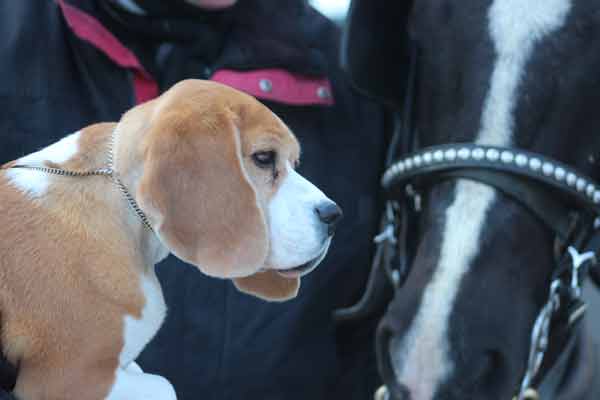 Westminster was already planned as Miss P's retirement show, but little did she know she'd be retiring to a life of fame, waving to her admirers (or, well, wagging her tail) like the queen of Dogdom she now is. Her first day of retirement also included a steak lunch at Sardi's and a trip to the top of the Empire State Building, which, as always, had shone Westminster color scheme purple and gold with lights during the show's nights.
Miss P and her owners and handler rode in a carriage pulled by Tyson. The ride had been planned for weeks but was kept on the QT because of the fear anti-carriage protestors would show up at the event. Thus, it was more of a low-key interlude amidst a day of frenzy, a welcome respite for the little Beagle that could.
After all, what girl doesn't dream of being whisked away from the ball in a horse-drawn carriage?
Read more about the 2015 Westminster Kennel Club dog show:
About the author: Caroline Coile is the author of 34 dog books, including the top-selling Barron's Encyclopedia of Dog Breeds. She has written for various publications and is currently a columnist for AKC Family Dog. She shares her home with three naughty Salukis and one Jack Russell Terrier