In Shall We Dance, the 1937 musical comedy film featuring Fred Astaire and Ginger Rogers, partially set on an ocean liner, numerous dogs promenade the decks like they're competing in a dog show.
"Ocean liner" is the operative phrase when it comes to taking pets on a cruise, said Allan Jordan, a maritime historian, author and lecturer. "It's a ship that goes from one place to another. A cruise ship goes from place to place, often returning to its original port." Because an ocean liner doesn't have ports of call, there's no concern about taking the paperwork involved in taking a pet ashore.
Can you take your dog on a cruise, and how do you find a dog-friendly cruise?
A dog-friendly cruise with the Queen Mary 2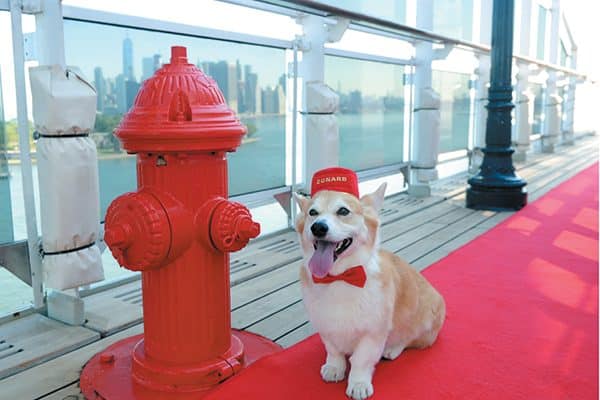 Some ferries and harbor tour boats allow dogs, but the Cunard's Queen Mary 2 is the only large passenger ship that does. And, that's only on transatlantic crossings between New York City and Southampton, England, through its Pets on Deck program.
Your precious bundle (cat or dog) receives a gift pack with an adorable QM2-logoed coat, Frisbee, name tag, food dish and scoop, toys and healthy gourmet cookies at turndown. You and your pet receive a complimentary portrait and a crossing certificate. You can visit during the daytime. A kennel master supervises the dogs and kennel area. The kennels and indoor/outdoor area include a historic English lamppost from Liverpool and a New York fire hydrant. Your pet stays in the kennel area and is not allowed in your cabin or elsewhere on the ship.
Cunard limits the size of dogs they accept and excludes dogs prohibited from entering the United Kingdom. All animals must be in compliance with the pets travel scheme and have a pet passport, good health certificate, current vaccinations and a microchip. After submitting the paperwork to Cunard, it's wise to carry duplicate sets with you.
This luxurious vacation ranges from $800 to $1,000 (one way or back-to-back for the pet), depending on the dog's size. Passenger rates, per person double-occupancy, cost from $599 one way or $999 back-to-back for an inside cabin. Add on port charges and taxes. A Queens Grill cabin (the highest category) will run about $6,000 per person, double, each way. (These are sample prices.)
Because of the popularity of the Pets on Deck program, book your cruise a year in advance. Occasionally, Cunard will have a cancellation, so, if you're flexible, you can try your luck on a last-minute booking. But, you must have the paperwork and regulations completed, and that can take weeks or longer. For more details call Cunard at 800-728-6273.
Are service animals allowed on cruises?
Some cruise lines are strict about their service animal definition and may not include companion or emotional support animals. Erik Elvejord, director of public relations for Holland America Line, said they have allowed all sorts of animals, including birds and ferrets (but not pets). They require a note stating it is a service animal.
Crystal Cruises's definition includes "physical, sensory, psychiatric, intellectual or other mental disability." Costa Cruises and Princess Cruises allow emotional support dogs with proper documentation. Carnival Cruises allows "legally defined and trained to meet a disability-related need." Service dogs in training and dogs under 4 months old are not permitted.
You're responsible for bringing food for your service animal. Occasionally, passengers take a "doggie bag" for their dog, but it is generally prohibited. With packing space at a premium, you may want to check Minimus.biz for travel size pet supplies (shampoos, wipes) rather than try to package your own.
How to get your dog to the cruise ship:
Consider how you'll transport your pet to or from the ship. Amtrak allows a pet of up to 20 pounds, in a carrier, on most routes for trips of up to seven hours, for $25. Airlines have different requirements, particularly for international flights. Take a collar and leash in case TSA wants to screen your carrier, and you have to remove and control your pet while the carrier goes through the machinery. The key is to research the desired airline, and keep copies of everything in writing.
See more on dogs and vacations on Dogster.com:
Judy Colbert is an award-winning writer and photographer who specializes in travel. Although most of her travel guides are about the mid-Atlantic area, she loves to cruise. Her latest book is 100 Things to Do In Baltimore Before You Die.