I love creating these cute puppy picture photo essays. Puppy pictures create, for a few restful moments, a mental space wherein we can envision a prelapsarian world, a place full of wonders where all things are possible. As pure escapism, pictures of baby puppies elicit our deepest sympathies and our most benevolent desires. When the infants in question are Papillon puppies, the imagination soars like a butterfly freshly emerged from the chrysalis.
"Papillon" is, of course, the French word for "butterfly," and Papillon puppies are so named for the wing-like effusions of hair that sprout from their pricked and wide-set ears. As they grow and develop, the ears unfurl and the luxurious fringe of hair heralds the Papillon puppy's appearance. It may surprise you to learn, however, that "papillon" is also a French colloquialism for "parking ticket," a thing that may cause you to give a sideways glance.
Visions of spring with Papillon puppies!
Pictures of Papillon puppies remind us of the joy of new beginnings, like the start of Geoffrey Chaucer's Canterbury Tales (1478). The famous first 18 lines of that poem celebrate the fresh bloom of flora and offer praise for having outlasted another long winter. This cute Papillon puppy picture accomplishes the same, welcoming us to step through the butterfly gate into a realm of magic.
Spring is a time not only of renewal but of new life. We hold up new and innocent life as an ideal, because infants (baby Papillon puppies especially) have so much to look forward to. The world itself is brand-new to a Papillon puppy, even if the trials of life lurk with menace beyond his nascent perception.
The counterpoint — the parking ticket version of "papillon" to the butterfly, if you will — is represented in literature by T.S. Eliot. In The Waste Land (1922), he claims that "Winter kept us warm" and that "April is the cruellest month." This is not the version of spring I prefer; Eliot is far too downbeat and pessimistic. He would probably harp on the snow in this photo and ignore the hopeful, uplifted gaze of the Papillon puppy.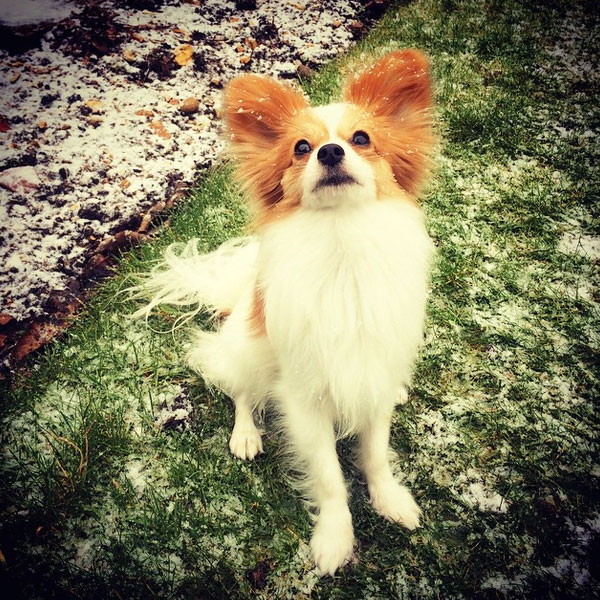 Competing views of puppy pictures
The difference in views illustrated by variant interpretations of the word "papillon" itself are illustrative, as are the competing perspectives on spring that we see in Chaucer and Eliot. I love these Papillon puppy pictures because they are adorable, but in the age we inhabit, even cute puppy pictures can be a source of strife and division. The age of social networking often forces us to confront this directly, no matter the topic under discussion.
I was interested once in exploring what Puggle puppies were all about, and compiled some cute pictures. These puppy picture essays never endorse, say, a Puggle nor a Papillon puppy as being better or more worthy of love than a senior dog in a shelter. They only ever present funny or adorable puppy pictures, and yet, still there are irate messages about "promoting" designer dogs. Let's coexist in harmony, like Papillon puppies do in the idealized world of puppy photography!
The moment in which we first view Papillon puppy pictures is an unreflexive moment. We can get caught up in the delicate ear fringe without having to hear the incessant barking! We needn't follow them through the gates of commitment to enjoy puppy pictures! Just to make it clear that we're not endorsing puppy mills or only adopting purebred dogs of any breed, here's a list of 10 reasons you shouldn't adopt Papillon puppies!
Puppy pictures are not for everyone
When I am sitting at work, writing articles about puppies and kittens, even I lose sight of joy sometimes. That's one reason a photo essay on Papillon puppies became a treatise on the tensions between "papillon" as butterfly and parking ticket, between Chaucer's and Eliot's views on springtime, and between those who do and do not like cute puppy pictures. All of these things are okay. Someone sitting at work will enjoy them mightily.
There are always more than two perspectives as well, for human nature is not as clear cut as any dichotomy may suggest. I'm sure some people will just scroll through and look at the adorable Papillon puppies and not read any of the text! That's okay, too! Any given Papillon puppy may draw a tongue cluck, a giggle, or any number of other reactions before the viewer moves on with achieving other ambitions.
Do you like puppy pictures? Papillons? Both? Neither?
As William Blake, a poet as incomprehensible at times as Eliot, once wrote, "Without contraries is no progression." That is undoubtedly true, regardless of context. Differences of opinion, even on Papillon puppies and pictures thereof, can reveal productive discussions. Here is a picture of a Papillon puppy wearing a baby bib.
This Papillon puppy's ears and elaborate fringe are still in the process of becoming. She — and I only say "she" because all of the pink codes her thus — is still but a larval dog.
All puppies require socialization, training, and love to reach their full potential, and any relationship worth having is worth working on. Did you enjoy these Papillon puppy pictures? Share your thoughts in the comments!
See more cute puppy pictures at Dogster:
About the author: Melvin Peña trained as a scholar and teacher of 18th-century British literature before turning his research and writing skills to puppies and kittens. He enjoys making art, hiking, and concert-going, as well as dazzling crowds with operatic karaoke performances. He has a one-year-old female Bluetick Coonhound mix named Idris, and his online life is conveniently encapsulated here.