He's known as the world's most-followed French Bulldog, and Manny the Frenchie is putting his social media power to good use.
Born in 2011 and named after world-famous boxer Manny Pacquiao, the little dog is packing a different kind of punch, fighting for less-fortunate animals across the United States. He's currently on a national tour with PetBox and DogVacay, raising funds for Save-A-Vet, an organization that rescues unadoptable former military and law enforcement dogs. In addition to helping Save-A-Vet, Manny is also working with a local charity in each city he stops in — and New York City is next on his itinerary.
"There are so many charities out there that we want to try to be a part of. With this platform, we obviously wanted to help other dogs in need. It's kind of a no-brainer," explains Amber Chavez, Manny's dog-mom-turned-manager.
"I was getting emails about charities and fundraisers, and I was like, how can we really get our hands in some of these instead of just doing a make-a-donation-here post, how can we actually make a difference?"
That question led to planning for Manny on Tour, which has definitely allowed Manny and his humans to make an impact in the lives of other animals. In Austin, he lent his philanthropic paw to Austin Dog Rescue, and his charitable efforts in Houston benefited Pup Squad.
Manny's fame is helping animals in every city he goes to, and when the world-famous Frenchie arrives in New York City on Saturday, May 9, Social Tees Animal Rescue will have the honor. The no-kill rescue in the East Village pulls pets out of high-kill shelters and finds them forever homes. Chavez is thrilled to see Manny's fame being put to good use, but says she and Manny's other pet parent, Jon Huang, never imagined their little runt-of-the-litter pup would have the kind of mega-fame that can draw cash to such deserving charities.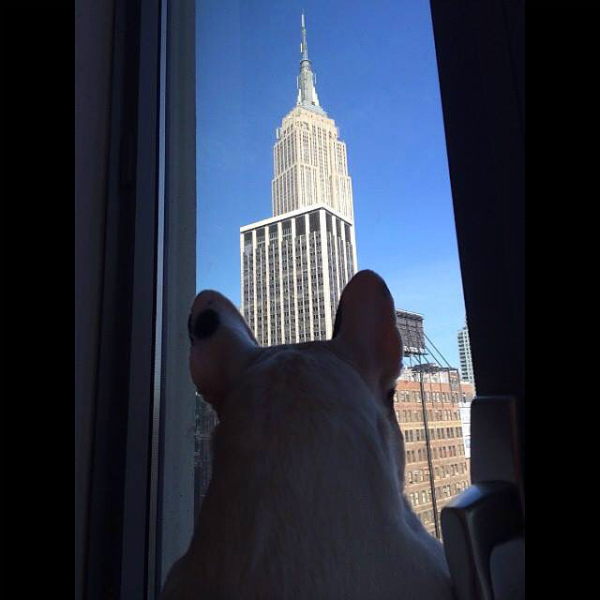 "It was really just to share with family and friends," says Chavez of Manny's first foray into social media.
"I had my own Instagram and noticed other pets had it," she recalls, adding that it seemed natural for Manny to have his own social media accounts.
According to Chavez it took just under a year for Manny's family to realize that their dog was becoming Internet famous.
"We realized — hey, wait a minute — he's got like thousands and thousands of followers, and it's not slowing down."
Eventually, Manny surpassed 946,000 followers on Facebook and 681,000 on Instagram, and managing his social media presence and charitable activities became a full-time job for Chavez.
"It just kind of skyrocketed. It was just so crazy," she says. "It's very fulfilling, though. I never thought that having my dog as my boss would be something that would fall into my lap, but it's so exciting and I'm so glad I get to do it."
For Chavez and Huang, both dedicated dog lovers, the ability to help other animals has been the coolest part of Manny's Instagram success.
"It all just started so organically, so to be able to be here now so that we can do a tour and help so many charities — it's been amazing."
Chavez says she cherishes the opportunity to travel with Manny, but insists that he's still just a regular Frenchie at their home in Chicago.
"Honestly, we still have a normal everyday life. Manny still has a normal dog life."
That normal dog life includes lots of company — both the human and canine kind. Manny's dad was working from home before the dog became a social media star, but now his momager, Chavez, is also able to work out of the home office. The arrangement works out great for Manny and his dog siblings.
"We actually have three other Frenchies, and then we have a Bulldog/Boxer mix," says Chavez, who adds that she didn't really intend to end up with five dogs.
The family originally consisted of Manny, his older sister Leila the Bulldog/Boxer mix, and little brother Frank the Frenchie. Newbies Filip and Liam were not supposed to be permanent members of the household.
"The little guys kind of fell into our lap, we really only planned on fostering them, but then I fell in love with them," explains Chavez.
"We wake up and they all have breakfast, and they all get their walks, and they take their puppy naps. Of course, we're there if they want something — if they want to go out, if they need a walk — it really is all about them."
All the dogs in the family have social media accounts, but Manny is by far the most famous, and the only one in his family to have his own national tour.
The next stop for Manny on Tour is New York's Eventi Hotel on May 9 at 10 a.m. He'll be co-hosting the event with fellow Instagram sensation Royce the Frenchie, raising funds for Save-A-Vet and Social Tees Animal Rescue.
Read more about good causes on Dogster:
About the Author: Heather Marcoux is a freelance writer in Alberta, Canada. Her beloved Ghost Cat was once her only animal, but the addition of a second cat, Specter, and the dog duo of GhostBuster and Marshmallow make her fur family complete. Sixteen paws is definitely enough. Heather is also a wife, a bad cook, and a former TV journalist. Some of her friends have hidden her feed because of an excess of cat pictures. If you don't mind cat pictures, you can follow her on Twitter; she also posts pet GIFs on Google+.