He was known around the world as the dog who survived what no puppy should have to. Now, 12 years after he was disfigured and left for dead, Oogy the former bait dog has passed on, surrounded by his loving family.
Oogy rose to fame after a 2008 appearance on The Oprah Winfrey Show. In 2010, the resilient dog became the subject of a best-selling book, Oogy: The Dog Only a Family Could Love, written by his human, Larry Levin. On Monday, Levin broke the news of Oogy's death via a Facebook group dedicated to the inspirational Dogo Argentino.
According to the Facebook post, Oogy spent his final hours surrounded by family, including Levin's twin sons. Now adults, Levin's sons had loved Oogy for half their lives — they were just 12 years old when the disfigured puppy became part of their family. Levin's heartwrenching post details how one of his grown sons pulled a mattress into their family room so that Oogy's loved ones could stay by his side during his final hours.
"Oogy had't been able to navigate the steps for a long time now — and the four of us spent every minute of the weekend together, sleeping in the family room, eating there, watching movies, going out for short walks. We covered Oogy with kisses. He kissed us back," Levin wrote on Facebook.
The post continues:
"This morning I fed Oogy a bison filet. I put moisturizer on his big fat nose and drops in his eyes so they wouldn't itch, just like I do every day, and I put his warm orange coat on him, the one that Linda gave him, and we went for a ride. He was 100 years old and kept our spirits up through the whole ordeal but he's gone from us."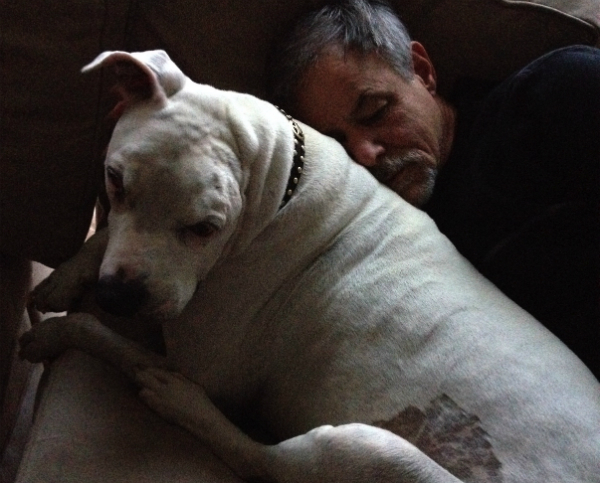 Levin goes on to thank Oogy's supporters, and state that he hopes Oogy's Facebook group will continue to help animals in need.
"He brought me joy every single day for the last 12 years. Every single day. Think about that. I know this profound sadness is inevitable, and I don't know how the hole will be filled, or even if it can be, but I wouldn't have had it any other way."
In January, we profiled Oogy as a Dogster Monday Miracle, five years after the book about the dog became a bestseller. Through Levin's book, Oogy's story will live on and continue to raise awareness about the cruel practice that left the dog forever scared. Once an abused puppy abandoned to die, Oogy lived a full life and will be missed by many.
Read more about Oogy on Dogster:
About the Author: Heather Marcoux is a freelance writer in Alberta, Canada. Her beloved Ghost Cat was once her only animal, but the addition of a second cat, Specter, and the dog duo of GhostBuster and Marshmallow make her fur family complete. Sixteen paws is definitely enough. Heather is also a wife, a bad cook, and a former TV journalist. Some of her friends have hidden her feed because of an excess of cat pictures. If you don't mind cat pictures, you can follow her on Twitter; she also posts pet GIFs on Google+.