It took 12 screws, two plates, four hours of surgery, and a lot of love, but Jimmy the Pit Bull mix is back on his feet and looking for a forever home.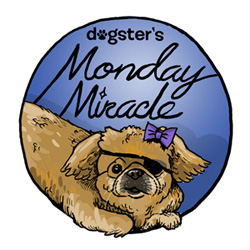 "During feeding time, he likes to do a little happy dance," says Colleen Lazenby, founder of Diva's Pit Bull Rescue near Atlanta, Georgia.
It's been 147 days since Lazenby found poor Jimmy on the side of the road. Back then, she didn't know whether he would ever walk again, let alone dance.
It all began with a phone call from a coworker of Lazenby's husband. The man had been out on a delivery when he thought he saw a dog lying in a ditch, but wasn't sure.
"On his way back to work after the delivery, he stopped, and he did see a dog," explains Lazenby.
"I went out there and looked for the dog, but I didn't see him anywhere," she recalls.
At first, Lazenby thought perhaps someone else had already picked up the stray by the time she had arrived, but she says she's glad she didn't give up.
"I kept looking and looking and — this part almost makes me cry — I did see his head lift up. He was so hidden in weeds and tall grass that it was almost impossible to see him."
Lazenby rushed back to her car to grab some water for the dog, who appeared extremely thirsty. She let him drink and then tried coaxing him up.
"I was just evaluating, and I was like, 'I don't think this dog can walk,'" she says.
Likely the victim of a hit and run, Jimmy was paralyzed, and Lazenby knew she was going to need some help moving him from the roadside.
"I was flagging people down, but no one would stop. I was just frantic, like, 'Someone please come help me.' I was texting my husband — he was trying to get help — and I called animal control."
Lazenby's next step was to take a picture of Jimmy to share over social media.
"I was just like screaming into Facebook, 'I need some help!' That's when I started getting a response from a lot of my Facebook friends, rescue friends. People started coming out, and finally Gwinnett Animal Control came out."
Jimmy was rushed to Gwinnett Animal Control's vet, and an X-ray confirmed the dog had a broken back. His L7 vertebrae was fractured, but luckily Jimmy still had feeling in his hind legs, which made him a good candidate for surgery.
Once Gwinnett Animal Control legally signed Jimmy over to her, Lazenby transferred the dog to BluePearl Veterinary Partners. Just one day after being found on the side of the road, Jimmy was wheeled into surgery with orthopedic specialist Dr. Alan Cross.
"It was a tough surgery on everybody, but it's been successful and he's doing well now," says Lazenby, who has watched with joy as Jimmy has gone from struggling to stand to doing his mealtime dance in his foster home.
"We just want to try to find him a very loving forever home now — he deserves it."
Since his rescue, Jimmy's story has made headlines and spread through social media, but his newfound fame hasn't helped him find a family yet. What it has done is inspired supporters to generously donate to a fund for his care, which hasn't been cheap. Jimmy's medical bills have exceeded $7,000, and the folks at Diva's Pit Bull Rescue are grateful for the $4,600 that has already been raised though his GoFundMe page.
While the financial support is certainly appreciated, what Jimmy needs more than anything now is a special person to call his own.
According to Lazenby, Jimmy is a pretty laid-back guy who doesn't often get excited (except at dinnertime, of course).
"He's dog and cat friendly, child friendly. He's almost like the perfect dog," she explains. "He's been neutered, he's undergone heartworm treatment, and, of course, he's had his broken back fixed, so he's good to go."
While Jimmy waits for his new family to find him, he's happy to snuggle on the couch with his foster mom and her cat, but Lazenby hopes he won't have to stay in foster care much longer. She's looking for potential adopters to complete an application and give this 5-year-old dog a chance to dance in his own kitchen. The woman responsible for saving Jimmy's life says whoever adopts him will be getting a special dog who is very thankful for new beginnings.
"It just seems like he knows that he was rescued and he just appreciates everything and everybody that he comes across," says Lazenby.
If you've been seeking a laid-back pup with a gorgeous Pitty smile, Jimmy could be the right guy for you. This appreciative pup could have some lucky human doing her own happy dance sometime soon.
Read about more Monday Miracles:
About the Author: Heather Marcoux is a freelance writer in Alberta, Canada. Her beloved Ghost Cat was once her only animal, but the addition of a second cat, Specter, and the dog duo of GhostBuster and Marshmallow make her fur family complete. Sixteen paws is definitely enough. Heather is also a wife, a bad cook, and a former TV journalist. Some of her friends have hidden her feed because of an excess of cat pictures. If you don't mind cat pictures, you can follow her on Twitter; she also posts pet GIFs on Google+.