Every rescue dog deserves to find the perfect home, and one month ago an English Bulldog named Ogden found the perfect family — one that may have needed him almost as much as he needed them.
"The last thing we really needed was a fourth dog, especially with all of Piper's health issues," explains Jessica Stone, who on July 6 welcomed Ogden into the home she shared with husband Jeff and their three rescue dogs, Roxie, Miyagi and Piper, the famous one-eyed painting bulldog.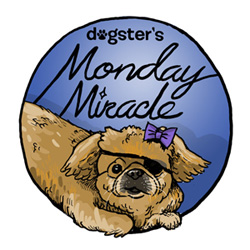 At the time, Stone didn't know that Ogden would only get to spend two weeks with Piper, who passed away on July 17. She just knew Ogden needed her as much as Piper once did.
"I'd read his story, and the second I read it I started crying, and I said we have to make this dog a part of our family."
It's easy to see why Stone was so touched by Ogden's story. By the time she saw him online, this five-year-old dog had already been through so much.
"Somebody had tied something around his leg. He had to chew his paw off because it was cutting off his circulation," she explains. "He had to save his own life. He has some mad survival skills."
The details of Ogden's pre-rescue life and circumstances are sparse, but Stone knows he was found by wildlife rescuers in Texas who initially thought the poor injured dog may have wandered into a hunter's trap.
"The vet said no, there was something rubber tied around his leg to cut off the blood flow."
Ogden had to have the remains of his paw amputated, and San Antonio Bulldog Rescue stepped in to find this special needs survivor the perfect home. The rescue didn't have to look far.
Stone's relationship with SABR began when she adopted Piper from the rescue on October 8, 2011. In the months that followed, Stone recognized her pup's artistic talents and developed an Etsy shop to sell the Bulldog's paintings. Piper developed a legion of fans, and proceeds from her paintings and Stone's side business, Fart Fuel Biscuits, went to support SABR and other charities, and continue to do so. This past March, Stone adopted another SABR rescue dog, Miyagi, and the rescue was happy to hear from Stone again after Ogden's information was posted online.
"When I saw Ogden's story, his will to live just reminded me so much of Piper's. She went through a lot of pain and suffering," Stone explains, adding that she always tried to bring positivity to Piper's Facebook page, and therefore hadn't widely shared some of the details of Piper's pre-rescue background until now.
"Supposedly her eye was ripped out on a wire fence, and we don't know how long she was like that before they noticed it because she didn't live with [the humans who had her]. They had a separate quarters for the dogs, but Bulldogs shouldn't be outdoor dogs — especially in Texas."
The similarities between Piper's story and Ogden's became even more noticeable once Ogden came home from SABR.
"I feel like they have some kind of connection," says Stone, who says that although Ogden startles easily and demonstrates behaviors common to dogs who've been abused, he is a people-lover through and through, and is always happy to visit with humans and make new friends.
"It's just remarkable to me that he is that way," she explains. "My plan is to take him to visit children and veterans in the hospital. I thought he'd be great for that."
Ogden has been measured for a boot or prosthetic, and Stone hopes he'll already be volunteering in hospitals when he begins wearing it, so that kids going through the same thing can see how he adjusts. Ogden recently passed an evaluation by a therapy dog trainer, and Stone is busy preparing for her handler course and the certification test Ogden will eventually have to complete.
"I think being a therapy dog would be good for him, too. I know it sounds crazy, but I think it's what he wants," she adds.
Stone is looking forward to the future with Ogden, and has kept Piper's Facebook fan community active with updates about his progress.
"A lot of people say that they think Piper let go because we got Ogden and she knew that with him we would be okay," she says, adding that she's not really okay.
Nothing can erase the pain of losing Piper, but Stone says Ogden's presence and place in the family is certainly comforting during this difficult time. She hopes Ogden can continue the rescue advocacy work and fundraising efforts she started with Piper. Although the two dogs only lived together for a couple of weeks, they will always have a bond as special-needs siblings.
"I'm so grateful that they got to meet and that I got a couple pictures of them together."
Read more Monday Miracles on Dogster:
About the Author: Heather Marcoux is a freelance writer in Alberta, Canada. Her beloved Ghost Cat was once her only animal, but the addition of a second cat, Specter, and the dog duo of GhostBuster and Marshmallow make her fur family complete. Sixteen paws is definitely enough. Heather is also a wife, a bad cook, and a former TV journalist. Some of her friends have hidden her feed because of an excess of cat pictures. If you don't mind cat pictures, you can follow her on Twitter; she also posts pet GIFs on Google+.