"Don't ask me to talk about it," says my friend Rose. "I don't want to stir it up again." Turns out, her family's failure to send condolence cards after the death of an aunt's dog spurred a huge family feud.
I understood how such behavior could incite conflict and hurt feelings. Our dogs, in my opinion, are like our children. We expect people to treat our dogs with the respect and love they'd give our kids.
However, I've learned that these expectations can lead to deep hurt, battles between family members, and crushed friendships.
When my dog, Lucy, died suddenly about a year and a half ago and I threw a "Remembering Lucy" celebration. I was hurt when some of my friends and neighbors didn't show up.
During that first raw week after I lost my best friend to cancer, I didn't sleep, couldn't work, and felt like I was bleeding from the inside out. Somehow, in the midst of all that pain, maybe I understood that many people don't hold the same strong feelings about our canine companions. But my grief drove all rational thought from my being. I wanted to talk about my pet, my loss, and my pain, to anyone who would listen. And I resented friends and family members who weren't interested in responding to my grief.
I've since learned that I'm not the only one who feels this way about how people behave when you lose your best friend.
Sheryl Berger recently lost her Golden Retriever, Tiki, and was disappointed when her grown children didn't want to attend a memorial service for the dog. "I especially had a problem with my daughter," says Berger. "We had to-dos and arguments over this. My daughter's attitude was, 'He was old and had a great life.' She just didn't understand the closeness I had with my dog." What's more, one of her best friends, "not an animal lover," called once but didn't follow up. "I told her, 'You could have at least sent me a text saying your were thinking of me,'" Berger says.
Like Berger, I learned that I have three types of friends: Those who don't like animals and feel that my love for tail-waggers is over the top, those who own dogs but don't view them as family members, and people like me, who revere the magical animal-human bond.
Given that I'm one of those animal lovers who home cooks her (new) dog his meals, brings him along on clothes-shopping excursions, and organizes doggy play dates, I've developed some guidelines for dealing with each of the above-mentioned friends when you're struggling with grief over a dog's death.
1. Dealing with friends who don't like animals
Let's begin by taking the worst grief supporters: friends and family members who don't like animals. Should you invite them to a pet memorial service? Sure, but don't expect them to show up. Should you hope that they'll send a card or call you? Go ahead, and get your heart broken.
You might say that your closest friends and family members, even if they're not dog lovers, should understand how you feel. Truth is, I agree. They know how much you love your furry buddy. They should have enough love and empathy to acknowledge your pain.
But often they don't. Stephanie Smith, a psychologist who specializes in grief, says that some people just don't know how to respond.
"I think it can feel as though our families are discounting the importance of the relationship with our pet when they don't acknowledge our heartbreak at our pet's death," she says. "They may fully understand our pet's importance, but knowing what to say to a grieving person is always tough."
So that's the official line from a psychologist. Did thoughts like this make me feel any better when I wanted some of my friends to be there for me? No.
2. Dealing with friends who don't view animals as family members
Next, let's look at friends who have dogs but aren't the type, like me, who worry about their dogs when they're home alone. They're not the type who stay up all night with their pups if they're sick. Should you invite these friends to your memorial service or expect them to give you cards and flowers? Yes. But brace yourselves. These folks might not understand your intense feelings, either.
"We can certainly hope that friends and family will understand our grief and do what they can to be supportive, but it may miss the mark. It's likely not out of spite, but simply a lack of understanding of the relationship with a pet, the role pets play in some people's lives," says Smith.
3. Friends who totally get it
The third type of friends and family members are animal enthusiasts who completely understand your pain. They arrive early to your memorial service, with cookies, flowers, and condolence cards in hand. They're eager to share fond memories about your adorable, one-of-a-kind tail-wagger. They're the last ones to leave your memorial service and are sure to hug you.
These folks are like my friend Elisa, who has three dogs. When Lucy died, I called her at 6 a.m. and cried until I was out of tears.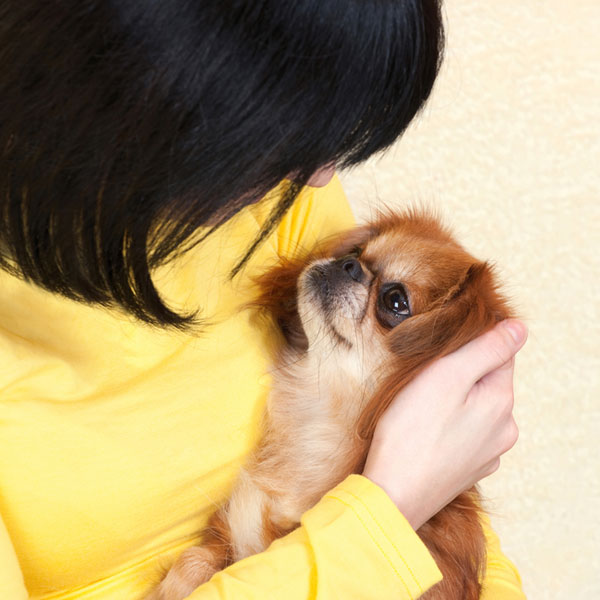 Another friend, a new puppy owner, MaryAnn, touched me with kindness at Lucy's memorial service. She brought a card and, when friends were asked to say a few words, spoke about how fortunate we are to have dogs in our lives.
Take my advice, when you're grieving the loss of your best friend, focus on friends like MaryAnn, Elisa, or on other animal-loving friends. These folks will send empathic emails and will cry when you post your video of your deceased pet on Facebook. That's what happened to Berger, who teaches meditation.
"Animal-loving students who come to my healing and meditation classes were most supportive. They sent me condolence cards and beautiful emails," she says.
As for other friends and family, consider Smith's suggestion. Even though you're bleeding from the inside out, lower your expectations and give them a break.
After all, what would your dog have done? I know my buddy Lucy would have wagged her tail and found someone else to pet her.
Have you experienced different reactions from your friends and family when a beloved animal died? Tell us your story in the comments.
Read more about rescue on Dogster:
About the author: Lisa Cohn and her six-year-old son are co-authors of the award-winning kids' dog book "Bash and Lucy Fetch Confidence," which they wrote to help them overcome grief over the loss of their dog. Visit them at www.BashAndLucy.com