If you're like most people (or at least me), there are probably a few people on your list for whom you still need to get a holiday gift. We've found the best dog subscription boxes out there — boxes that any pooch's person would love to have show up in the mail. You won't be able able to put an actual box under the tree with all of these subscriptions, but we're pretty sure a nice card or email explaining the gift will suffice, especially come January when that first box loaded with goodies for Fifi arrives on the doorstep.
Best of all? A few of the subscription boxes were kind enough to offer Dogster readers a discount code to use when purchasing, so all that's left to do is find the one that will best suit the people (and doggies) on your list!
We love Freddie's Finds because the box is all about shopping at smaller businesses and helping people find brands they might not otherwise discover — which definitely makes it a good choice for your friend or family member who is a conscientious shopper. Plus, every box has something in it that can be used or shared between the human and her pup (like a water bottle that has a bowl for Spot and a bottle for Bob), so the gift really is for both the person on your list AND his dog. Oh, and a percentage of every single box goes back to the animal-rescue community, so you're also doing good and staying true to the spirit of the holidays.
Freddie's Finds has boxes for small, medium, and large dogs, as well as specialty one-time-only boxes for birthdays and holidays.
$34 for one month; $87 for three months; $150 for six months at Freddie's Finds
Get a discount! Enter offer code DOGSTER for $5 off your first order.

PetBox is a mix of healthy treats, toys, and accessories, depending on which subscription you choose. And, if you're on a limited budget (who isn't?), it has a range of boxes from which to choose. You can send a box that just has a snack in it (the least expensive option), or if you have a friend you really love who really loves his pack of dogs, you can send him the "Multiple Pet" box (the most expensive option).
Petbox has boxes for small, medium, and large dogs, as well as cats.
$9.95 to $59.95 for one month; $26.85 to $164.85 for three months; $95.40 to $599.50 for 12 months at PetBox
Get a discount! Enter offer code DOGSTER20 for 20 percent off your first order.
Pet Gift Box is all about being affordable, yet also sending out high-quality products, unique toys, and healthy pet treats. You can gift a one-time box or a subscription. Each box contains a combination of four to six treats and toys with a focus on products that are new to the market.
Pet Gift Box has boxes for petite pups, mid-sized pups, and hefty hounds, as well as cats.
$17.99 a month or $24.99 for a one-time box at Pet Gift Box
Get a discount! Enter offer code DOGSTER for 25 percent off the first box.
PawPack's boxes come with five or more products each month, all of which are organic, all-natural, or eco-friendly. Boxes could contain toys, chewies, treats, grooming products, or gadgets, and will include a variety of full-sized items and samples.
They have boxes for small, medium, and large dogs as well as a range of boxes. Choose from the Starter Pack (two to three full-sized items), the Premium Pack (four to five full-sized items), or the Deluxe Pack (six to seven full-sized items). They also have boxes for kitty cats.
$18 to $43 for a month-to-month subscription; $16 to $39 a month for a six-month subscription; $15 to $34 a month for an annual subscription at PawPack
Get a discount! Enter offer code DOGSTER for 20 percent off any tier plan of any duration.
Treat a Dog's subscription box comes with four to seven items, some of which might be all natural treats and biscuits, bones, chewies, hygiene products, toys, and gadgets for dogs who are "small and sweet," "just right," or "big and strong."
$28 for one month; $23 a month for three months; $19 a month for six months at Treat a Dog
Treat a Dog is currently offering 50 percent off your first box. No offer code needed.
The Barkery Box is a collection of four to six unique and handcrafted items such as dog treats, a gourmet dog pastry, dog care products, and accessories. Plus, there's a toy in every box. They boast that they never send samples, just full-sized products. And $1 from every box goes to a dog-related charity.
Boxes are available for small, medium, and large dogs.
$32 for a one-time gift; $24 a month for three months; $19 a month for six months at BigLick Barkery
BarkBox is probably the most popular dog subscription box on this list — and also the one your friend is most likely to have a subscription already. Still, it's a classic box with four to six high-quality treats, toys, and occasional hygiene products. There are four sizes: "Tiny," "Small & Cute," "Just Right," and "Big & Bold." Lastly, they give gift-givers four options: print a gift voucher, send an email, ship a gift card, or ship a gift box.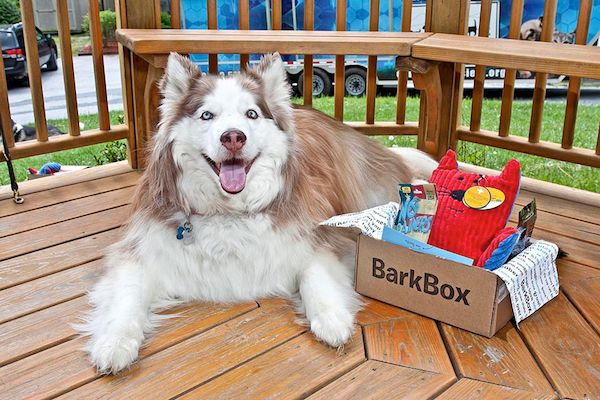 $29 for one box; $72 for three; $126 for six; $228 for 12 at BarkBox.
Read more holiday gift guides on Dogster:
About the Author: Daisy Barringer grew up in San Francisco and didn't let the fact that she's a city girl keep her from getting her dream dog: a Saint Bernard. She and Monkey love to romp in the snow in Tahoe, visit dog-friendly bars, watch 49ers football, and drool. Yup, both of 'em.