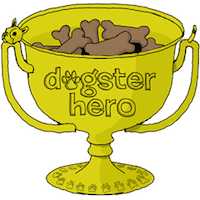 The juvenile justice center in Orlando is buzzing with activity from law enforcement, lawyers, reporters, and photographers. But when Karl, the white Boxer in a blue hat, walks into the room, everyone glances at him at least once. Karl doesn't seem to notice anyone. But then he is deaf.
Karl has a special function at the center of it all. The 5-year-old dog is not here for the adults but for the children – specifically, those testifying in cases.
He is a courthouse therapy dog, part of the team with Companions for Courage, a nonprofit that works with the courts in Florida's Orange and Lake counties.
Joanne Hart-Rittenhouse raised Karl from a puppy. She hadn't planned to get another dog, but Karl's breeder called her one day with a request she couldn't turn down.
"She knew that I had rescued Boxers and they were all therapy dogs,"Hart-Rittenhouse said. "This breeder called and said, 'I have this little deaf white puppy, he's 3 weeks old, I need to place him.' I said I already had three dogs and I didn't want any more and I wouldn't know what to do with a deaf dog. And she said, 'OK, then I'm going to put him to sleep.' So, needless to say, we couldn't let that happen."
With the help of a behaviorist friend, she learned how to teach Karl some signs. Hart-Rittenhouse chose to teach him American Sign Language since she takes her therapy dogs to the National Deaf Academy.
"So he learned 10 signs, and then he learned 10 more," she said. "Now he's up over 100 signs in American Sign Language."
Hart-Rittenhouse already worked with Companions for Courage, so it didn't take much for her to see that Karl was special.
"He's great with children, he loves going to the Deaf Academy, he loves special needs children," she said. "And Karl's a great courtroom dog because he tells no secrets. He listens, he's a real good listener, and he has a calming effect on children, especially children with disabilities."
The K-9th Circuit Program in Orange County pairs children with therapy dogs to help them become more comfortable with the process of testifying in court. The dogs stay with the child through depositions and other questionings and all the way through to the trial, if necessary, and sometimes even after.
These children are in a difficult situation. Sometimes they've been abused or neglected. Sometimes they've witnessed abuse or neglect — or worse. It can be scary for these children to open up, especially to strange adults. That's why dogs like Karl are important.
One child had to go through two depositions and a trial, and Karl stayed with her the whole time – without doing much at all.
"It was a lot of hours on the witness stand, and Karl slept through the whole thing, which was really wonderful," Hart-Rittenhouse said. "He did his job. Because she couldn't really reach down to pet him, she kicked her shoes off and ran her toes through his fur and knew that he was there if she needed him. He accompanied her into the witness stand, which gives a child confidence."
Therapy dogs require special training, and they have to be registered through a therapy dog group. But not every therapy dog can be a courthouse therapy dog. These dogs have to put up with lots of noise, lots of activity. Nothing should faze them. Hart-Rittenhouse called it being "bomb proof."
Karl's deafness is actually an asset to his job. So is his size.
Lauren Brimmer manages the program for Orange County. She compares the reception big dogs get from these kids to the way kids react to members from the group Bikers Against Child Abuse.
"As soon as the kids realize the biker is there for them, they want the biggest one they can find," Brimmer said, referring to the group, which offers friendship and support to children involved with child abuse. "And I think it's the same with the dog."
In fact, one child even asked if Karl would protect her during testimony.
"A lot of these children wouldn't go to trial [without Karl]. The last child we had, she refused to go on the witness stand and she refused to talk to anybody," and that's why they brought Karl into the situation, Hart-Rittenhouse said.
The children aren't the only ones reaping the benefits. Many of the courtroom staff members and even the judges feel more relaxed around Karl. Hart-Rittenhouse said people of all ages can benefit from the "zen" of having a therapy dog around.
Karl is not just a courthouse therapy dog, though. He also visits a nearby hospice center, reads with children, and even has his own coloring book, in which he teaches children the proper ways to approach and care for dogs and other animals.
"He is a hero, no two ways about it," Joanne said.