There are two kinds of people in this world: Those who buy their dogs clothes and those who think pet clothing is absurd. My goal today is to convince the naysayers that those of us with overflowing baskets of dog duds aren't crazy.
In today's pet-centric world, most of us treat our dogs as members of the family. To some, they're even like our children. That means we enjoy making them happy and keeping them comfortable. To most pet parents, that probably includes giving the family dog a cushy bed, tasty treats, a high-quality food, fun toys, and regular vet care. But, on a simpler note, it also means keeping them warm when it's cold and cool when it's warm.
Nothing is sadder than seeing a dog shiver on a chilly day. Regardless of a dog's size, he can get cold just like us humans. So what's the harm in putting a sweater or jacket on a pup? They stay warm and happy and can go about enjoying their day. We don't walk around naked in the rain, wind, snow, or even a drafty house, so why should they?
Let's consider the Chihuahua. If you're at all familiar with this spunky breed of dog, you'll know they're little heat mongers. They love to sunbathe and burrow under the covers (and some will even try to get into your sweatshirt with you to stay warm). They get cold easily; sometimes even on a seemingly nice day. Therefore, a sweater is a must-have in the winter months, as is a T-shirt for those cool spring days.
Some of you anti-dog clothing folks are still not convinced that this canine apparel thing isn't totally frivolous; I can feel it. So let's chat some more.
Many dogs such as Dachshunds, Min Pins, Boston Terriers, and Pugs have short hair; that means not much insulation to protect them from the elements. Other dogs like Xolos and Hairless Chihuahuas, well, they don't have any hair at all. So, they really need some help to stay protected.
In the case of hairless breeds, clothing can not only protect them from the cold, it is also an important part of protecting them from the heat. For instance, did you know hairless breeds are especially susceptible to skin cancer? With all that exposed skin, it makes sense. That's why it's not only important to put sunscreen on them in the summer months, but it's also critical to put a T-shirt on them to minimize the impact of the sun.
"I use Burt's Bees on my hairless dogs — Soothingly Sensitive Aloe and Buttermilk Body Lotion — two times a day," says Carole Sax, an avid rescuer of hairless breeds. "The dogs get new T-shirts in the morning and new shirts at night before bedtime, with fresh lotion each time."
Let's be clear, though, dog clothing is not just for small breed or hairless pups. Although it's the pocket pups who are usually all dolled up, Labs, Boxers, Dobies, and other large breeds with shorter hair can also benefit from a winter wardrobe.
For example, does your dog hate the rain? Most dogs do to some extent, and many are at least a little hesitant to go out and get drenched in a downpour. When we go out in the rain, we put on a jacket or raincoat, sometimes a pair of rainboots, and we carry an umbrella; all this prep to keep the water off us when we go outside. Yet, we expect our dog to just go out without any protection from the pounding rain? Hogwash! (Or, should that be dogwash?)
From an 85-pound Weimaraner to a 3-pound Chihuahua, every dog should have a nice raincoat for those wet, winter walks. Not a sweater, mind you, because that will retain water and make your dog even more miserable. Save that for your dog to change into when you get back inside and have her all dried.
"Summer, my Poodle mix, gets matted easily, especially when her hair gets wet," says Karen Minter, the owner of three rescued dogs. "I put a raincoat on her in wet weather to keep her hair mat-free, or make sure she's warm if her hair has recently been trimmed. I use raincoats for my Lab and Husky, too, because they can take a long time to go potty and without coats they'd get soaked (their jackets also have reflective strips so they can be seen more easily when we cross the street). Plus, using the coats makes the cleanup easier when we get home, since less drying is required."
According to Tee Sorge, owner of Barkingham Palace, a doggie daycare in West Hollywood, California, about 50 percent of her clients bring their dogs in wearing sweaters when it's cold. Tee also points out another practical reason for dogs to wear clothing. "You might be surprised to know that white dogs are more prone to seasonal allergies," Tee says. "They get hotspots from scratching and chewing, and just putting a T-shirt on them can really help protect their skin until their hair grows back."
Yes, those of us who have a small fortune invested in dog clothes do enjoy seeing our pups wearing their stylish duds. However, it's not just about fashion, it's about practicality and compassion. No dog should suffer the discomfort of being wet or cold. It's miserable for us when it happens, and equally miserable for them.
As for dresses, yes, those are just for fun and harder to defend as being practical. But who can deny how cute they look?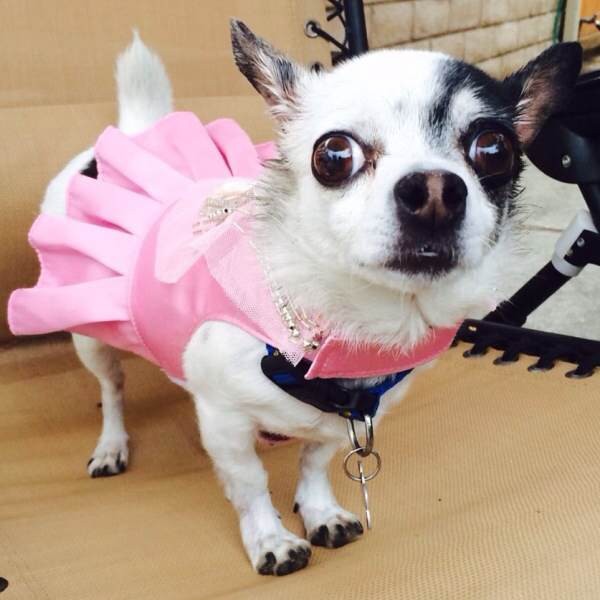 So, today, let us unite as one pet-loving nation to accept dogs in sweaters, jackets, raincoats, and even frilly dresses! Let us rejoice in the fact that many pet parents have drawers stuffed with dog clothes for all seasons, holidays, and special occasions! Don't be jealous that your neighbor's dog has more clothing than you do; be thankful those owners love their dog enough to keep him comfortable and happy.
Read about more dogs in clothes:
About the author: Amber Avines is a freelance writer and editor who runs her own communications consultancy. She is a lifelong animal advocate who has been mama to many blind and senior dogs, and other special needs pets. Her pack currently includes a sun worshipping Chihuahua, a diabetic Pug, and a sassy Pomeranian mix who rules the house. You can connect with Amber via Twitter or her Facebook page, My Dog Says Woof.