Vacations, like many other things these days, look different. Social distancing is difficult on flights, and cruises in the U.S. are on hold. But a getaway isn't out of the question — road trips provide a safer alternative. That's good news for dogs, as it's easier to have Fido in tow when traveling by car.
But bringing your pet on vacation means adding a few items to your pre-ride itinerary. Dr. Travis Arndt of Animal Medical Center of Mid-America shared ways to safely road trip with your dog.
Pack the essentials
Food, water and food dishes and your pup's favorite toys are no-brainers, but also take his license and registration and ID tags. The phone number you have on your pup's tags matters.
"Whether you are 20 minutes from home or 20 states away, you'll have your cell phone," Dr. Arndt says. "When people use the landline, it just slows down you being reunited with your pet."
Buckle up
We've all seen it. A goofy mutt with his head sticking out the window and tongue out. But while it may seem like the quintessential way to road-trip with your dog, it's actually unsafe.
"You have the wind and dust blowing in your face," Dr. Arndt says. "We see a lot of dogs with corneal abrasions because they get dust in their eyes, and they get scratched up. Keeping them inside the vehicle is much safer. If the windows are too far down, they can jump out the window. If your car collides, it's more likely they'll be thrown from the car."
The last thing you need on your itinerary is a medical emergency, especially during a pandemic. Instead, Dr. Arndt suggests using a harness or kennel while in the car.
"If you are ever in a crash, it keeps the dog in place," he adds.
Related: 5 Reasons Your Dog Should Always Be in a Safety Harness or Secured Carrier in the Car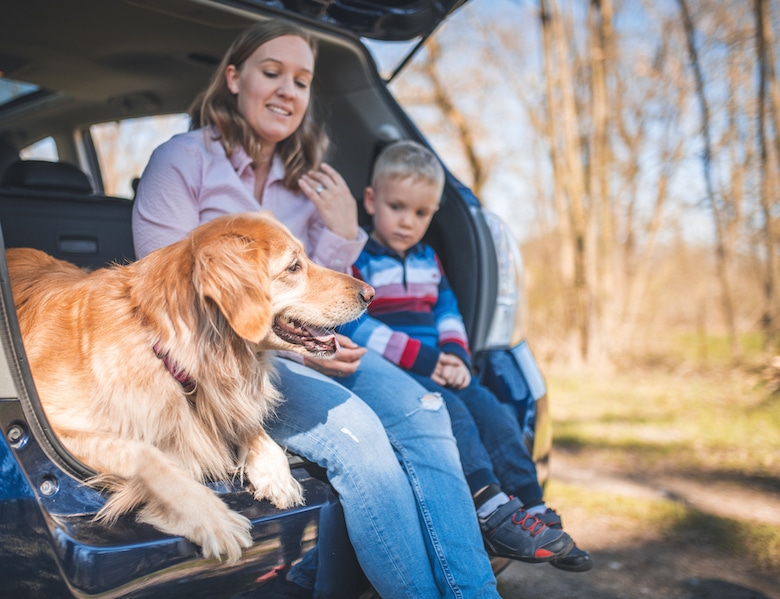 Practice makes perfect
If you don't typically travel with your dog or they aren't used to riding in a harness or kennel, Dr. Arndt recommends doing some short test runs first.
"Taking them to a park they are not used to going to that is 10 minutes away makes it an enjoyable experience," Dr. Ardnit says. "See how your pet does on short trips."
Best-case scenario, the dog will associate going in the harness and kennel in the car with positive things (a new adventure!). Worst-case: You find your dog doesn't take to the car well. That doesn't mean a trip with Fido is off the table, but you may need to try some other interventions. Anxiety shirts or vets (like Tundershirts), often used for separation anxiety and fireworks, can help. Genone spray may also help. If your pup has more severe car anxiety, a vet may prescribe medication like Trazodone. Talk to your vet before starting any intervention.
Plan breaks
You may be the type of person who can drive straight to a destination, but as excited as you may be to get to where you're going, remember your dog may be on a different schedule.
"If they are used to going out every couple hours to go to the bathroom, you have to plan those breaks," Dr. Arndt says.
A simple rest stop will do.
Research activities
Though many places like parks are dog-friendly, that's not always the case. Dr. Arndt suggests calling ahead to get the latest policy. Also, no matter how much research you do and how well you know your pet, be prepared to be flexible in the moment.
"Pets are very much like toddlers," Dr. Ardnt says. "If you get them in an environment they are not familiar with plus they are overstimulated because of everything going on, they may not behave as well as they normally do when you're at the park or down the street."