It's never too late to try something new. The Instagram account @PinkyTheChi is proof. The subject is a formerly traumatized rescue dog, and the creator of the account was once drowning in a social media class. Now both human and dog are feeling confident on Instagram, and Pinky is a changed Chihuahua.
"It's just been this year that she's really blossomed," says Pinky's human, Jennifer Gillett, who adopted the senior dog three years ago.
This Chihuahua's journey from shy senior to Instagram darling began when Jennifer, a non-profit professional, took a social media class in 2016.
"I knew zero. I had no accounts with any social media. I had no clue what a hashtag was," she tells Dogster.
The digital novice didn't yet know how to work the apps she was learning about, but she knew she wanted to eventually use social media to encourage senior dog adoption. Pinky is the second senior dog to change Jennifer's life, and she's got quite a story.
Rescued by a police officer on a hot summer day three years ago, Pinky was in bad shape when she ended up in the care of Agape Fosters in Iowa. The white-coated Chihuahua was emaciated and sunburned with a mouth full of rotting teeth. She had fleas, and her ears were covered in scabs. She required extensive veterinary care before she could be listed for adoption.
Meanwhile, Jennifer was feeling ready to adopt again after losing her companion of two years, a blind and deaf senior Chihuahua named Penny. She started her Petfinder search by entering the Zip code for her family home in Wisconsin, but got farther and farther away as she sought out a special needs dog like Penny.
"I was just scrolling and scrolling, and I saw Pinky and thought, 'That's her! That's the one I need,'" Jennifer explains. "I didn't really mean to be looking in Iowa."
The distance didn't matter though. After many emails and phone calls, Jennifer's brother joined her for the six-hour drive to Iowa where they met Pinky. Despite being microscopic compared to her foster siblings — a pack of Great Danes — Jennifer remembers Pinky making a big first impression.
"They had dressed her up and made her all pretty to be adopted," she recalls.
So Pinky had a home, but her challenges were far from over. She was still learning to live without her teeth — which had all been pulled — and Jennifer had to keep a close eye on a hole in her soft palate. Initially thought to be 6 years old, Jennifer's vet figured the little dog was actually closer to 8.
The senior adoptee had no leash manners, and despite attending every session of an obedience course, she wasn't able to graduate. The once-starved Pinky just couldn't concentrate in a class full of treats, but fared better in Jennifer's New York apartment.
"Slowly but surely she learned to walk on the leash," says Jennifer.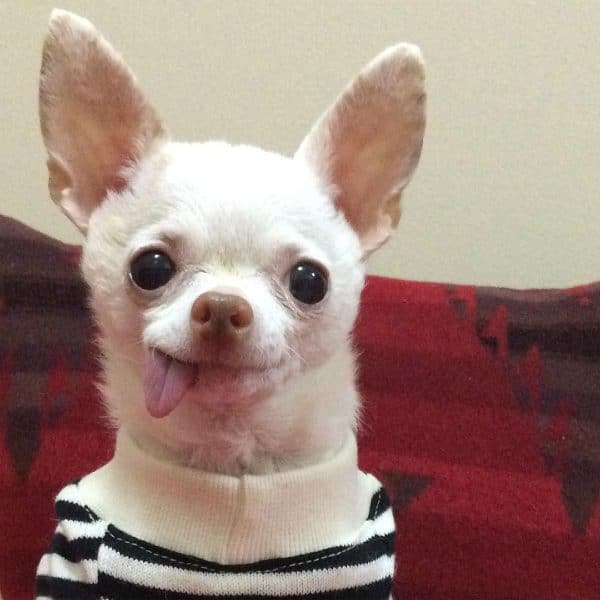 For the first couple years, progress was slow. Pinky remained painfully shy. She hated to be apart from Jennifer, refusing to eat for pet sitters and vets. Despite Pinky's challenges, Jennifer loved their life together, and when she began her social media course, she knew she would be posting about Pinky. The photogenic dog had the perfect look for a visual platform like Instagram.
Pinky and Jennifer were quickly embraced by the Instagram dog community — something Jennifer hadn't expected — and started attending canine-centric events in New York City. Pinky showed more and more interest in other people and dogs, but could retreat to Jennifer's handbag whenever she was struck by shyness.
"She can kind of go at her own pace," says Jennifer, who was surprised when Pinky took a liking to the famous Chloe Kardoggian at one such event.
"Chloe was one of the first dogs she was really crazy about," she says.
Since making friends on Instagram and in real life, Pinky's confidence has skyrocketed. She's more physically active than ever before and is finally barking after staying silent for years.
No longer a social media newbie, Jennifer is proud to share Pinky's progress with more than 2,000 Instagram followers.
"I wanted to encourage senior adoption. What's happened has exceed any of my expectations."