Editor's note: Have you seen the new Dogster print magazine in stores? Or in the waiting room of your vet's office? This article appeared in our October/November issue. Subscribe to Dogster and get the bimonthly magazine delivered to your home.
My dog Preston, a West Highland White Terrier (Westie), has loved participating in parades since he attended his first one as a young pup at a Scottish weekend event. When we arrived, I dressed Preston in his Scottish tartan (kilt), and we met our fellow walkers — around 20 dogs and owners.
At first, I felt out of place following the hometown band down the parade route. That all changed when we rounded a corner and heard all the cheers. I guess it isn't every day you see dogs dressed in kilts. The dogs knew that all eyes were on them by the way they were prancing down the street. I had such a great time that I looked for other events. Turns out there are pet parades all over the country with different themes such as Halloween, Christmas, and even Mardi Gras.
Some people are committed to their favorite events. For example, Monica McLaughlin has participated in the New York City Tartan Day parade for the past 10 years. She said, "It doesn't get any better than marching in an NYC parade with your dogs. You just smile and laugh the whole way. It is so uplifting."
After you walk in the parade, the fun isn't over. Most parades have activities that you and your pup can participate in. The Haute Dog Howl'oween Parade in Long Beach, California, has contests such as best trick and senior dog beauty contest. The San Diego Gaslamp Pet Parade throws a pet expo with more than 400 exhibitors, including local pet stores, dog walkers, and rescue groups.
Preparing for a parade
Before deciding to participate, check out the parade's website to see the rules and where to pay the registration fees. Most parades require you to provide your dog's proof of vaccination. Some also require your dog to be in costume, and there may be guidelines regarding the type of leashes you are allowed to use.
A parade is a very hectic and stimulating environment for a dog. To get some tips on how to help our dogs with this, I reached out to Erin Wigginton, CPDT-KA, the owner and head trainer at Helping Hounds Training, LLC, in Saint Louis.
According to Erin, "Not all dogs enjoy events like parades, and that's OK! It's up to us, as responsible pet owners, to recognize when our pets are uncomfortable or stressed and help them however we can. Sometimes that means not bringing them to a busy event, and sometimes it means taking your dog away from the crowd for a few minutes. That said, many dogs do quite well at events like parades and have a fabulous time with their people and four-legged friends."
Even though the dog costumes are probably one of the most fun aspects of dog parades for us as humans, the dogs may not feel the same way. On the topic of costumes, Erin said, "Most dogs don't mind clothes that can be worn over their bodies, like jackets or shirts. However, accessories worn on their faces like sunglasses or hats are typically really unpleasant for dogs unless they are trained to wear them."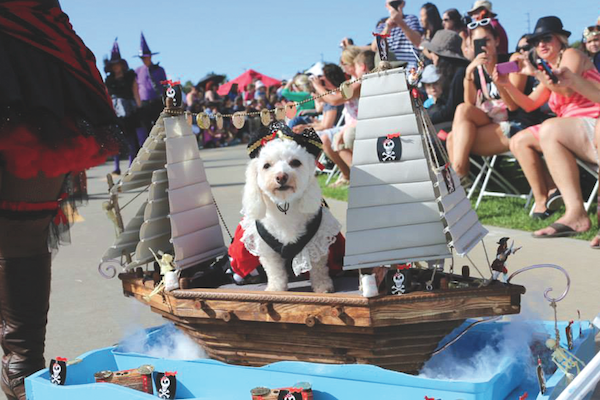 "To teach your dog to wear an item of clothing he isn't initially thrilled with, pair it with a piece of delicious food. This will form a positive association with the item for the dog, and soon he will be stoked to see those dog sunglasses come out!" Erin said.
Julie Amador, the Dog Chairman for The CAAWS (Capital Area Welfare Society) Mystic Krewe of Mutts Parade in Baton Rouge, Louisiana, also had some great advice for pet owners. "It is always a good idea to bring your own water, bowl, poop bags, an extra leash, and collar to any event," she said. "But the most important thing is to have a good time and keep an eye on your pooch. If they are getting too tuckered out, call it a day. They sometimes cannot make it through a whole day of fun like we humans can."
Starting your own
What if there are no pet parades in your area? Start one! Most parades support a local animal organization, so volunteer to plan one in your city. This is how the CAAWS Mystic Krewe of Mutts Parade got started. Besides celebrating Mardi Gras, this event is for a good cause. Julie said the parade started "in order to raise funds to help with our community outreach spay/neuter campaign. All the money we raise goes directly back into our community to help control the pet overpopulation problem."
Some national organizations rely on volunteers to host parades as fundraisers wherever they live. One such group is WestieMed, a nonprofit that fundraises and distributes financial aid to injured or ill rescued Westies to help them get adopted. According to president Lucy Ryley, "We have volunteers with information about how to plan a parade. We also help get the word out about their event through our newsletters and social media."
Now you are ready to go to a pet parade or even start your own. So what are you waiting for? Put on your walking shoes, pull out that dog costume, and have fun!
Some pet parades around the country
1. St. Louis Mardi Gras Beggin' Pet Parade, St. Louis
Part of the month-long St. Louis Mardi Gras celebration. It crowns a dog king and queen as well as hosts a street festival with a concert and vendors. Cost is a donation to walk and free to watch.
2. CAAWS Mystic Krewe of Mutts, Baton Rouge, Louisiana
Theme is Mardi Gras. All day event/parade and street festival with a royal dog court, king, and queen. Donation per dog to participate. This is the largest fundraiser for CAAWS (Capital Area Animal Welfare Society) and raises money for its community outreach spay/neuter program.
3. Krewe of Barkus, New Orleans, Louisiana
This is the only Mardi Gras krewe in New Orleans for the canine population during the Mardi Gras festivities. Dogs and humans must register to participate. Proceeds of the parade registration fees, merchandise sales, and ball profits are donated to animal welfare groups.
4. Halloween dog parade in Tompkins Square Park, New York City
This year is its 25th annual halloween contest. It is one of the largest costume contests in the world. There is a runway competition and a best in show. Donations accepted to participate in the contests.
5. Haute Dog Howl'oWeen parade, Long Beach, California
This year will be its 15th annual parade. More than 500 dogs and owners participate each year. Cost is a donation to walk and free to watch. There is a fee to participate in
the contests, which include best trick, senior dog beauty contest, and more. Proceeds go to spay/neuter, adoption/rescue, and other local charity programs. Also a vendor and adoption fair.
6. Reindog Parade, Atlanta Botanical Garden, Georgia
This is a daylong event with a holiday costume parade, costume contest, pup tent refreshments, photos with Saint Nick, and a Doggie Expo with area businesses. Cost is a fee per dog with all proceeds benefiting the Botanical Garden.
7. San Diego Gaslamp Pet Parade, San Diego
This is the 8th annual pet holiday parade through the historic streets of the Gaslamp district of San Diego. There is also a pet expo with more than 400 exhibitors. Entry fee to walk.
8. New York Tartan Week/Parade, New York City
Part of a weeklong celebration of Scottish heritage. This parade has hundreds of pipers and drummers in pipe bands from all over the country, with clans, associations, societies, and even dozens of terriers! Participation is limited to dog breeds that originated from Scotland, such as the West Highland White Terrier and the Scottish Terrier. Free but must register before event.
Read more about dog parades:
About the author: Rachel Phelps, "America's Pet Parent," is an award-winning writer, photographer, and certified dog trainer. She keeps busy managing the career of her Internet celebrity dog Preston from Preston Speaks. Her three Westies — who think they are mini-humans — and three cats rule the house.